#UofTBTS16: U of T research hopes to ease student transportation woes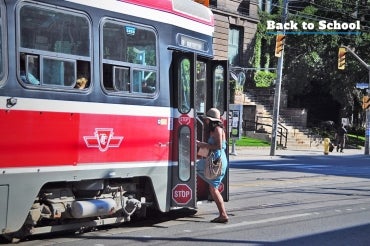 Sonali Patel spends four hours on public transit almost every day, getting to and from the University of Toronto's St. George campus.
That's a bus to the Bronte GO station from her Oakville home, a train to Union Station and then a subway ride to St. George.
"My day is go from 9 am to 9 pm," says Patel. "I'm at the train at 7 in the morning and I don't get home until 11 at night. I basically live on campus. I just go home to sleep."
The long, cumbersome commute isn't unique to Patel – in fact, a third of students in Toronto spend two hours or more per day, traveling to and from campus, according to a survey released earlier this year by StudentMoveTO, a collaboration between the University of Toronto, OCAD University, Ryerson University and York University.
Getting the universities to work together on a survey of this magnitude -- 15,226 students responded -- was part of a ground-breaking effort by the four university presidents to collaborate on solving critical issues for the city-region. It has since inspired U of T researchers in engineering and geography to dig deeper into the issue.
Monir Moniruzzaman, a postdoctoral researcher in geography and planning, is working alongside assistant professor Steven Farber to further analyze the survey data. Moniruzzaman researches student attitudes toward different transportation options. He says the survey offers researchers a large sample size, often not found in other studies.
"Do we need more transit or more bicycle paths or dedicated shuttles for university students?" Moniruzzaman asks. He hopes his work will help answer that question, and the survey results will help planners and policy-makers create a more student-friendly city.   
Matti Siemiatycki, associate professor of geography and planning at U of T and one of the lead researchers of StudentMoveTO, said the initiative is working with transportation agencies like the TTC and Metrolinx to help them find ways to utilize the survey results.
"We're in the process of building those relationships and getting the data out there," Siemiatycki says.
Siemiatycki says it's the best way to inform change and inspire research.
"It allows others to come with their own creativity and ideas that, for those of us involved at the beginning, we may not have envisioned – and that's great. I think that's where innovation comes from and new ideas," he says.
The survey also found that students were making sacrifices – either on time or money – as a result of limited transportation options. On average, students are taking 40 minutes one-way to get to campus. And commuting distance is affecting how students pick their courses. Students may group classes together, thus avoiding early morning and late night courses but also affecting whether they avoid taking classes on Mondays and Fridays.
"Students are making trade-offs between where they live and how long their commutes are," Siemiatycki says. "Some students are making a trade-off to spend more money and live close to campus while others are deciding to either rent apartments or live at home further way from campus and spend additional money and time on their commute."
Students are making academic sacrifices too, says Siemiatycki.
"There's a cohort of students out there that are making their class choices and making their extra-curricular choices based on whether they can reach campus in time to take part, or whether they can stay late and still find a way to get home," he says. "I think there are important lessons for our institutions about how we do scheduling, and how we understand the needs of our students on our campuses."
The survey data is available online to anyone who wants to access it.
UTC