Yoonhee Lee, a graduate student in the Faculty of Information and a library assistant at the Ask Us Desk, takes a breather in Robarts Library's new reflection room (photo by Romi Levine)
University of Toronto's 44 libraries hold an impressive amount of literature – about 12 million volumes in 341 languages – accessed by members of the U of T community and researchers from all over the world. But beyond the seemingly endless stacks are U of T Libraries' incredible resources – some that can help you with your studies, others to help you de-stress, and a few that are just plain cool.
Here are a few of them:
Study like a pro
Need help with your research? U of T librarians are available for one-on-one appointments that will help you save time and minimize stress levels while completing your research papers on time.
You can also use the Ask A Librarian chat to connect instantly – from anywhere, using any device – with a research and library expert to help you find a book or use library tools.
This handy assignment calculator from U of T Scarborough will help you to create a task schedule, breaking down your project into small, manageable steps.
Take a brain break
What better way to break up marathon study sessions than yoga or meditation in the newly renovated Reflection Room on the eighth floor of Robarts Library? Mats and pillows are available on site.
If you're looking for a furry companion to raise your spirits, meet Bella the therapy dog – a frequent visitor to Gerstein Library who's always up for a friendly pat.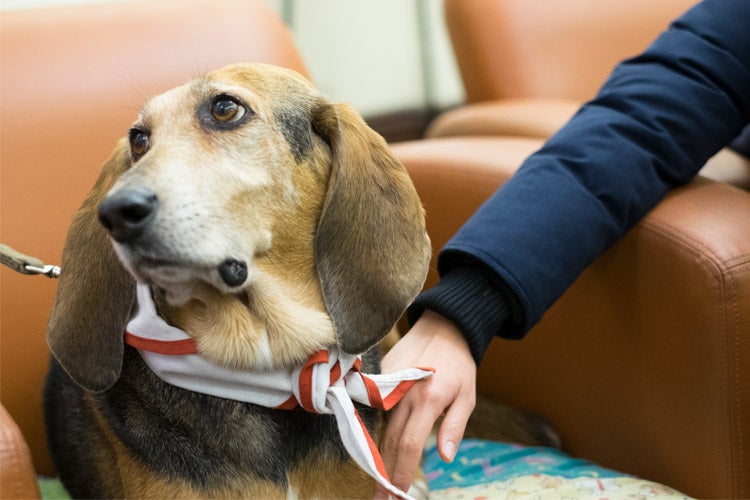 15/10 would recommend visiting Bella the therapy dog at Gerstein Library (photo by Geoffrey Vendeville)
Get a dose of pop culture
Missing the World Cup already? You can get in the beautiful game with FIFA18 for Xbox One from U of T's Media Commons. For amateur and serious gamers alike, you can choose from many other video games.
If a heart-pounding thriller is more your thing, check out the popular reading collections at all three campuses for the latest bestsellers.
Move over Netflix, U of T students, staff and faculty have access to Criterion On Demand – a video streaming service with plenty of titles to choose from including new releases like Ready Player One to classics like 1960s westerns starring John Wayne and Clint Eastwood.
Learn something new
Whether you're a teacher looking for new curriculum resources or are just interested in learning about Indigenous culture and history, it's worth exploring this free online resource created by Outreach Librarian Desmond Wong. It's packed with multimedia material for people of all ages.
Get your hands on VR equipment, from Google Cardboards to 360 cameras, at MADLab located in the Gerstein Science Information Centre. You can rent equipment and If you're developing a VR app, you can also use the in-house HTC Vive.
Find your perfect work space
As the days get shorter and the weather gets gloomier, try out one of the light therapy lamps at Robarts Library, which mimic summertime light to bust those winter blues.
Looking for a quiet spot to get work done while keeping your kids occupied? Try out Robarts Library's new family study space – decked out with work stations and kid-sized furniture and toys.
Do you have a favourite library resource? Share it with @UofT and @UofTLibraries on Twitter and Instagram.