An unsettling history: Book co-edited by U of T prof explores oppressive, violent Black experiences in Canada
The University of Toronto's Funké Aladejebi hopes readers find Unsettling the Great White North: Black Canadian History to be just as the title promises: unsettling.
The book, released this month, consists of 21 essays from a variety of scholars who explore the diverse, oppressive and often violent experiences of persons of African descent across Canada's history.
"It's meant to push boundaries, or at least force us to think about those boundaries – it's by no means a polite representation of Canadian history," says Aladejebi, the book's co-editor an assistant professor in the Faculty of Arts & Science's department of history.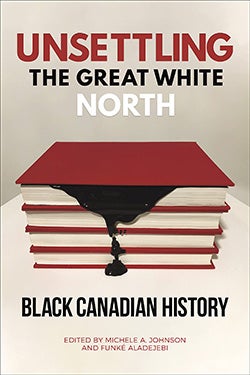 Historical essays include "Planting Slavery in Nova Scotia's Promised Land, 1759–1775" by historian and professor Karolyn Smardz Frost, and "A Forgotten Generation: African Canadian History between Fugitive Slaves and World War I" by Adam Arenson, a professor of history and director of the urban studies program at Manhattan College.
More contemporary works include: "The part of you that's Rwanda: Creating a Rwandan Diaspora Community in the Greater Toronto Area in the Early Twenty-First Century" by York University graduate student, Anna Ainsworth; and "Wrestling with Multicultural Snake Oil: A Newcomer's Introduction to Black Canada" by Daniel McNeil, a professor and Queen's National Scholar Chair in Black Studies at Queen's University.
"The book really does live up to its name," says Aladejebi. "It desires to unsettle the way we think about Canada as a white space both figuratively and metaphorically. It seeks to unsettle our understandings of Canadian history and Black Canadian studies."
Including essays that extend from the historical to the contemporary was done deliberately to show how the history connects to – and influences – current patterns of Black settlement and belonging in Canada.
"Black Canadian history is not something that happened in the past – it's constantly changing and evolving," says Aladejebi, noting that greater knowledge of historical foundations leads to a better understanding of today's environments.
"How is it that in the summer of 2020 we've had this racial reckoning?" she asks. "Where did that come from in the Canadian context? There's a history, but that history fundamentally affects how we see communities today."
Designed for students, post-secondary professors looking for content, community leaders and the general public, the book's contributors span several disciplines – history, geography, sociology, gender studies, cultural studies and law – many of whom cross over disciplines in their teaching and research.
"In a lot of ways, scholars have had to be interdisciplinary because most of our disciplines do not do enough to tell the complex story of Blackness," says Aladejebi.
Four years in the making, the book was born out of frustration for Aladejebi and co-editor Michele Johnson, a professor in the department of history at York University.
"We created the volume as a response to inquiries from students who wanted to get a sense of the national breadth of Black Canadian history and Black Canadian studies," says Aladejebi. "But there simply wasn't a great deal of organized material to work from, so materials for Black studies courses were often piecemeal."
What few resources were available were often outdated.
"The most quintessential book that we have is The Blacks in Canada by Robin Winks that was published in 1971," says Aladejebi. "He's an American historian and he didn't think about Blackness in the way we talk about Blackness now. And so we thought, 'Why don't we create a more comprehensive review of Black Canadian history across chronology and geography to tell a more national story of Blackness in Canada?"
In addition to being co-editor, Aladejebi also contributes an essay, "I Don't Know if I Should Say This: Black Women, Oral History, and Contesting the Great White North."
"My chapter is about how we conduct oral histories on living communities" says Aladejebi. "How can we use oral history as a way to understand Black Canadian populations and to speak to the absences in the archives around Black women's experiences more specifically?"
Complementing this focus on the importance of oral histories, Aladejebi has been active with lively events that have bolstered discussions about Black Canadian history.
The first was a roundtable discussion on Feb. 28 about Aladejebi's previous book, Schooling the System: A History of Black Women Teachers. Aladejebi and panelists highlighted the role Black educators have played and continue to play in institutional and pedagogical change at all levels of learning, including at universities.
The second event was an online book launch event on March 11 for Unsettling the Great White North with four of the book's contributors discussing their work. The event attracted more than 200 participants across North America.  
The book, the active events and discussions demonstrate that "the field of Black Canadian studies is incredibly rich and diverse, and it's time to push this field even further," says Aladejebi.
"It's worthy of critical inquiry, critical study and examination. In this volume, there's lots you can use to begin your own work on Black Canadian studies and history. And there's lots you can take from this to teach others.
"This volume will help the general public and educators be able to say, 'I have a sense of what enslavement looked like in early Canada, I have a sense of early migratory patterns in Canada, I have a sense of what Black communities were looking like in Vancouver, and what it was looking like in Nova Scotia,'" she says.
"Take it, use it, have more unsettling conversations and keep it going. That's the goal, to keep the field growing and evolving."
Arts & Science