Schooling the system: U of T historian Funké Aladejebi explores Black women's experiences in education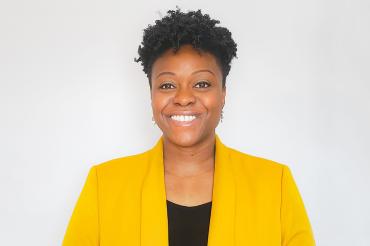 When it comes to Black Canadian history and, particularly, Black women educators, Funké Aladejebi says there's a lot to learn.
Aladejebi is an assistant professor in the University of Toronto's department of history in the Faculty of Arts & Science whose research focuses largely on Black Canadian women's history and education.
In particular, Aladejebi explores how Canadian government policies have influenced racialized students and Black women educators.
She spoke with Arts & Science writer Sean McNeely about how she uses history as a lens to understand the ways female educators have negotiated economic, social and, at times, political belonging through urban educational institutions.
---
Why did you want to come to U of T?
I wanted to come to U of T because of its competitive and transnational programming. I'm deeply concerned with decolonial pedagogical practices in post-secondary institutions and found U of T's increasingly diverse faculty and critical research program incredibly important for helping me to think through these frameworks. My work is also influenced by many scholars of Black Canadian history who graduated from and are affiliated with U of T.
Can you talk about your research exploring the experiences of Black Canadian women in education and their paths to becoming educators?
In an attempt to contribute to historical analysis on Black identity, citizenship and racial difference in Canada, my research and work explore the ways Black Canadian women navigated socially constructed boundaries of racial alienation, limited institutional support and inequality within Ontario school systems.
Stemming from an 18th-century tradition of activism and self-help, Black Canadian women created unique forms of antiracist programming, despite the historical erasure of persons of African descent within the Canadian curriculum. Seeking to address the silences of Black professional women in feminist scholarship, I look to oral histories as an important way of allowing Black women to tell their own stories.
Can you tell us a little about your upcoming book,  Schooling the System: A History of Black Women Teachers?
In post-World War II Canada, Black women's experiences in the teaching profession served as sites of struggle and contestation in a myriad of ways. Their presence as racialized educators, though smaller in number, represented the various ways in which Black women disrupted mainstream notions of education in Ontario and challenged Canadian nationhood more broadly.
Schooling the System explores the ways in which Black women teachers' engagement with Ontario's education system comprised a set of difficult, messy and complex processes – beginning with access to education, their ability to get into teachers' college, the constant questioning of their professional status and the realities that shaped their choices inside Ontario schools.
The book also offers a transnational approach to viewing Black women's experiences and activism. A distinguishing marker of Schooling the System lies in the way it establishes Black feminist theory in Canada alongside diasporic and transnational understandings of personal and cultural survival.
Ultimately, I explore Black women's distinct consciousness as a way of understanding their entrance into the professional workforce. I hope this work contributes to an under-researched area of Canadian history through its examination of community and school initiatives where education supported Black women's activism and agency.
You're involved in several community engagement and social justice initiatives – what are some examples?
I've collaborated with the Graphic History Collective, an organization that uses text and images, to make history educational and inspirational for a diverse range of public audiences. I've also written pieces in ActiveHistory.ca and The Conversation to explore how historical moments create lasting legacies and inform public debates surrounding Black Canadian communities.
More recently, I was part of the University of New Brunswick's Working Group on the Principles of Naming or Renaming University Places, where I made recommendations for the removal of the name of Ludlow Hall.
The university's law school was named after George Duncan Ludlow, a challenging figure in New Brunswick's history because of his involvement in residential schools and views on slavery. The committee created recommendations that weighed historical research and changing public debates on redressing colonial practices embedded in post-secondary institutions.
I also volunteer in the community where I grew up: Scarborough. As part of the community's alumni network, I support civic engagement initiatives to help young adults understand voting processes in Canada. In 2018, alongside other grassroots organizations and volunteers, I supported a city-wide fundraising campaign that facilitated the free screening of the film Black Panther in Scarborough for over 200 young students.
What's one thing you wish more Canadians knew or understood about Black history or Black women's history in Canada?
Given the ways settler-colonial discourses position Canada as a nation of two-founding people, facilitated by the violent removal and displacement of Indigenous people from their lands, the place of persons of African descent within this national narrative is not only important to discuss, it's a necessity.
While much of the ways we discuss Black Canadian history emphasizes a relationship to the Underground Railroad, the place and presence of Black lives in Canada is far more extensive than this historical phenomenon. As such, Black history continues to be an important political project for scholars and community activists in Canada.
Arts & Science