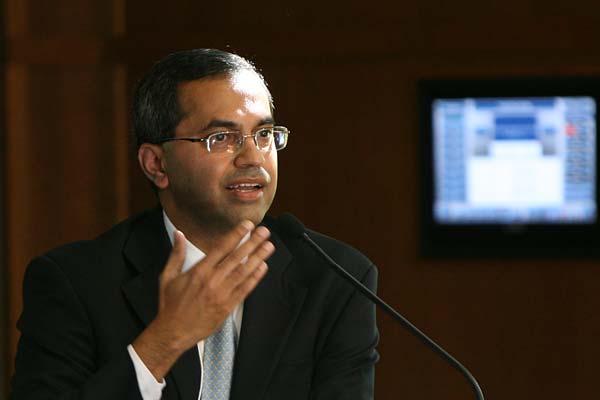 University of Toronto joins Harvard, MIT online learning platform
The University of Toronto is joining edX, a US-based platform for massive open online courses that is accessible to students of all ages and means around the world.
"The University of Toronto is extremely pleased to join edX," said Cheryl Misak, U of T vice-president and provost. "This is the latest move in our ongoing efforts to provide an opportunity for people worldwide to have access to outstanding educational materials and to enhance the learning experiences of our own students."
Founded by Harvard University and the Massachusetts Institute of Technology, edX is designed to improve education, both online and on campus, while conducting research on how students learn. To date, edX has more than 675,000 subscribers; its goal is to educate one billion people worldwide in the next 10 years.
As a new partner, the University of Toronto will deliver four courses on the www.edx.org platform in the subject areas of energy, public health, behavioural economics and organizational design. All will be taught by leading U of T scholars.
The four courses U of T will offer on the edX platform in the fall of 2013 are:

• Terrestrial Energy Systems – Professor Bryan Karney, Faculty of Applied Science & Engineering

• Death 101: Reliable Measurement of the Causes of Death Globally – Professor Prabhat Jha, Dalla Lana School of Public Health

• Behavioral Economics – Professor Dilip Soman, India Innovation Institute, Rotman School of Management

• The Logic of Business: Building Blocks for Organizational Design – Professor Mihnea Moldoveanu, Desautels Centre for Integrative Thinking, Rotman School of Management.
Previously, the edX consortium included the University of California Berkeley, Wellesley College, Georgetown University and the University of Texas System. Joining U of T as new additions Feb. 21, 2013 are: Australian National University, Ecole Polytechnique Federale de Lausanne, Rice University, Delft University of Technology and McGill University.
The U of T's participation in edX follows its decision last July to join Coursera, another prominent platform for massive open online courses that was developed by Stanford University. U of T has experienced tremendous success with Coursera, with more than 256,000 students signing up for its seven courses. Read more about Coursera here.