Universities key to Toronto's post-pandemic competitiveness: U of T President Meric Gertler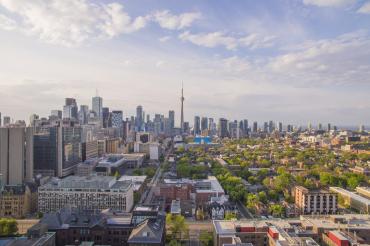 Universities and colleges have a critical role to play in the Toronto region's recovery from the COVID-19 pandemic by attracting the world's brightest minds and providing a steady stream of talented workers to fuel the economic sectors of the future.
That was one of the key messages delivered by University of Toronto President Meric Gertler at the recent Toronto Region Board of Trade (TRBOT) Reimagining Our Workforce Summit.
"This is an issue that is of interest not just to university and college presidents, but to businesses, landlords, hospitality venues and more," President Gertler said, noting the many ways post-secondary students contribute to the Canadian economy, from working as part-time employees and renting apartments to ordering take-out food.
U of T will also continue to draw top scholars and professional talent whose contributions to the region's economy support productivity and competitiveness, President Gertler said. He highlighted the success of the Vector Institute for Artificial Intelligence in attracting and retaining AI experts in the region. He said other sectors could consider emulating the Vector Institute's model of aligning public and private investments in research to attract talent and encourage entrepreneurship.
"Most importantly [these investments have] stimulated the uptake of artificial intelligence tools across a wide range of sectors in the Toronto economy and well beyond – in transportation, retail, manufacturing and finance – and helped transform those industries and make them more competitive," he said.
"We can use that model in other sectors like health-care, life sciences and clean technology, and focus on developing made-in-Canada solutions to the world's most pressing problems. [We can] recruit the best minds around the world to work here alongside our brilliant Canadians, and do fantastic things."
Organized in partnership with U of T, York University, RBC and Accenture, the summit was the final instalment of TRBOT's Recovery Summit series, organized to address the future of the GTA, post-pandemic. This week's event included several discussions that looked at the transformation of the GTA's workforce and explored ideas to ensure that the Toronto region remains livable, dynamic and inclusive.
Another theme at the Summit was the post-pandemic economy, including a conversation with business and non-profit leaders on how to draw foreign and domestic investment to the GTA, led by Alex Mihailidis, U of T's associate vice-president, international partnerships.
President Gertler's remarks came during a panel discussion titled "Understanding the Workforce of the Future." Moderated by TRBOT president and CEO Jan De Silva, the panel comprised President Gertler; Scott Beck, president and CEO of Destination Toronto; Diane Kazarian, managing partner, Greater Toronto Area at PricewaterhouseCoopers; and Andrea Stairs, president of eBay Canada.
Asked to expand on his recent op-ed in the Globe and Mail, in which he argued that nurturing international talent will be crucial for Canada's post-pandemic economic recovery, President Gertler noted the importance of immigration pathways to building a strong talent pipeline for all sectors of the economy.
"One of the big draws for international students coming to Canada is not just the opportunity to study at a great university like the University of Toronto, but it's also knowing that when they graduate, they have an automatic right to a post-graduate work permit of up to three years' duration, which then accelerates and facilitates their transition to permanent residency and, ultimately, citizenship," President Gertler said.
He went on to commend Marco Mendicino, Canada's minister of immigration, refugees and citizenship, for adapting rules around student eligibility for work permits to account for the fact that many international students are temporarily pursuing their education virtually and from their home countries.
"What Minister Mendicino did is loosen up the rules so, if students were having to spend – through no fault of their own – a large chunk of their program at a Canadian university studying from abroad, that time was considered to still be eligible for their qualifying for the post-graduate work permit program," he said. "That's been hugely helpful."
In a keynote address, Mendicino also recognized the importance of international students as future residents.
Despite lockdown restrictions and a shift to virtual learning, demand for international student admissions is up more than 20 per cent heading into the September 2021 admissions cycle, President Gertler said.
However, he stressed that a safe, gradual re-opening of universities and colleges should be a high priority so that Toronto and Canada continue to remain an attractive destination for students and researchers.
"So much of the package that we offer – it's not just the lectures and tutorials, it's learning from one another, the networking, the experience of life in Canada, of life in Toronto, of all the things that give this city so much buzz," President Gertler said.
UTC