Unearthing the truth: Michael Pollanen on the role of forensic pathology in war zones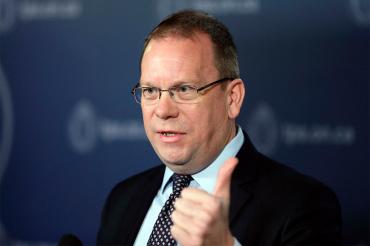 Michael Pollanen is no stranger to disaster zones.
The chief forensic pathologist of Ontario – and a professor in the department of laboratory medicine and pathobiology in the Temerty Faculty of Medicine – has participated in many missions to uncover the truth about what happened after conflicts or natural disasters, typically at the request of organizations such as the United Nations, International Criminal Court and International Committee for the Red Cross. Most recently, he was in the Central African Republic and Iraq. 
"The global forensic community are truth-seekers," Pollanen says. "In difficult circumstances of armed conflict, particularly when crimes against humanity are at issue, there are often competing narratives that are driven by various factors." 
Forensic pathologists usually investigate these areas "in the early post-conflict time span," he explained. "In addition many of these missions are for humanitarian responses after disaster rather than war. For example, I joined missions in Haiti and Thailand after natural disasters: earthquake and tsunami."
With reports about atrocities committed in Bucha and other parts of Ukraine, international authorities are conducting on-the-ground investigations to piece together what happened – and, if war crimes were perpetrated, then who is to blame.
"The value of forensic science is that it can clarify the facts of what actually happened," Pollanen says. "If there are questions about whether or not the mass killing of a civilian population occurred, this can be easily determined by conducting autopsies."
Often, the success of an investigation requires forensic pathologists to work in teams of experts with different specialities, Pollanen says. Forensic archeologists are trained in the exhumation of bodies, sometimes in the context of mass graves. Forensic anthropologists specialize in the examination of bones and associated identification processes. Forensic pathologists can perform a variety of roles but are mainly concerned with the interpretation of injuries, determination of the cause of death and correlation of injuries with the circumstances of how those injuries might have occurred.
Other key forensic experts may include forensic odontologists (who can identify remains by examining teeth or bite marks), forensic biologists specializing in DNA and firearms experts who study ballistic evidence.
"Our main priorities as forensic pathologists are to identify the dead and discover the truth," Pollanen says. "The humanitarian response for the benefit of families is vital. This includes identifying human remains and helping to restore family links by providing information about what happened to missing family members. This may include repatriation of the body to the family. We also focus on obtaining evidence that may support criminal prosecution to seek justice for the dead."
Since there can be a long delay between death and an autopsy, forensic experts rely on different methods and tools to study bodies in various states of decomposition, Pollanen says. Objectivity and fact-based science are key, he notes. 
"We do not approach missions and cases with preconceived notions about what we might find, but with an open mind," says Pollanen, "In most cases, little will be known about the circumstances surrounding the death of the people who will be examined".
Fieldwork in war zones is challenging, from both a logistical point of view and on an emotional level, he adds. "This can be very difficult work emotionally. Therefore, one of the biggest priorities on missions of this type is wellness, both personal wellness and ensuring the wellness of the people around you. The work can be very intense. Most forensic experts find meaning by understanding that their work will contribute positively to the events being investigated and provide answers for the people affected."
Medicine