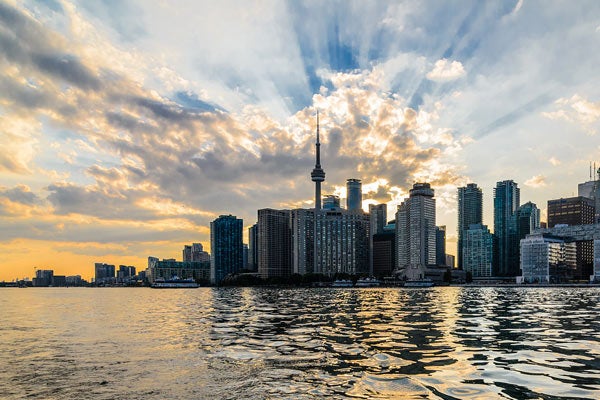 Undergrads launch CivicSpark Oct. 27: 'Building up the 6ix' spurs collaboration between students, city leaders
A new student group is set to leverage young urbanists' creativity and enthusiasm for Toronto.
CivicSpark, a student-driven pilot partnership with local city-building organization
CivicAction
, will host its first community discussion event on Oct. 27,
Building Up the 6ix: Channels for Community Engagement and Social Change
. 
A 30-minute panel discussion exploring ways students can help build up the city will be followed by a small roundtable where audience members and speakers will together discuss the nature of changing neighbourhoods. 
(Register for the free event from 6-9pm at Woodsworth College)
 Drawing audience members into the conversation will be such emerging city leaders as Abigail Moriah (associate development manager of the Regent Park Revitalization Project), Josh Fullan (founder and director, Maximum City), Tom Gleason (executive director, Toronto Youth Cabinet) and Councillor Kristyn Wong-Tam.
CivicSpark was co-founded by fourth-year students 
Edwin White Chacon 
(political science; ethics, society and law), 
Sara Urbina
 (economics; geography) and 
Joe Becker 
(political science; Canadian studies). 
(Read more about CivicSpark)
. Below, the co-founders explain the group's mission and the goals of their event.
Becker CivicSpark is a new group on campus working to transform students from passive observers into active participants in their community. We're going to accomplish this by creating a non-partisan platform empowering youth to engage with regional social issues in the GTHA. We'll be hosting a series of interactive panel discussions and roundtables that will lead up to a unique urban policy case competition at the end of the year. By using this model, we hope that students will not only learn more about regional issues, acquire professional skills, and express their opinions but encourage future civic participation as well.
When did it start and why?
Urbina (pictured, below) CivicSpark started through talking, as simple as that. Well maybe a lot of planning, too. But the idea sparked through a series of discussions on: where can we share our knowledge? What options do Arts & Science students have to use their knowledge to create solutions to the issues that face their community?
These questions have always been at the back of our minds but this past May we decided to do something about it. We realized that we have a lot of experience, opinions and knowledge that, with a bit of structure, we can leverage into creative solutions. Through the summer, we drafted and redrafted what we wanted CivicSpark to be and look like. We decided to contact CivicAction regarding a partnership for this pilot because we believe they successfully connect young professionals to work together and use their lived experiences to solve the issues facing the Greater Toronto Hamilton Area (GTHA). We want to bring youth together and do the same, connect them, provide them with information and then let them do the rest, engage with their city.
What do you hope to achieve with this event? In other words, what do you want people to take away from the experience – both in terms of their knowledge of CivicSpark and of city issues?
White Chacon In collaboration with CivicAction and The Woodsworth Political Society, we're hoping to plant a seed in these students. Ideally, students will walk away with more knowledge about the intricacies of the issues the city faces. We want them to know that CivicSpark can be the stepping stone to becoming part of the conversation with emerging leaders and city builders.
Who would you encourage to come out to the event and why?
Becker
(pictured, right) 
We're purposefully encouraging students from every faculty to come out to Building Up the 6ix for two key reasons. First, we believe including a diverse range of voices and perspectives will enrich the conversation we're going to have. Second, the issues facing this city affect everyone and we want to create a platform for students to become engaged about them.
One of the important things we've learned from our parent/partner organization, CivicAction, is that nobody has a monopoly on good ideas. To solve the issues facing this city we'll need to bring together people from every field and walk of life. We don't expect to solve all of these issues at this one event but we're seeing it as a first step towards creating a dialogue on campus and encouraging students to become more engaged.
What interests you about urban issues?
Urbina Urban topics are very important to us because they involve the space in which we live. To create more realistic and innovative solutions we need to better understand the space in which we live, and how society interacts with it. Urban issues are city and community issues. The reason why we talk so much about innovation is because the urban issues we see today are complex in nature and connected to all sectors of society. We must then think of new solutions, perhaps never before used solutions to confront them. For example, what does more green space entail? What are the consequences for current residents, and future residents? What about transit next to the space, will it change? Or education, can the space be used in different ways to maximize its utility?
Urban issues no longer focus just on the physical elements in the space, but also the surrounding environment. This is why we want to engage youth in urban issues. The fact that we live and interact in an urban landscape means that we all have opinions and ideas about what is working, what is not, and why.
What's on the horizon for CivicSpark?
White Chacon
(pictured, right) 
We're currently collaborating with the Centre for Community Partnerships, the Association of Political Science Students and the U of T Political Forum on an event called Let's Talk Toronto. This event will focus primarily around civic engagement outside of voting and post-election reflection.
Our CivicSpark team is excited to be working with them and other groups interested in engaging youth beyond traditional means. We're currently in talks with a few groups on campus interested in being part of our case competition at the end of the year. Our case competition will be unique because it will give students a platform to share creative solutions to real life issues impacting the city.