Under Trump, border is being used to police the population, says U of T expert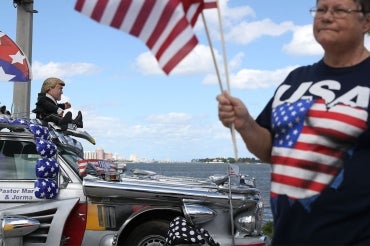 The uncertainty over U.S. President Donald Trump's travel ban has begun again.
Manpreet Kooner, a woman travelling on a Canadian passport was turned away at the border and told to get a valid immigrant visa. Khizr Khan, the father of an American soldier killed in Iraq who has been a vocal opponent of Trump cancelled a speaking engagement in Toronto because he says he was notified that his travelling privilieges were under review.
U of T News spoke with Emily Gilbert, associate professor of geography & planning and Canadian studies, about confusion emerging over Trump's latest order banning citizens from specific Muslim-majority countries. 
---

How is the revised ban different than the last one? Any clue why Trump took off Iraq?
 
The new Executive Order bans travel from citizens of six countries: Iran, Libya, Somalia, Sudan, Syria and Yemen. Iraq has been removed from the list on the basis that there is close cooperation between the two governments that will ensure tighter vetting of immigrant applications.
With respect to the six countries that remain on the ban, the Executive Order identifies reasons why the citizens are considered to be security threats. Yet, while the Executive Order argues that the governments of these countries have harboured terrorists, no evidence is provided to demonstrate the citizens of these countries are intending to commit terrorist attacks in the U.S.
It could thus be argued that this Executive Order is discriminatory because as with the last one, the ban is sweeping in its approach, applies only to predominantly Muslim countries, with no proof of a national security threat. 
 
 
What are the issues you foresee with the revised ban?
 
The Executive Order also provides some clarity around who is exempt from the ban, such as dual citizens travelling on the passport of their other nationality, lawful residents such as green card holders, and those who already hold visas for travel. The lack of clarity on these issues in the previous Executive Order led to considerable chaos when it was implemented. There is no guarantee, however, that those named in these exemptions will not face prejudicial treatment at the border, e.g. secondary screening or scrutiny of their phones and laptops.
How border agents implement directives is also discretionary and subjective. Canadians continue to be stopped at the border and refused entry to the U.S., for reasons that have nothing to do with the terms set out in either of the Executive Orders. For example on the weekend, Manpreet Kooner was denied entry at the Quebec-Vermont border and told she needed a visa to enter the U.S., even though she was born in Canada and was travelling on a Canadian passport. 
 
The case of Khizr Khan also indicates that the border is being used much more extensively to police the population. Scheduled to travel to Toronto today to give a public talk on tolerance, Khan was forced to cancel his trip when he was informed that his "travel privileges" were suspended. The case is extremely suspect. It is highly unusual for someone to be contacted with this kind of information ahead of their travel. Furthermore, Khan is not a citizen of any of the countries identified in the ban: he was born in Pakistan and notably has held U.S. citizenship for more than 30 years. He is, however, Muslim, and has been an outspoken critic of Trump's fear-mongering discourse, countering the president's xenophobia with the example of his own son who died in 2004 while serving in Iraq. Who communicated with Khan about his lost "travel privileges?" Has his outspokenness or his religion led him to be placed on a no-fly list? These are pressing questions that need to be addressed to ensure that Khan's constitutional rights have not been abrogated, and to understand the reach and extent of security agencies under the new Trump administration. 
 
What can Canada do?
 
There can be no doubt that Muslims will continue to feel targeted and vulnerable in the U.S. as a result of this new Executive Order. Trump has also continued to criminalize irregular migrants in the U.S. and has renewed promises for a wall at the border with Mexico. Thus, we can reasonably assume that dozens, if not hundreds, of people will try to seek asylum in Canada.
Canada should immediately repeal the Safe Third Country Agreement, which forces asylum seekers to enter Canada away from the land border and thus increases their vulnerability. People are getting hurt as they try to find safety. And it is not reasonable to assume that the U.S. is a safe country. If it is really the case that "Canadians will welcome you" – as Prime Minister Trudeau has tweeted – then the Safe Third Country Agreement has to be repealed.
UTC