A row of old brick houses is what remains of the area today (photo courtesy of Heather Murray/Sarah Galbraith-Murray)
As English Professor Heather Murray began digging into information on some of Toronto's forgotten arts and literary history, she became fascinated in a neighbourhood once considered our very own "Greenwich Village."
Located at the southeast corner of the University of Toronto's downtown Toronto campus, between Bay and Elizabeth streets on Gerrard Street West, the area was actually referred to as "Toronto's Greenwich Village" or even as "Greenwich Village" back in the early 1930s, Murray says.
The cultural scene began in the mid-1930s and continued through until the early 1970s, with the neighbourhood playing host to painters like Arthur Lismer, Albert Franck, Franz Johnston and studio artisans such as metal workers Nancy Meek (later to become Nancy Pocock) and Rudy Renzius.
Writer Morley Callaghan could be found there as well as sculptors Eugenia Berlin and Pauline Redsell. Later, the abstract-expressionist Painters Eleven group got its start with artists like Ray Mead, Kazuo Nakamura and Harold Town hanging out at the home of Albert Franck and Florence Vale.
The name Gerrard Street Village came along a little later and that is the name Murray is using for the book she's working on about the history of the area from 1925 to 1950, when many of the artists and artisans came as immigrants or refugees.
Today, what's left is a row of seven old brick houses that include a Tim Hortons, Jimmy's Coffee and other small restaurants.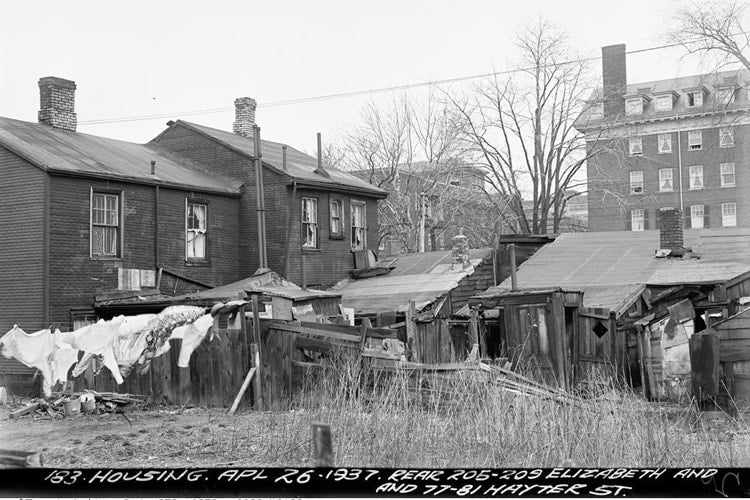 The mixed housing in the area in 1937 (City of Toronto Archives)