UCL President Michael Arthur on how working with U of T can help address global issues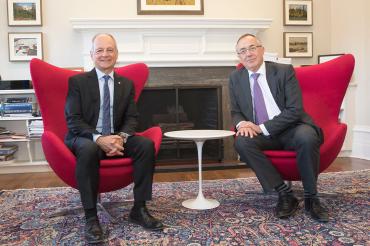 With over 2,500 joint publications, the University of Toronto and the United Kingdom's UCL (University College London) are pooling resources to tackle the world's most pressing problems.  
This week, the president and provost of UCL, Michael Arthur, as well as staff and faculty from the university, travelled to Toronto to meet with U of T President Meric Gertler and members of the university community.
"University College London has become an indispensable part of our global academic network," said President Gertler. "We are pleased to work together with our colleagues in London to build upon our world-class research and provide students with invaluable international experience."
U of T and UCL have been pursuing a strategic global partnership since 2015 – a venture built on interdisciplinary research around a range of subjects, from city-building to child health and nanotechnology.
The initiatives include co-sponsored research and joint workshops on issues including affordable housing and support for the Canada-U.K. Colloquium – an event that brings academic, government and industry leaders from the two countries together to discuss critical public policy issues.
During their Toronto visit, UCL representatives worked with U of T colleagues to strengthen existing relationships and develop new ways of working together.
"It's been great to come over," said Arthur. "The reception is incredibly warm and we're very grateful to all of you that we met, and are particularly grateful to the president, Meric, who has provided great leadership in bringing us to this point with U of T."
While the political turmoil of Brexit has the U.K. looking inward for answers, UCL is doing just the opposite: partnering with leading global universities like U of T on research, student exchange programs and joint initiatives. 
U of T News spoke with Arthur about UCL's partnership with U of T and the value of global collaboration:
---
What drew UCL to Canada, and to U of T in particular? 
The University of Toronto is one of the world's leading institutions. It's seen that way around the world and I think it was a combination of that, plus the fact that we already had significant activity that had grown organically between members of academic staff in each institution. We also had a very successful student exchange program. So when we were looking for partners around the world, we started with those two things in mind.
As a university president, you can't dictate what your academic staff get up to, you can just simply help create the conditions and gently point them in the direction of collaborative activity and most of them will respond to that, particularly if you put a bit of funding in and particularly if they feel the partnership has got momentum. 
The same thing happened the other way around. As we were doing the analysis, so was U of T. And then Meric and I met and it's gone on from there. The teams have put a lot of work into bringing it to this level, but it's now regarded by us as one of our top strategic global partnerships. 
Why do you think it's important to have partnerships with other universities around the world? 
At the very highest level, the world's greatest problems are not going to be solved by individual institutions or even individual countries. I think we're going to need to work jointly, we're going to need to work across boundaries and we're going to need to work across disciplines to really try and tackle some of those big issues – climate change, global health, distribution of wealth and poverty. 
The idea is that if you bring two world-leading institutions together, then you've got critical mass and the wherewithal to make a difference. 
One of the strongest ties between U of T and UCL is around research collaborations. What can these two universities achieve working together that they might not be able to accomplish on their own? 
I think the combined intellectual might works when you're trying to have big impact. You're looking for partnerships where there's win-win on both sides, where both sides are enjoying that partnership and where the whole thing becomes highly creative. 
What would success look like? In five years time, being able to point to one, two, maybe three big outcomes that wouldn't have happened if we'd been working alone. Sometimes it's about bringing disciplinary expertise together, sometimes it's about bringing cross-disciplinary expertise together, sometimes it's facilities, sometimes it's access to data, sometimes it's patient populations if you're thinking about health and rare disease of children.
What are some of the disciplinary areas where there is a strong research collaboration between the two universities? 
There are a few I'm aware of in the children's health area – chronic pain in children, bringing enough of a population together to do the research necessary that's much more difficult in children. 
Both places are significantly in the forefront of artificial intelligence. A big donation, I hear, to the University of Toronto will create the [Schwartz Reisman] Innovation Centre. We haven't got anything quite so grand, but we have a lot of academic excellence in the field and we've also got the backing of one of the big AI companies, DeepMind, because that was founded by postdocs at UCL. 
When a field is moving as rapidly as that, working together is one way of having an impact that you can't have on your own.
The student exchange program is an important part of the partnership between UCL and U of T. What do you think UCL students get out of studying in Toronto and what do you think U of T students get out of studying in London?
One is just the experience of two world-class universities that are similar but at the same time different. That adds to your portfolio of being able to deal with different environments, being able to deal with uncertainties moving from one to the other. I think that's very important. 
Increasingly, employers are looking for people with global experience and I think it's a world now where the best jobs are looking for your degree and the grade that you get, but they're also looking for what you've done in your lifetime and career to bring to their company. 
Both cities are spectacular, but they're different. Both are exciting places to be. I can't imagine two better cities to be a student than in London and Toronto. 
What other ways do U of T and UCL work together and where would you like see this partnership go? 
All universities constantly face problems they're trying to tackle. We've started doing some joint work about sharing best practices around human resources issues. We've done a lot of work on gender diversity and inclusion. We're more than happy to share that experience with our major partners. 
Advancement, philanthropy – there's a lot of expertise in both places. We can always learn from each other. Also, staff mobility – people being able to come over, pick up and learn techniques, gain access to materials that perhaps aren't in London and vice versa. 
I think there's lots of opportunities to work the partnership in favour of both institutions against the background of us knowing each other and wanting to support each other – which has grown over the last few years as we've been working on this partnership. I think it's just good to learn from each other and to share. 
UTC