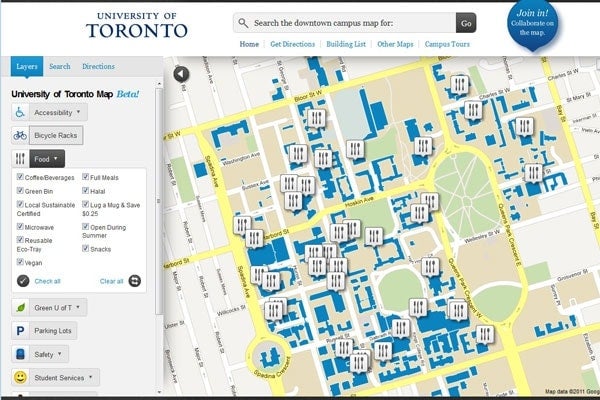 U of T's new online map makes campus easy to navigate
St. George campus now at your fingertips
U of T's newest map is interactive, layered and searchable. No longer will members of the U of T community have to find the right map for their interests. It's all there in one place. Users of the map will be able to do keyword searches or choose layers based on areas of interest.
"This means you don't have to know the names of buildings to find what you're looking for," said Cheryl Ziegler, project manager for the map and manager of IT and communications projects for the Office of Student Life. "You can search for something as simple as 'registrar' and find all the locations of registrars on campus."
Lucy Fromowitz, assistant vice-president (student life), says the new map brings together the best features of the previous maps. "Students were telling us that they wanted a better way to navigate the university," she said. "The map is a coherent response to a complex campus."
A joint effort of the Office of Student Life, Information + Technology Services and the Office of Space Management (OSM), the Google-based map also brings together participants from a wide range of departments on campus, each of them responsible for a separate layer.

OSM Director Steve Bailey says that the partnerships will be central to the map's success.
"As much as people think that buildings don't change, there is an ebb and flow to university space," he said. "By having the right people manage the layers, we can get good information back from people. If things aren't accurate, we'll know that sooner."
The university's Next Generation Student Information Services (NGSIS) program staff played a key role in building the map. Program Director Siobhan Keogh says the map fits perfectly with the program's goals of enhancing student experience.
"Previously students had to access several different maps to get all of the information they needed. This project brought together many departments to build a single map for the community. It is a terrific example of the collaborative approach for the NGSIS program," said Keogh.
"We're not just building a map for right now, we're building a map for the future," added Bailey.
Students will notice that the "map your classes" function on ROSI will appear on the new map. As the project evolves, the map will expand to include the Mississauga and Scarborough campuses. The first map layers include accessibility, food, wireless, student services (including registrars), car parking, bike racks, TTC subway stations, green sites (including green roofs and battery drop-off sites), safety, student spaces and washrooms. And there are more layers to come.
"This new map does more than help people get around. It's adaptable to different experiences of the campus," said Fromowitz. "It's a living map that will change over time."