U of T is world's top public university, fourth overall: National Taiwan University Ranking
Stellar research drives performance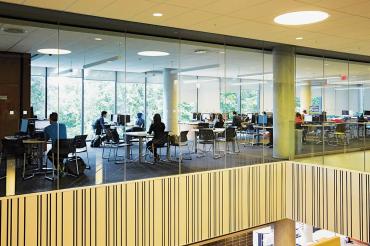 The University of Toronto has once again nabbed fourth place in the 2017 National Taiwan University (NTU) Ranking – following Harvard, Johns Hopkins and Stanford universities.
It remains the world's top public university for a fourth year, ahead of Oxford University, which placed fifth overall.
The NTU ranking focuses solely on analyzing scientific papers of the top 500 universities based on research productivity, research impact and research excellence.
"These results once again demonstrate the impact of the University of Toronto's stellar research across a wide range of disciplines," said Vivek Goel, vice-president of research and innovation. "We're proud to see the excellent work of our faculty and students being recognized globally.
"As the Fundamental Science Review highlights, this kind of research is essential for building an innovative, thriving society – and we'll keep working with partners across Canada and around the world to ensure this ground-breaking work continues."
Since 2007, the university has ranked between third and 14th in the world and consistently first in Canada. Two other Canadian universities ranked in the top 50 this year: UBC (27th) and McGill (36th).
In addition to the overall ranking, the NTU Ranking also analyzed research for six field-specific rankings and 14 subject-specific rankings.
In rankings by field, U of T placed third in the world in clinical medicine, sixth in social sciences and eighth in life sciences. In engineering, it ranked 50th. In the subject-specific rankings, U of T also performed well, placing first in Canada in seven out of 14 subjects. U of T placed fourth internationally in pharmacology and toxicology, 26th in electrical engineering and 30th in physics.
The University of Toronto continues to be the highest-ranked Canadian university and one of the top-ranked public universities in the five most prestigious international rankings: Times Higher Education, QS World Rankings, Shanghai Ranking Consultancy, U.S. News Best Global Universities and National Taiwan University.
Last month, Times Higher Education (THE) ranked U of T 22nd overall out of 980 universities worldwide.
In August, U of T moved up four spots to 23rd internationally in the Shanghai Jiao Tong University's annual Academic Ranking of World Universities (ARWU). Last year, QS World University Rankings ranked U of T 32nd overall in the world, while the U.S. News & World Report's annual rankings of best global universities placed U of T 21st overall.
UTC