U of T will boost climate-change research, innovation and education
"We must take action to limit the rise in global temperatures if we are to avoid catastrophic impacts on the planet"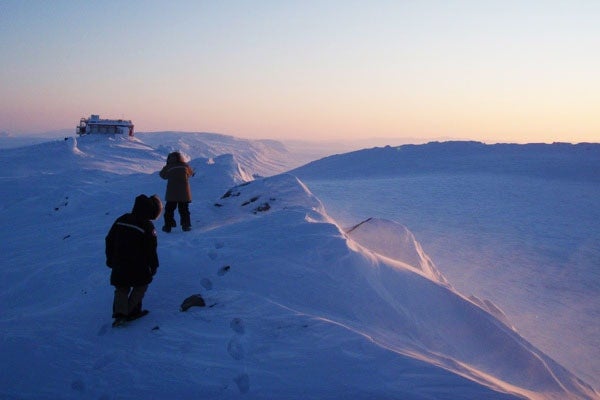 U of T researchers have been working around the world to advance the science of climate change
The University of Toronto is supporting new academic projects in the fight against climate change – an area in which the University is already recognized as a global leader.
U of T will also launch a tri-campus "clean-tech challenge" to encourage environment- and energy-related entrepreneurship and will do more to help faculty and students identify climate-change research and learning opportunities, both internally and with partners.
The measures are among the actions outlined by President Meric Gertler in Beyond Divestment: Taking Decisive Action on Climate Change, U of T's 14-point plan to address climate change, released March 30. 
"We must take action to limit the rise in global temperatures if we are to avoid catastrophic impacts on the planet and humanity," Gertler says. "Universities in particular have a crucial and unique role to play in helping to meet that challenge, and as a publicly supported academic institution, the University of Toronto has a responsibility to take decisive action." 
In Beyond Divestment Gertler notes that U of T has made major contributions to advancing the science of climate change and public policy through its research, teaching and outreach – and underscores the University's support for its faculty and students to do more. 
"There is a strong and widespread desire in the University of Toronto community to contribute as much as we can to global efforts to meet the challenge of climate change," says Gertler.
Currently, more than 200 faculty members on all three campuses in a variety of disciplines are researching topics in energy and the environment, including climate change – many in collaboration with leading national and international organizations. 
Among them:
The team at Bill Gough's Climate Lab on the university's Scarborough campus is conducting research that will help better prepare for one of the results of global climate change – dangerous weather. They're developing a model that predicts how different atmospheric conditions during a thunderstorm will affect the risk of a tornado; 
Omer Gulder and Clinton Groth, of aerospace engineering, are collaborating with government and industry to develop a cleaner, low-emission fuel for commercial aviation;
Political scientist Sara Hughes of the University of Toronto Mississauga is looking at three of North America's largest cities – Los Angeles, New York and Toronto – to determine how city governments can play a role in addressing the climate change challenge;
Geoffrey Ozin of chemistry leads the "U of T Solar Fuels Cluster" – a cross-disciplinary team involving researchers from chemistry and engineering. The group is working on a way to remove carbon dioxide from the atmosphere and convert it into a renewable fuel that could be used in vehicles and heating systems; 
Physicist Dick Peltier studies Earth's climate history to help us predict the future impact of human-induced global warming;
Nano-technology expert Ted Sargent leads a group doing research that could one day lead to the development of spray-on solar cells to collect energy from the sun and better ways of storing energy generated by the wind and sun;
Pierre Sullivan of mechanical and industrial engineering is working with partners at other universities on small, simple wind turbines for power generation off the grid, for use in remote regions in Canada and in the developing world;
Researchers in forestry professor Sean Thomas's lab are studying the interactions between forests, the global carbon cycle and climate.
"U of T's unique contribution to our understanding of the process of climate change, and how to mitigate it, is magnified by the breadth and depth of talent here," says Vivek Goel, vice-president of research andinnovation. "It's one of our distinguishing strengths that faculty and students interested in climate change can find collaborative opportunities to study and work with outstanding scholars in almost any aspect of the field and across virtually every discipline."
The report notes that translating knowledge into real-world action will be crucial to achieve a less carbon-intensive society. It cites, as an example of recent success, that U of T has received 21 patents and filed 130 patent applications related to alternative energy sources, clean tech and energy-efficient materials and products in the past five years. 
These efforts will be intensified in coming years through collaboration with partners such as the MaRS Cleantech venture group and the Ontario Centres of Excellence.
"There is a vast amount of knowledge and entrepreneurial know-how at U of T that can be harnessed to create real-world solutions to climate change," says Goel.
Clean-tech companies using technology developed at U of T include Nanoleaf, which makes the world's most energy-efficient lightbulb; Biox, which produces a green bio-fuel; and QDSolar, which has developed a next-generation photovoltaic cell.
The University community has also made a significant contribution to efforts to combat climate change by informing public policy at the local, national and global level.  Interdisciplinary conferences and symposia – such as the annual U of T Sustainability Conference – play an important role by promoting knowledge exchange with the public, policy-makers and practitioners.  
U of T students and faculty have been directly informing United Nations research and policy as active participants in the Intergovernmental Panel on Climate Change, which, for almost 30 years, has been the key UN body focused on the issue.
Growing interest in the environment and climate change among U of T students has led to a significant expansion of course offerings on all three campuses. At the University of Toronto Scarborough, students in the department of physical and environmental sciences can obtain a Masters in Climate Change Impact Assessment. Another unique offering is available at the Mississauga campus, where the Masters Program in Sustainability Management is allowing students to develop the tools to be leaders guiding the world towards global sustainability. On the St. George campus in downtown Toronto, the School of the Environment was created in 2012, and the Faculty of Applied Science & Engineering offers undergrads the opportunity to focus their studies on the sustainable use of energy, energy demand management and public policy related to sustainability.
The University is committing $750,000 over the next three years to continue to foster innovations in teaching and curriculum focused on climate change. The report notes that the provost's office will work with academic departments across the University to prioritize the environment as a theme within select programs; to develop undergraduate curricular innovations such as online courses and research experiences; and to raise the visibility of environmental course offerings.
"Many students are eager to take advantage of the high-quality and wide-ranging environment-related courses and programs available to them," says Cheryl Regehr, vice-president and provost. "We will continue to innovate to meet their needs and interests, and prepare them to be leaders on climate-change science, policy and action."
The University will also continue to provide students with co-curricular opportunities related to climate change and the environment. For example, U of T's Blue Sky Solar Racing team enters a solar car of its own design each year in the World Solar Car Challenge in Australia. Students have assisted with the green-roof testing lab atop the John H. Daniels Faculty of Architecture, Landscape, and Design and, last year, a team of U of T students won an international competition to design, build and test-drive the most energy-efficient car. The U of T car was so miserly with fuel that it could have travelled from the foot of Yonge Street in downtown Toronto to Barrie, Ontario, on five tablespoons of gasoline.
(Below: A group led by Professor Amy Bilton works with residents of Pedro Arauz, Nicaragua to design and construct a water-pumping windmill, providing critical irrigation during the area's long dry season. Launched two years ago as part of a fourth-year course in the department of mechanical and industrial engineering, the project has now involved three different teams of undergraduate students/ photo by Rob Scott.)