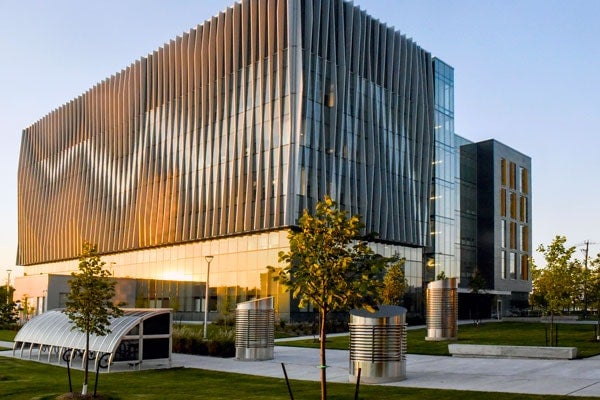 U of T invests in sustainable operations
Meric Gertler: "Universities in particular have a crucial and unique role to play" in meeting the challenge of climate change
The University of Toronto has announced plans to increase sustainable practices, building on the progress it's made to reduce energy consumption and use its own operations as a test bed for innovation.
More rigorous design standards for new buildings are in the works and the University is earmarking an extra $2.5-million to add to the $5-million revolving fund it already has available to finance energy-saving retrofits of existing buildings on the University's St. George campus in downtown Toronto. 
The measures are among the actions outlined by President Meric Gertler in Beyond Divestment: Taking Decisive Action on Climate Change, U of T's 14-point plan to address climate change, released March 30. 
"We must take action to limit the rise in global temperatures if we are to avoid catastrophic impacts on the planet and humanity," Gertler said. "Universities in particular have a crucial and unique role to play in helping to meet that challenge, and as a publicly supported academic institution, the University of Toronto has a responsibility to take decisive action." 
Gertler said that includes making financial investments based on environmental, social and governance (ESG) values, strengthening its support for environmental research and teaching and setting an example in its own operations.
Scott Mabury, vice-president of university operations, said the new measures build upon more than two decades of effort. 
"We have reduced our greenhouse gas emissions and our energy utilization. We have reduced the amount of water we use and we recycle better," Mabury said. "We want to take what we have learned and double down."
One of the most important steps U of T can take, he said, is to make higher energy-saving measures mandatory in all new buildings. Making such standards non-negotiable will add to the price of new construction, but will pay off in lower operating costs in years to come, he said. 
The infusion of an extra $2.5-million to finance energy-saving renovations of existing buildings will allow the university to tackle larger projects with a longer payback period. Ron Swail, chief operations officer for the university's St. George campus, cites one example.
"The university has hundreds of fume hoods in teaching and research labs that run continuously, whether or not they are in use. Upgraded equipment would allow the university to save energy without compromising health and safety. The extra funding would open the door to such projects," Swail added.   
A sustainable approach to university operations is common across all three U of T campuses. 
"U of T Scarborough has undertaken significant expansion to support growth, and we are using this opportunity to pilot innovative technologies to reduce greenhouse gas emissions," said Chief Administrative Officer Andrew Arifuzzaman. "In the last two years, two new infrastructure intensive buildings have capitalized on our unique geography to reduce greenhouse gas emissions by close to 25 per cent over conventional construction.
"We've accomplished this with some 240 geothermal wells, Photovoltaic Solar areas and the country's largest installation of an earth tube heating/cooling system, among other sustainable features. Industry is now coming to us to learn about these technologies and how to implement them." 
The Toronto Pan Am Sports Centre, opened last year at UTSC, is a LEED Gold building, the first new building at the University to achieve this certification. The Environmental Science and Chemistry Building on the Scarborough campus is also on track for LEED Gold certification. 
When it comes to transportation, fewer than 35 per cent of UTSC students arrive at campus in their own cars – an impressive achievement for a commuter campus. With more than 680 buses coming to campus every day (up from 350 just five years ago), transit options have greatly improved. UTSC is now serving as a community transit hub, served by GO, TTC and Durham Regional Transit.  
At U of T Mississauga, "Grow Smart, Grow Green" is the guiding principle for campus development, balancing the need for growth with environmental sensitivity and responsibility. As a microcosm for the pressures of urban growth, UTM "remains committed to proving that expansion and development can be accomplished in an environmentally sustainable manner," says Professor Deep Saini, vice-president of U of T and principal of UTM. 
These "green" projects extend across every corner of campus. A commitment to sustainable architecture means three UTM buildings are LEED certified, with two more pending. Sixty per cent of UTM's roofs have gardens, or are painted white to reflect sunlight. On more than 20 sites, UTM has replaced grass with native species of trees, shrubs and wildflowers. And geothermal energy heats and cools one of UTM's newest and largest buildings, the Instructional Centre.  Aside from electricity to run the pumps, the building requires no energy for heating or cooling. 
(Below: the 13,000-square-meter Instructional Centre at the University of Toronto Mississauga features sustainable components such as a large array of photovoltaic panels, a green roof and a geothermal heating and cooling system located beneath the campus football field/photo by Paul Orenstein)
U of T also is a leader in internal energy production, operating a highly efficient Central Steam plant that serves more than 100 buildings on its St George campus. All three campuses also produce substantial amounts of clean energy.
While the university continues to expand, it has reduced its water use to well below 1991 levels. 
The University has steadily and significantly reduced its energy use and carbon footprint and was one of just 60 organizations across the country to be awarded a "Canada's Greenest Employer" designation in 2015.   
"A lot of these things we have just done because they are the right things to do," Mabury said. Many of the improvements have been made as part of smart changes to operations and with internal funding. 
Against that backdrop, the president's report gives the university a chance to take stock and set goals for the coming years. It calls on U of T to become "an even greater example of innovation" and to make its own operations a testing ground for academic and research projects.