U of T Varsity Blues host Japanese hockey team
Training camp to include an exhibition game between the two teams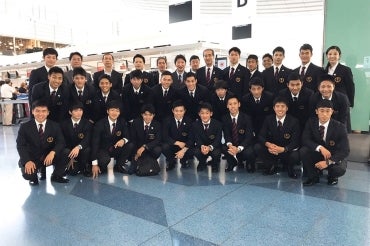 It will be an unusual pairing for Thursday night's exhibition hockey game at Varsity Arena: the home team will be the University of Toronto Varsity Blues; the visitors, all the way from Tokyo – the men's hockey team from Keio University.
The game is the culmination of a training camp hosted by the Varsity Blues this week for the team from the Japanese private university located in Minato, Tokyo.
"The University of Toronto is invested in giving students international experience, so when this was initiated by Keio University for an exchange in men's hockey, we jumped at the opportunity," says Beth Ali, executive director of athletics & physical activity for the Varsity Blues.
The training camp features on-ice practices with the Varsity Blues and head coach Ryan Medel, power skating sessions, strength and conditioning workouts at U of T's Goldring Centre for High Performance Sport, and a lecture from Olympic gold medallists and Varsity Blues women's hockey coaches Vicky Sunohara and Jayna Hefford.
"We're excited to host Keio University and are looking forward to the experience with them," Medel says. "I think it'll be great for our student-athletes and coaching staff to interact and learn about the university hockey system in Japan, as well as their culture. An international relationship is so unique and beneficial for both programs involved."
Thursday night's game is free and open to the public. The puck drops at 7 p.m.
Varsity Blues