U of T, United Nations explore how to improve the lives of people in cities like Toronto
Inclusive Cities Summit hosted by U of T takes place on Aug. 29 and 30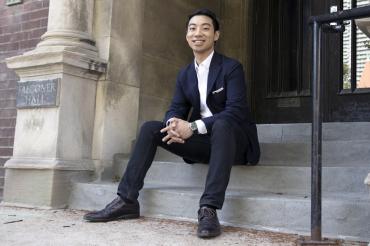 During a recent conversation with a visitor from Spain, University of Toronto student Kevin Vuong was reminded of what makes Toronto such a great place to live.
"He said, 'We don't know how lucky we are to have a city like Toronto that's so inclusive and welcoming,'" says Vuong, who's in the Faculty of Law's Global Professional Master of Laws program.
"Yes, there's lots of room for improvement but there are some things we do very well. That outside perspective really helped to remind me of that."
It's a message Vuong wants to drive home at the Inclusive Cities Summit, a two-day event backed by United Nations-Habitat that takes place on Aug. 29 and 30 at U of T's University College.
Vuong and economist Olivia Labonté, who is a member of the UN-Habitat youth advisory board, are co-organizers of the event, which brings together municipal and community leaders as well as city-building experts from U of T to talk about how to make cities like Toronto healthier and more sustainable.
Participants include Emily Paradis, a senior research associate at U of T's Factor-Inwentash Faculty of Social Work, Steven Farber, assistant professor in the department of human geography at U of T Scarborough, TTC Chair Josh Colle and the City of Toronto's new Chief Resilience Officer Elliott Cappell.  
The summit will give a Toronto-specific context to the New Urban Agenda, a set of urban development commitments made by world leaders in 2016 that address issues such as discrimination, disaster preparedness, climate change and accessibility. 
"if you want to make a difference on the grassroots level, you can't just take something that's abstract like the New Urban Agenda – you need to drill it down, test it out and have a wide variety of different perspectives," Labonté says.
Farber hopes the conversation continues beyond the summit to seriously address the city's most pressing issues, particularly around affordability.
"Rather than having barriers to participate, our cities need to produce opportunities for participation," says Farber, who will be talking about how public transportation can help achieve this goal.
Vuong says U of T's experts can help to move these ideas forward. "We have faculty members coming in and lending their expertise to us so we can really craft tangible and feasible action items to build a city of the future," he says.
It was important to Vuong and Labonté to ensure that the next generation of urban thinkers had a voice in these discussions – so they made sure the summit's moderators were all young people.  
"Having young adults such as myself as active players in this event gives value to our voices and inspires us to enable change and contribute to the creation of a healthy, prosperous city," says Zahraa Saab, one of the event moderators, who will be starting her master's at the Dalla Lana School of Public Health in the fall.
UTC