U of T ranked top public university in North America for employability: Times Higher Education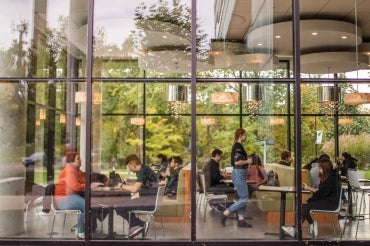 University of Toronto graduates are among the world's most desirable employees, according to a new ranking published by the prestigious Times Higher Education magazine.
The magazine's annual ranking of graduate employability, released today, ranked U of T first among universities in Canada and 13th place globally – the same position it held last year.
Among public universities, U of T fared even better: It placed first in North America and seventh in the world, according to the Global University Employability Ranking 2018.
"This is the latest sign that employers – not just in Canada, but around the world – recognize the value of a University of Toronto education, as demonstrated by our alumni," said U of T President Meric Gertler.
"The university has worked hard to make sure graduates are equipped with both the academic credentials and the core competencies they need to succeed in an increasingly competitive and dynamic global job market."
Designed by Emerging, a Paris-based human resources consulting firm, the Times Higher Education ranking reflects top corporate recruiters' views on which universities excel at preparing students for the workplace. The ranking is based on an online survey given to 7,000 respondents, split among two panels, that represent employers who have recruited more than 250,000 graduates over the past year.
The 2018 ranking, which included 250 post-secondary institutions in 41 countries, was led by Harvard University, the California Institute of Technology and the Massachusetts Institute of Technology. Yet, while U.S. schools have historically figured prominently in the tables, Time Higher Education editors noted American dominance is waning amid intensified competition from elsewhere in the world – particularly East Asia.
In Canada, meantime, two other universities joined U of T in the top 50. They were McGill University, which ranked 18th globally, and Université de Montréal, which ranked 37th.
U of T's strong performance in the Times Higher Education ranking comes on the heels of a similar employability ranking in September by London-based Quacquarelli Symonds. In that ranking, U of T placed 12th in the world, up seven spots over the past two years.
Overall, U of T continues to be the highest ranked Canadian university and one of the world's top-ranked public universities in the five principal international rankings: Times Higher Education, QS World Rankings, Shanghai Ranking Consultancy, U.S. News Best Global Universities and National Taiwan University.
UTC