U of T technoscience researcher wins Fleck Prize, the first academic to win it twice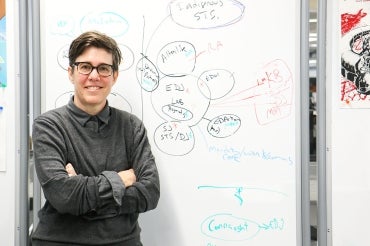 The Matlab region of Bangladesh is known as a global leader in cholera research, with a half-century of important public health work taking place there. And yet, cholera remains an on ongoing problem for locals.
"There's been millions of dollars spent on research there, but there's still no adequate water infrastructure and it is a site of endemic cholera," says Michelle Murphy, who is the director of the University of Toronto's Technoscience Research Unit and a professor of history and women and gender studies. 
The stark contrasts in Matlab highlight one of the central arguments in Murphy's book Economization of Life, a critique of the global political and economic system created by Western nations that puts profit ahead of people. The book recently won the Ludwik Fleck Prize, which is awarded by the international Society for Social Studies of Science for an outstanding book in the area of science and technology studies.  
"Doing this historical work, we began to find concepts, practices, instruments, measures that have been built of colonialism, racism and out of projects that allow pollution to exist for the sake of profit," says Murphy.
"We have lost track – that's where those concepts come from."
It's the second time Murphy has won the Fleck, making her the first academic to win it twice since the prize was first awarded in 1994. She previously won for Sick Building Syndrome and the Politics of Uncertainty, which details the history and politics behind sick building syndrome, the most commonly investigated occupational health problem in the United States in the 1990s.
Murphy says she is "incredibly honoured" to win the award. "It does mean a lot to me because it's my field and it's my peers recognizing my work," she says.
Broad in scope, Economization of Life combines gender studies, laboratory studies, science history, economic history, and post-colonial studies into its narrative. Many topics discussed in the book began as conversations in Murphy's women and gender studies classes, including discussions about "re-visioning" Toronto as a meeting place for feminist identities.
"This began with research about reproductive justice and how communities in the United States were trying to figure out how to use technologies to take care of their own well-being when hospitals or services would treat them with disrespect," racism and the like, says Murphy, who is also a winner of the Connaught Global Challenge Award.
"People were looking for ways to build alternative practices – different ways of using instruments and running clinics – to create another vision of what reproductive health could be like."
Investigating the instruments and technologies of the 1960s, Murphy found practices linked to unregulated experiments around the world – including in Matlab. At one point, it was used to develop vaccines for the U.S. military, she says. 
Murphy's book is part of a growing scholarship within the history of science that has focused on race and colonialism. Since completing her PhD at Harvard University about 20 years ago, applying a postcolonial lens to the scholarship has been a top priority for Murphy.
"It's taken a lot of work, a lot of truth-telling, a lot of research and insistence by a lot of people to change the course of the field," says Murphy. "Central to its understanding is that race and colonialism have been core attributes to the history of how scientific practice has developed." 
Coming from Winnipeg and a Métis background, Murphy has also worked hard to foster Indigenous-led science and technology study – a path Murphy says allowed her to deconstruct science and technology studies in a Canadian context.
Murphy sees Economization of Life as part of an effort to seek better solutions on the ground. Ultimately, her book imagines how social scientists and scientific experts could act more responsibly and create more just and equitable forms of knowledge production and sharing.
"One of things we can do is point those [frameworks] out and say 'Let's just stop using them,'" she says.
"We can do this kind of work so much better if we stop using some of these things, and put our thoughts to: 'What's the better concept? What's the better tool? What's the better practice?'"
UTC