Connaught Global Challenge Award: Five U of T teams share $1.23 million in funding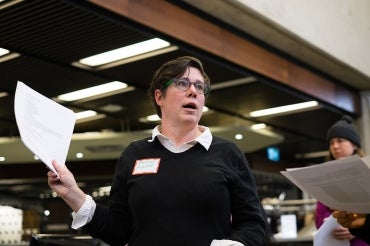 Five ambitious global projects at the University of Toronto, from tackling public health issues to creating models to build "smarter" villages, are sharing $1.23 million this year from the
Connaught Global Challenge Award
. 
The internal award, funded by the Connaught Fund, is designed to support new collaborations involving leading U of T researchers and students from several disciplines, along with innovators and thought leaders from other sectors.
This year, external collaborators include multiple prestigious universities, Indigenous community health organizations, global corporations and justice-minded non-profits.
The Connaught funding will help these programs get off the ground and boost efforts to find external funding to further develop solutions to global challenges, as well as possibly create new research-oriented academic programs.
 "It's wonderful to see so many of our researchers banding together on interdisciplinary teams to tackle some of the world's most challenging and complicated global problems. The Connaught Global Challenge Award recognizes that only by working together and seeing an issue from many different angles can we truly come up with innovative, ground-breaking solutions," said Vivek Goel, U of T's vice-president of research and innovation.
"This year we had so many high-calibre team submissions that the Connaught Committee decided to award almost $500,000 more in funding to a greater number of projects than usual – and I'd like to thank all applicants for their work and congratulate this year's recipients. We look forward to hearing what they accomplish."
The recipients of this year's Connaught Global Challenge Award are: 
•
"Big data – local impact – healthy lives": Building a Canadian Indigenous and African health informatics research and innovation platform," led by
Laura Derksen
, assistant professor of health economics in the department of management at U of T Mississauga, with co-principal investigator
Anita McGahan
, professor and Rotman chair in management at the Rotman School of Management.
Derksen's team includes U of T researchers with expertise in public health, strategic management, medicine, as well as collaborators from the University of Malawi, Dignitas International, Sioux Lookout First Nations Health Authority, and Cancer Care Ontario.
Together, they will use the Connaught funding to conduct pilots in northern Ontario and Malawi to examine how local use of big data can improve health care in low resource, remote, rural and Indigenous communities. The project will examine the potential for big data to unlock local innovation in health-care delivery, leading to locally relevant breakthroughs that address some of the world's biggest health challenges.
•
"Innovations to close the global mortality data divide," led by
Prabhat Jha
, professor of global health and epidemiology at U of T's Dalla Lana School of Public Health and head of the Centre for Global Health Research of St. Michael's Hospital.
His team is composed of U of T researchers in computer science, strategic management, public health, and ecology and evolutionary biology, as well as collaborators from the Indian Council of Medical Research, the Bill and Melinda Gates Foundation-funded maternal child epidemiology estimation project, the International Development Research Centre, and the mortality section of the United Nations Population Division.
•
"Technoscience research unit lab for environmental data justice," led by
Michelle Murphy
, a professor of history and women and gender studies in the Faculty of Arts & Science.
Murphy's team includes fellow U of T scholars who specialize in environmental justice, science and technology studies, Indigenous studies, and information and technology, as well as collaborators from the Environmental Data and Governance Initiative and the Civic Laboratory for Environmental Action Research.
They will use the Connaught funding to help establish a technoscience research unit lab to archive, monitor, critically analyze, and reimagine public government environmental data on both sides of the Canada-United States border that may come under threat from changing government administrations. The multidisciplinary lab will be positioned to offer leadership in the emerging field of environmental data justice by bringing technology development practices from the civic tech sector together with social science, environmental justice, and Indigenous research.
•
"Scalable architecture for smart villages," led by
V. Kumar Murty
, professor of mathematics in the Faculty of Arts and Sciences.
With about half the world's population living in villages, "smart" villages are needed to ensure people living in rural areas prosper now and in the future. Unlike smart cities, which usually involve the design and deployment of mega infrastructure, smart villages put more emphasis on human resource development and empowerment.
The Connaught funding will help Murty's team take the first step to create a mathematical model as part of a scalable architecture, which takes a holistic approach to technology, policy and institutional design. This model can then be used for interdisciplinary training modules on novel development practices.
The team is comprised of U of T political science and law researchers, as well as collaborators from Process Research Ortech Inc., the University of California, Berkeley, Stanford University, the government of India, and the Aeronautical Development Agency, Bangalore.
•
"The global fibrosis network," led by
Craig Simmons
, U of T
Distinguished Professor
of mechanobiology in the department of mechanical and industrial engineering in the Faculty of Applied Science & Engineering, as well as the Institute of Biomaterials and Biomedical Engineering.
Fibrotic diseases, which affect multiple organs and can cause severe pain, affect 2.5 billion people worldwide and cost health-care systems an estimated $200 billion. World-leading scientists and clinicians at U of T and its affiliated hospitals have made significant strides in fibrosis research. They've now joined forces to share their findings to tackle fibrosis together. With the help of the Connaught funding, this local fibrosis network will go global to foster pioneering research and strengthen innovation and training capacity.
Simmons' team includes fellow U of T scholars who specialize in matrix dynamics, public health economics, diabetes complications, as well as collaborators from the Wellcome Trust Centre for Human Genetics at the University of Oxford, the University of Cincinnati, University of Bergen, Norway, The French National Center for Scientific Research (CNRS), University of Paris, and major global industrial partners to come.
To be considered, global challenge teams must represent new collaborations involving leading U of T researchers and students from multiple disciplines, along with innovators and thought leaders from other sectors. The application deadline for the next round of funding is Feb. 1.
UTC