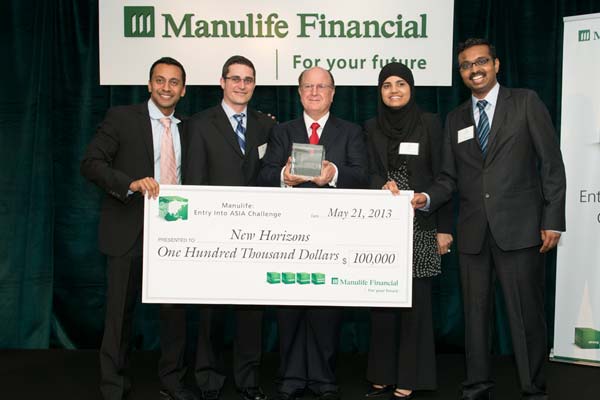 U of T teams take two of three top spots in Manulife challenge
Rotman students dominate in Entry into Asia competition
A team of students from the Morning MBA program at the University of Toronto's Rotman School of Management have won first prize in an international business plan competition while a second team of Rotman MBA students landed in third spot.
"It is extremely exciting to get validation of our business idea from a team of international experts," said Aisha Bukhari, member of the first place team. "The potential of executing this in real life is thrilling. It is an attestation that green energy is not only good for the environment, it also creates economic and social value."
The Manulife: Entry into Asia Challenge asked undergraduate and graduate business school students at Canadian universities to create a business plan for a Canadian small or medium-sized enterprise (SMEs) to expand into any market in Asia. Competing teams demonstrated their ability to think strategically about entry into Asian markets while demonstrating their understanding of the unique attributes, challenges and realities facing Canadian SMEs.
Seven finalist teams of business school students presented their business plans submissions to an elite panel of international judges, with first prize of $100,000 awarded to the U of T team called New Horizons.
That team, consisting of Morning MBA students  Bukhari, Aristotle Solomon, Lak Chinta and Peter Cinat, worked on a Community Energy Storage plan for Japan.
"Our project won because we had a compelling value proposition for a Canadian SME to enter Japan and address its pressing energy problem," said Solomon.  "We were able to quantify and clearly articulate this value proposition from both the customer (Japanese Utilities) and company (eCAMION) perspectives."
Japan is both a world leader in solar installations and heavily reliant on fuel imports of oil, gas and coal, said Bukhari.
"We identified that solar plus storage beats the cost of oil in Japan, today," Bukhari said. "We got feedback from cleantech experts at MaRS, Rotman advisors, colleagues and friends to help us refine and deliver a stimulating pitch."
Bukhari, Solomon, Chinta and Cinat are all scheduled to graduate in 2015 from the Morning MBA program, which allows students to work on their degree part-time while still working full-time, with most classes ending before 9 am. (Read more about the program here.)
"The reputation of the school, quality of the faculty and alumni played an important role in choosing Rotman," said Chinta. "The personal fit of the morning MBA program was another aspect."
Being able to pursue their MBA part-time was important, the members of the team agreed, as was the program's global perspective and its approach to integrative thinking approach. (Read more about integrative thinking.)
"I chose Rotman because it is a leading business school in Canada based on Integrative Thinking," Cinat said. "Extending Integrative Thinking from the classroom setting to real world challenges and winning a competition like this, proves how powerful and relevant Rotman's MBA program is."
Taking the third prize of $20,000 was Frontier Consulting, a team that comprised Ryan Appotive, Melita Cyril, Ian Sin and Leslie Wong (all scheduled to graduate with their MBA from the Rotman School of Management in 2013) and worked on a telecommunications plan for Myanmar.
The second place prize of $50,000 went to Lumi Strategists (Jiemi Gao and Kevin Zhou) from the Richard Ivey School of Business at the University of Western Ontario who worked on a medical technology plan for China.
"I would like to thank all of the students and business owners who responded and entered the Manulife: Entry into Asia Challenge. We hope all of the entrants will succeed in turning their business plans into successful ventures in Asia and ignite the imagination of Canadian businesses overall," says Manulife Financial President and Chief Executive Officer Donald Guloien.
"I would also like to thank the judges and the Rotman School of Management for their role in making this a success."
Those judges were:
Ramona Cheng: Executive Director of Ernst & Young and the Americas Markets Leader of Ernst & Young's China Business Network
Philip Leong: Vice President and Director, and Chairman's Council member at RBC Dominion Securities and represents Canada in the Asia Pacific Economic Cooperation (APEC) Business Advisory Council
Jacqueline Sava: Founder and Director of Possibilities of Soak Wash Inc., whose products are exported to Japan.
This one-time only competition was sponsored by Manulife Financial and managed by the University of Toronto's Rotman School of Management.
Ken McGuffin is a writer with the University of Toronto's Rotman School of Management.