U of T team heads to Hult Prize regionals with plan for firewood alternative in refugee camps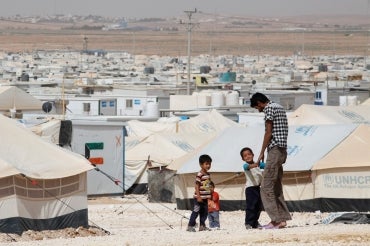 They won with a substitute for firewood made from recycled coffee grounds. 
Teams of students with an interest in social entrepreneurship gathered at the University of Toronto's Rotman School of Management last week to participate in the quarterfinal qualifying round for the Hult Prize. 
The prize is a startup accelerator for social entrepreneurship that brings together the brightest college and university students from around the globe to solve the world's most pressing issues. 
Student teams drawn from a wide range of faculties at U of T tackled the competition's challenge of "Refugees - Reawakening Human Potential and Restoring the Dignity of 10M People by 2022". The challenge focused on restoring the rights and dignity of people and societies affected by social injustices, politics, economic pressures, climate change and war.
The winner of the U of T competition was Team Journey. Composed of three Rotman MBA students and a U of T Master of Engineering student, Team Journey developed a substitute for firewood made from recycled coffee grounds which could be used to alleviate the fuel and firewood shortage in many refugee camps in Africa.
Engineering's Matthew Frehlich and Rotman's Lucas Siow, Sam Bennett, and Gowtham Ramachandran will advance to one of the Hult Prize regional finals to be held in March.  
"The calibre of ideas coming out of this year's competition was exceptional," said Tina-Marie Assi, U of T's Hult Prize Campus Director. "The panel of judges contributed invaluable insights in both rounds of pitches." 
She said that speakers Rod Lohin, executive director of the Michael Lee-Chin Family Institute for Corporate Citizenship, and Nouman Ashraf, an assistant professor in the teaching stream at Rotman, "provided motivation and much food for thought for anyone looking to make their mark with a career in innovation and sustainability." 
Judges for the qualifying round included Aisha Bukhari, a Rotman MBA graduate with Attolo SE Inc. who reached the final round of the Hult Prize in 2015, Assaf Weisz, co-founder and managing director of Purpose Capital, Astrum Nanji, founder and managing director at Lux Equity, Hamoon Ekhtiari, director of strategy and innovation for the executive vice-president at TELUS, Jacky Magee, director of developer audience experience for Microsoft Canada, Jamal Khayyat, a Rotman MBA graduate who was the Hult Prize campus director at U of T in 2015-2016, Ted Graham, head of open innovation at General Motors and Zahra Ebrahim, a co-leader of Doblin's Canada practice.