U of T supercomputing centre, IP education initiatives receive boost from Ontario budget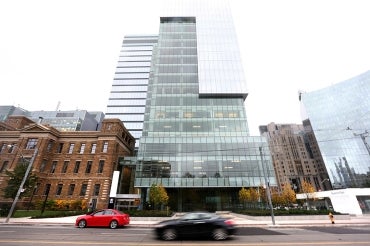 The University of Toronto's SciNet supercomputing consortium, which provides researchers across Ontario with high-powered computational resources, will receive a further boost thanks to funding in the province's latest budget.
The 2020 budget, released Thursday, calls for a $3.5-million investment into advanced research computing, a key strategic priority of Compute Ontario, a non-profit organization devoted to supporting, streamlining and growing advanced computing projects in in the province. 
That includes support for SciNet, which is home to Canada's most powerful research computer – a machine that accelerates cutting-edge research in fields ranging from medical research and climate science to astrophysics and aerospace engineering. 
"Today's provincial budget investment in the foundations of research and commercialization recognizes the essential role of post-secondary institutions in making Ontario a magnet for highly qualified, hard-working talent who drive innovation and growth," said University Professor Ted Sargent, U of T's vice-president, research and innovation, and strategic initiatives.
The investments come as institutions such as U of T lead the way on research that will help end the pandemic and bring renewed prosperity and growth to Ontario. In the case of advanced research computing, that includes continued capacity for essential training of highly qualified personnel who use computational methods to address pressing questions facing society.
Sargent said investments in SciNet benefit a wide variety of sectors, noting the consortium's new partnership with processor giant AMD to launch SciNet4Health, a supercomputing platform dedicated to powering health research, including on COVID-19.
"SciNet has been an important catalyst for research discovery across fields from biomedical sciences to climate science and aerospace engineering," Sargent said. "SciNet's most recent partnership with AMD has created a supercomputing program that will advance health-care research and lead to advancements in drug discovery, vaccine development and genomics research.
"Continued investment in computing power and collaboration among institutions is important to strengthen Ontario's knowledge foundations for years to come."
The budget also sets aside $1.5 million for the implementation of recommendations drawn up by the Expert Panel on Intellectual Property, which counts Shiri Breznitz, associate professor in the Munk School of Global Affairs & Public Policy, among its members.
That includes funding support that prioritizes IP creation, protection and commercialization, and includes development of intellectual property curriculums such as U of T's recently launched IP Education Course.
Offered by U of T Entrepreneurship, the free online course is designed to equip students, faculty, staff and alumni with a solid foundation in intellectual property and its applications. It was created by leading intellectual property experts and draws on resources from the Canadian Intellectual Property Office and the Centre for International Governance and Innovation, among others. The course aims to help participants recognize when they create something of value and the steps required to protect it – all crucial skills in today's knowledge economy.
The course is the latest addition to programs available to U of T innovators and entrepreneurs that have contributed to the creation of over 500 startups in the last decade.
UTC