U of T study looks at how Toronto's LGBTQ spaces were impacted by the pandemic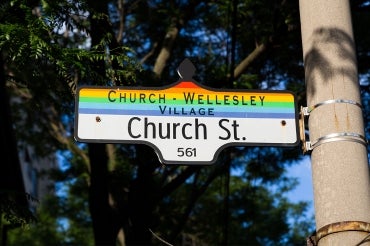 A University of Toronto study is shining a spotlight on how the city's LGBTQ community is being disproportionately impacted by the COVID-19 pandemic.
Early results from the Queer COVID-TO study suggests people who self-identify with 2SLGBTQIA+ communities are concerned that businesses near Church and Wellesley Streets, an LGBTQ enclave, were at risk of closing during the pandemic. In particular, they worry that businesses dedicated to women, trans and non-binary people have been disproportionally affected when compared to spaces that cater to gay men.
Led by Jessica Fields, a professor in U of T Scarborough's department of health and society, the study explores what social life will look like for the queer community in anticipation of more businesses being at risk of closing their doors.
"Across Toronto, we have seen neighbourhood businesses close," Fields says. "For queer people, the loss of those businesses is also a loss of a place in which people get to express themselves, explore themselves and find community."
Queer COVID-TO launched last summer to document the impact of COVID-19 public health measures on mental health and well-being. It aims to raise awareness about how the city can identify and improve resources and policies to better support the community. 
After conducting 413 surveys and 46 in-depth interviews, researchers say study participants reported concerns about the loss of more safe, inclusive, community-based spaces for women, trans and non-binary people.
Assistant Professor Sarah Williams, a co-investigator on the project, says that participants reported feeling a great need to visit queer businesses for a sense of community and connection during the brief periods when Ontario's COVID-19 rules permitted them to re-open.
Williams adds that, while people turned to virtual platforms to socialize, the loss of physical space means there will be limited spaces for community members to fully express themselves.
"Participants are mourning that space," Williams says. "There needs to be a diversity of businesses and spaces for all members of the queer community to feel safe and comfortable to show up as themselves and feel welcome."
Here's what one study participant said about the anticipated loss of a local drag bar: "Crews and Tangos probably is (going) be gone once this is finished. And it's a very important place because a lot of people rely on that place to feel safe (and) go to the drag shows. It is actually one of the places that are very inclusive…"
Williams says many study participants view the closure of queer businesses, specifically places for lesbians, queer women and trans folks, as being a reflection of broader patterns of disparities in access to resources and public spaces for the queer community.
The study also highlights how housing insecurity and family dynamics have affected mental health and well-being during the pandemic.
James Gibb, a visiting scholar at U of T Scarborough's department of health and society, notes that participants reported feeling a greater sense of isolation during the pandemic, resulting in elevated depression and anxiety. Factors included the loss of community, but also moving back home, where their identity may not be fully supported or recognized.
"The LGBTQ community tends to be more vulnerable to having limited access to socio-economic resources," Gibb says. "That already inequitable access to resources is going to be disproportionately impacted by a pandemic that has disrupted daily life." 
The group hopes the project will not only help shed light on how the queer community has navigated the pandemic, but will help identify resources and funding to support LGBTQ-focused initiatives and preserve diverse community spaces going forward.
"We hope that by highlighting the possibility of loss, we can re-enter with greater intention and with an understanding of what these spaces mean to us," Fields says.
UTSC