U of T students unearth Toronto's past in anthropology course
An intensive urban archeology course is giving students a chance to get their hands dirty as they dig up Toronto's past. 
At Huron-Washington Parkette, just south of Bloor Street West, undergraduate students have excavated one-metre-square holes looking for long-lost keepsakes. On a recent Tuesday, Koushan Amir-Khosravi went to see lecturer Paul Duffy to show him his latest find: a blue glass bottle marked "poison."
Not everything the students have turned up is likely to end up in the Smithsonian, but they have discovered artifacts that shed light on the neighbourhood's history at the turn of the 20th century. 
A Canadian Officers' Training Corps badge, believed to date back to the First World War, and a bed finial from the same era are among the prized finds this year. 
The students have an audience this time: Kids at the adjacent playground often take a break from digging in the sandbox to watch the undergraduates at work.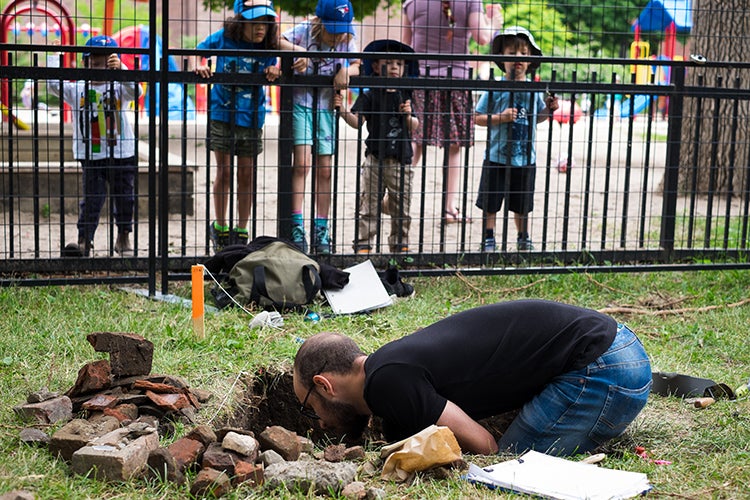 Kids watch Brandon Reimer, an archeology and geographic information systems student going into fourth year, while he searches the soil for hidden treasure (photo by Geoffrey Vendeville)
Once the class has finished digging, they use city records, maps and stratigraphy – the field of geology dealing with rock layers and their interpretation in terms of timescale – to describe the objects. The historically significant artifacts will then be curated by the U of T anthropology department and made available to researchers.
The course prepares students who want to go on to do archeology field research, says Sally Stewart, a lecturer in the anthropology department. But it also teaches more general skills like teamwork, discipline and report-writing. Stewart, a lecturer in the anthropology department, has been involved in digs in the Mediterranean and Middle East for epipaleolithic relics circa 10,000 BC. 
Her co-instructor Duffy adds: "The students acquire a basic appreciation for the antiquity of the landscape and how to use objects in context to tell a story about that landscape."
---
Here's a look at some of the artifacts the students have found: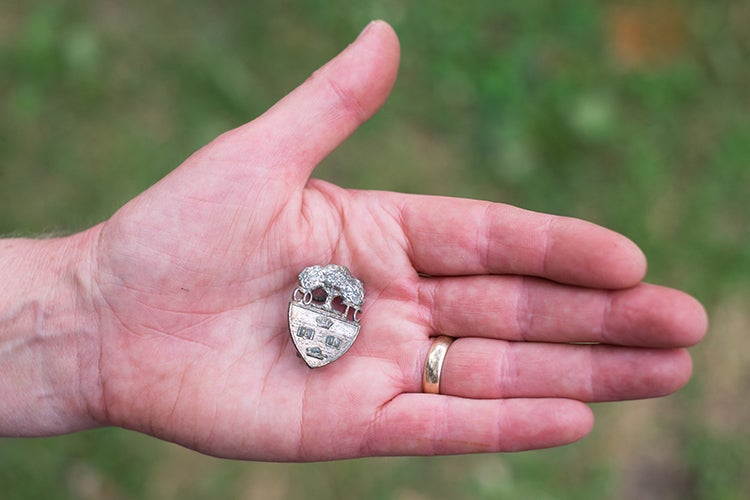 A pin with the U of T crest associated with the local Canadian Officers' Training Corps. Lecturers Stewart and Duffy believe it to date back to the First World War.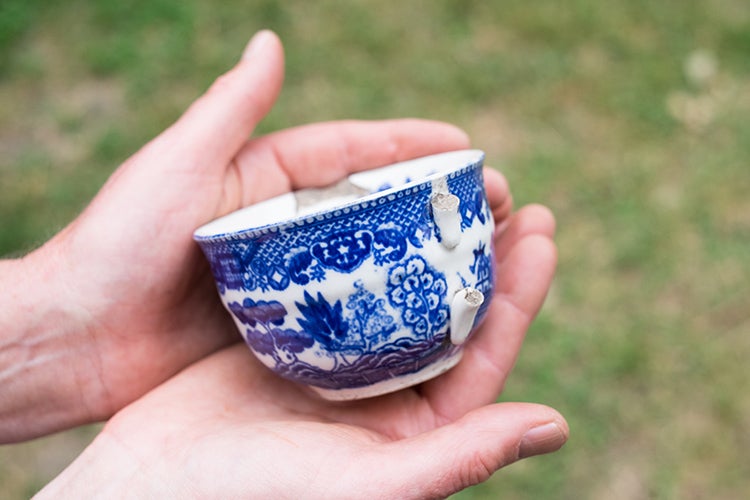 A teacup with a blue willow pattern and broken handle circa mid-19th century. Stewart says the placement of a pattern on the inside of the cup shows it was made for right-handed people.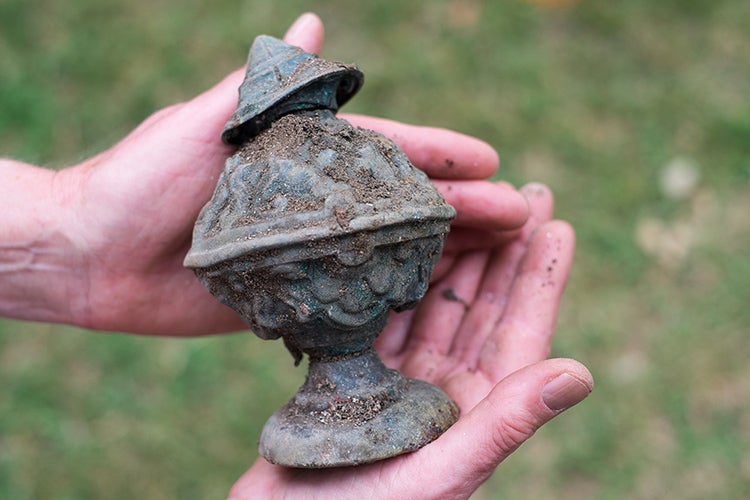 ​A bed filial thought to date back to the turn of the century. It was found in what the experts believe was a household dump.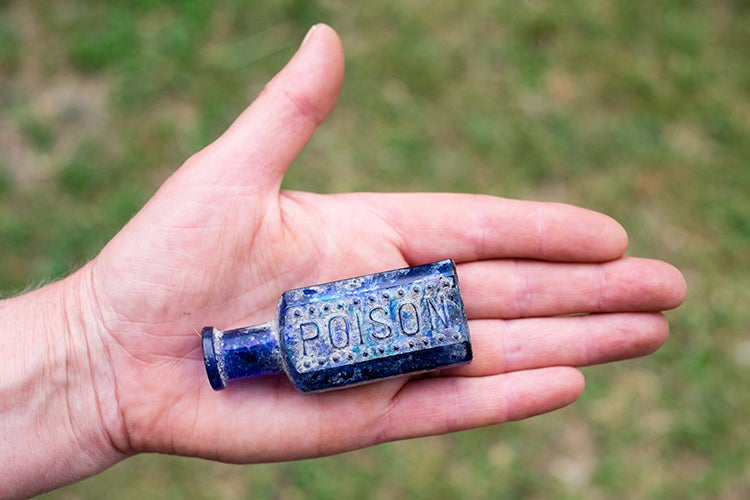 A mysterious, squared medicine bottle marked poison. As of yet, the excavation has not turned up any bodies. 
Watch a video of last year's dig:
UTC