U of T students at downtown campus to vote on new discounted TTC pass
U-Pass would cost $70, but participation would be mandatory for full-time, undergraduate students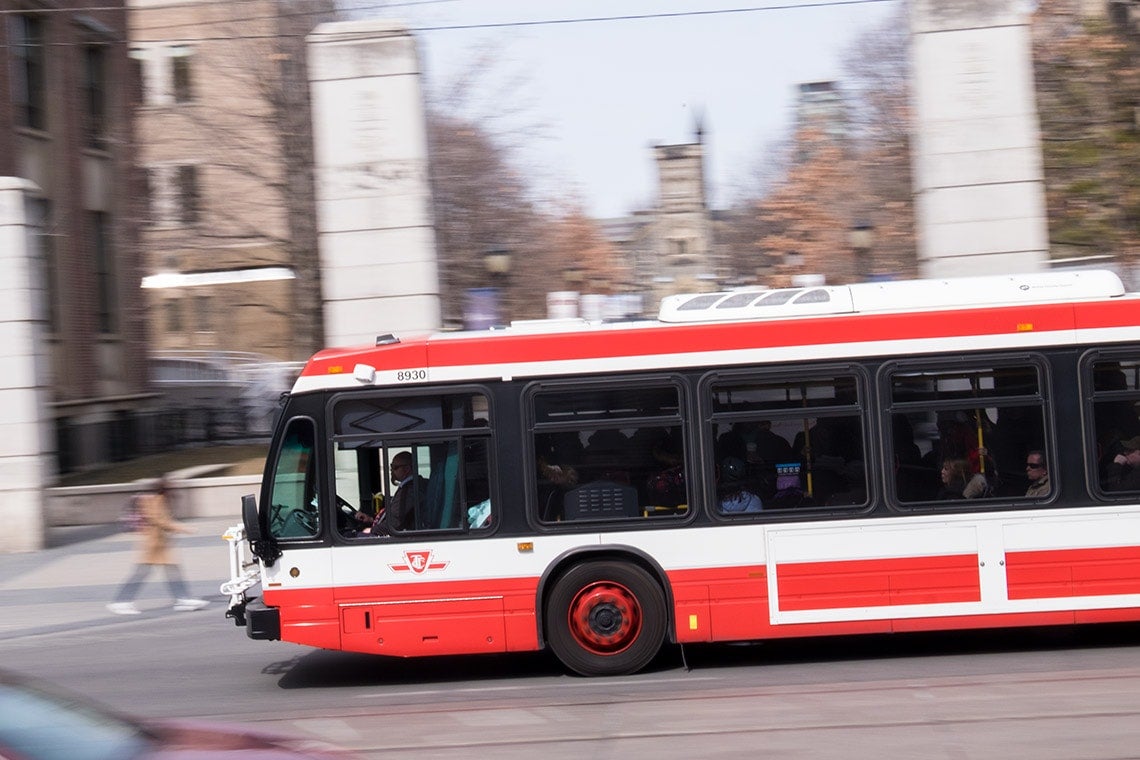 Getting around the city may become a lot cheaper for many undergraduates at the University of Toronto's downtown Toronto campus.
But that all depends on a referendum next week on a proposed TTC pass for university students.
From March 26 to 28, students will be asked to vote online on a $70 per month U-Pass offering unlimited travel for 40 per cent less than the cost of a post-secondary student pass, currently $116.75. The catch is that the U-Pass would be mandatory for all students and folded into student fees.
"I think it will be a game-changer for the campus and for students here," says Matti Siemiatycki, an associate professor who specializes in transportation policy and has researched students' commuting habits. 
About 43 per cent of students at the downtown Toronto campus take public transit to school, according to StudentMoveTO, a recent survey of students' commuting patterns at U of T and three other Toronto universities.
But even those students who don't take the TTC to campus stand to gain from the U-Pass, Siemiatycki says. "The trip to campus is only one trip that students make," he says. "They are living 24-hour-a-day, seven-day-a-week lives. The key is we want them to feel that they have access to the entire city."
The cost of living in Toronto means many students have to make trade-offs, either forgoing a transit pass and living near campus or taking the TTC and living farther afield. With deeper discounts, students will be more inclined to explore all the city has to offer, Siemiatycki says.
The U-Pass would also be a boost to the TTC, Siemiatycki added. By encouraging students to take public transit, the TTC may foster a "transit culture" and form habits that will stay with people long after they graduate.
The transit agency, which has seen stagnant ridership, is in talks to offer the U-Pass to students at Ryerson, OCAD University, and George Brown College in addition to U of T St. George. If the U-Pass program was available to all four post-secondary institutions, the TTC expects the pass would lead to a 15 per cent increase in transit trips taken by students. The $70 fee covers the cost of adding service to make room for more riders, the TTC says in a policy paper.
The agency says the program would be "revenue and cost neutral" since every eligible student would be required to opt in. Each university or college would be required to commit to a four-year term.
The TTC notes that the U-Pass would lessen the financial burden on students, whose average income is less than one half the province-wide average.
The TTC board unanimously approved the U-Pass this week.
Mathias Memmel, president of the University of Toronto Students' Union, says a discount program like U-Pass has been a student union priority for nearly a decade. The UTSU conducted a survey of 10,000 U of T students last year, finding that 95 per cent were in favour of the idea. The U of T referendum is the first vote scheduled at the four universities debating the U-Pass. 
The UTSU has heard from some students who are opposed to having to opt in, regardless of whether they will use the U-Pass. However, Memmel points out that students would have to make fewer than 12 round trips in a month to break even.
"Even for those who are living on campus this is really a key to the city, a chance to explore and experience what really is an international city," he says.
UTC