U of T students to celebrate Class of 2020's resilience during virtual fall convocation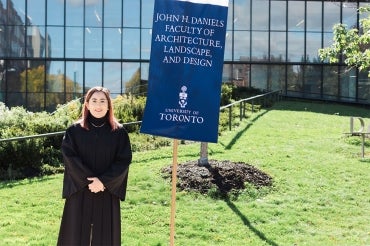 On a recent morning, University of Toronto architecture student Lauren Shiga stood outside the north facade of the Daniels Building at One Spadina Crescent to record a congratulatory message for the Class of 2020.
She was joined by Robert Wright, the interim dean of the John H. Daniels Faculty of Architecture, Landscape and Design, and – just beyond the camera's frame – a pair of beaming parents.
"We all worked really hard to get our degree," Shiga told U of T News after the shoot wrapped up. "I know it was really challenging sometimes and I know friends who pulled all-nighters trying to finish their projects on time."
That's in addition to the challenges that arose in the wake of the COVID-19 pandemic, including the need to adapt to online classes.
Shiga is one of 26 divisional student ambassadors representing U of T's faculties and colleges, as well as U of T Mississauga and U of T Scarborough, who will make a cameo in this fall's virtual convocation, which will be made available for public viewing on Nov. 21 at 12 p.m. EST. There are also three student welcome ambassadors who appear in the video, each representing one of U of T's three campuses. (See the full list of student ambassadors here.)
For only the second time in the university's history, U of T graduates – more than 5,200 of them – will receive their degrees in absentia.
Shiga says she plans to watch the virtual convocation with friends, in addition to celebrating in person with her family and others in her social bubble.
Earlier that day, Lucy Zuo appeared alongside New College Principal Bonnie McElhinny to congratulate the college's fall graduates. A third-year student in political science and equity studies, Zuo said "it's been a really tough year in a lot of different ways" as the normal stresses associated with being a university student collided with the unique challenges of living through a global public health crisis.
"Now more than ever, a lot of people are struggling with different things in their personal lives, and these aren't things you see when you sit next to someone in lecture," Zuo said.
The upside? Reaching the academic finish line in such a difficult year demonstrates the Class of 2020's resilience and ability to succeed no matter what challenges lie ahead. 
"I congratulate all of them on graduating through this and wish them the best for their future knowing that they will be able to make it through this, and that they're definitely going to be able to go very far afterwards," said Zuo.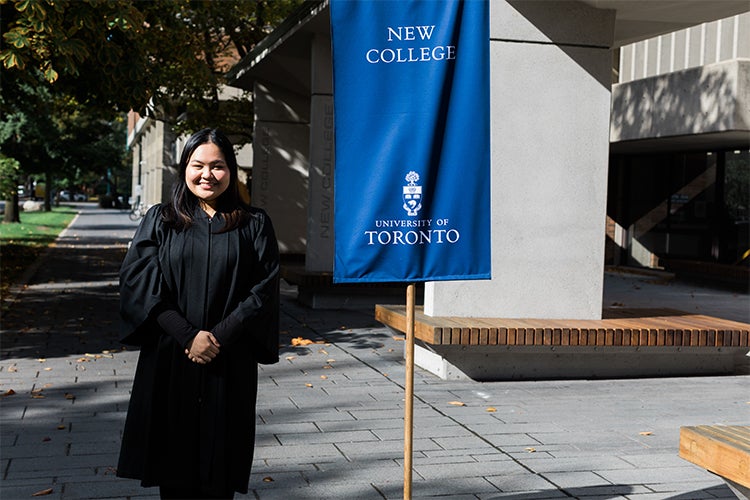 Lucy Zuo, a third-year student in political science and equity studies at New College, said the Class of 2020 has demonstrated its resilience in the face of COVID-19 (photo by Matthew Volpe)
Mahera Islam, an English specialist with a philosophy minor who writes film reviews for the U of T Mississauga student paper, was chosen to represent the Mississauga campus. Her segment with Vice-President and Principal Alexandra Gillespie outside the principal's residence was a welcome opportunity to return to campus after studying remotely since the spring.
Though she plans to graduate in June, Islam was pleased to dress up for the fall shoot as though it were her own convocation day, wearing a gown.
"Because of COVID-19, I may not have a physical graduation ceremony myself, so I was pleased to have this small occasion," she said.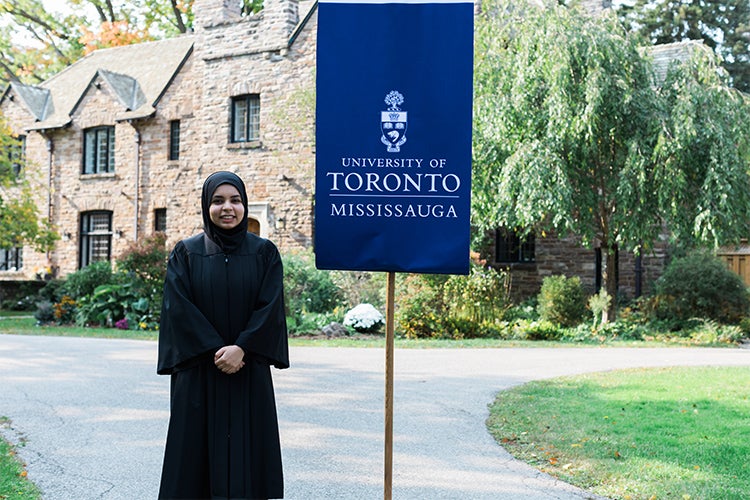 Mahera Islam, an English specialist with a philosophy minor, represented U of T Mississauga in this fall's virtual convocation. She plans to graduate in June (photo by Matthew Volpe)
At U of T Scarborough, Charesma Biaspal (a welcome ambassador) and Gajathree Ananthathurai (a divisional ambassador) viewed their moment in the virtual convocation as another chance to represent and celebrate the U of T Scarborough community before graduation.
While the pandemic forced Biaspal to reconsider a plan to study abroad in her final year, she found other opportunities on campus, including a position as a research assistant in the department of human geography.
"For every lost opportunity, I got the opportunity to develop my skills in different ways and surround myself with great academics," said Biaspal, a city studies major.
"It taught me that I was more resilient than I thought I was."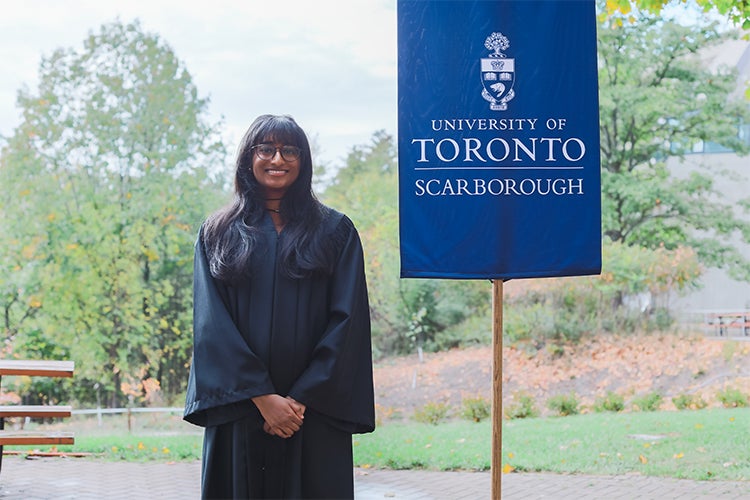 Gajathree Ananthathurai, who represented U of T Scarborough as a divisional ambassador, says the disruption caused by COVID-19 shouldn't take away from the hard work the Class of 2020 put into completing their degrees (photo by Matthew Volpe)
Ananthathurai, for her part, said being selected as an ambassador for her campus was a sign that she had accomplished what she had set out to do when she started university: help build a sense of community.
"When I first started at UTSC, I was looking for a way I could find my place on campus," she said. "Eventually, I found it through my passion for facilitating platforms on campus where students could feel a sense of belonging and engagement with the UTSC community."
Ananthathurai said COVID-19 may have thrown a wrench in students' plans before and after graduation, but it doesn't diminish the hard work that each student put into earning their degree.
"Everything that has brought them to this point of being able to graduate deserves to be celebrated," she said. "We're all right in the middle of it, so give yourself the time you need to step back and process everything.
 "Just know you aren't in this moment alone." 
---
Here is the full list of student ambassadors who will appear during the virtual fall convocation event: 
Welcome Ambassadors
Charesma Jaidev Biaspal of U of T Scarborough
Mahera Islam of U of T Mississauga*
Alexander Lawson of St. George
Divisional Ambassadors
Gajathree Ananthathurai of U of T Scarborough
Laurin Black of the Temerty Faculty of Medicine
Cianna Choo of St. Michael's College
Catherine Clarke of Victoria College
 Breanne Dharmai of the Faculty of Music
Andrew Gallant of Woodsworth College
Amalia Gil of the School of Graduate Studies
 Zainab Hamid of the Rotman School of Management 
Mahera Islam of U of T Mississauga*
Ikran Jama of the Faculty of Arts & Science
Navaz Karimian Pour of the Leslie Dan Faculty of Pharmacy
Linda Luarasi of Innis College
Ruth Masuka of University College
Iman Musani of the Dalla Lana School of Public Health
Meagan Noble of the Lawrence S. Bloomberg Faculty of Nursing 
Keziah Nongo of the Faculty of Applied Science & Engineering
Roxy O'Rourke of the Faculty of Kinesiology & Physical Education
Hyunju Park of the Faculty of Law
Anowa Quarcoo of the Munk School of Global Affairs & Public Policy
Charmaine Ross of the Factor-Inwentash Faculty of Social Work 
Christina Sam of the Faculty of Information 
Lauren Shiga of the John H. Daniels Faculty of Architecture, Landscape, and Design
Piya Sial of Trinity College
Caithlin Williams Beecher of the Faculty of Dentistry
Entisar Yusuf of the Ontario Institute for Studies in Education 
Lucy Zuo of New College
*appears as both a welcome ambassador and divisional ambassador
UTC