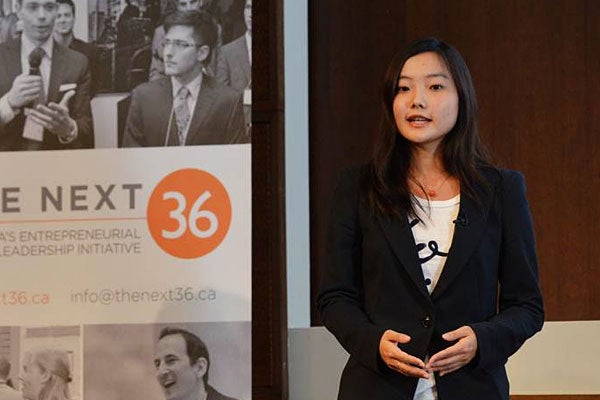 U of T students are six of The Next 36
Six University of Toronto students have been selected as part of The Next 36, the annual program aimed at promoting Canadian entrepreneurship among undergraduate youth.
"I got in and I was shocked," said Simon Bromberg. "I thought there'd be no way I was going to get in, that I'd do my best and that'll be the end of it."
Competition for a spot in the program is stiff and the selection process is rigorous, said Bromberg, who is majoring in biomedical engineering. 
"We had well over 500 people complete applications this year," said Claudia Hepburn, executive director, The Next 36. "But all the University of Toronto candidates have incredibly strong academic backgrounds which made them stand out."
This year's winning candidates from U of T are Joshua Liu, a fourth-year student at the Faculty of Medicine, and five students from the Faculty of Applied Science & Engineering: Philip Chen; Aditya Dhoot; Mo Yu (Lara) Fu; Nikita Tarakanov and Bromberg.
"The Next 36 is a great platform to refine my thoughts, accelerate my growth, and allow my entrepreneurial career to take off," said Fu. "It is an incredible opportunity to gain hands-on mentorship from CEOs at top and successful industries, to work with all the other young individuals who come from different backgrounds but share the same passion about entrepreneurship."
The Next 36 is based on "Economics of Entrepreneurship", the popular U of T undergraduate course taught by entrepreneur Reza Satchu, which seeks to change the way students define and approach problems. Satchu is one of the program's founders, as is Professor Ajay Agrawal, the academic director and Peter Munk Professor of Entrepreneurship at U of T's Rotman School of Management.
The program aims to transform the country's most promising undergraduates into Canada's top entrepreneurs through a mix of team work, business planning, mentoring, and intensive entrepreneurship instruction. Participants work in multidisciplinary teams of four to invent, launch and sell a product or service for the mobile or tablet market.
"What we look for are people with really strong entrepreneurship and innovative backgrounds, and also who have strong intellectual horsepower," Hepburn said. "They need to have the ability to learn and synthesize and process information and apply what they're learning to their ventures really quickly. Nikita and Simon and Aditya are all really strong programmers which is important because each of our ventures needs a strong programmer. And Lara has a very impressive research background and extraordinary academic credentials."
Along with mentorship from some of Canada's top business leaders, the eight month program provides up to $80,000 cash from top venture capitalists, a comprehensive offering of in-kind resources and academic instruction from some of the world's top faculty.
"This program is about moving out of your comfort zone," Bromberg said. "Challenges are now opportunities; burdens are now chances for valuable experience."
Participants are selected from a variety of academic disciplines and from across Canada, based on their entrepreneurial, academic and other accomplishments and for their outstanding promise as high impact entrepreneurs.
Bromberg (pictured left), "has extensive experience in software development and has worked as a project analyst at Millennium Research Group, a medical device consulting firm," Hepburn said.
And fourth-year medical student Liu demonstrated an impressive entrepreneurial track record as well as outstanding academic achievement, Hepburn said.
"In high school, he founded SMARTS, [Student Mentorship Association Regarding Technology & Science] a youth science network which at its peak reached students in more than 200 schools," Hepburn said. "He also runs a popular blog for students, with advice for undergraduates about medical school and scholarships. And he is a top 20 under 20 award winner."