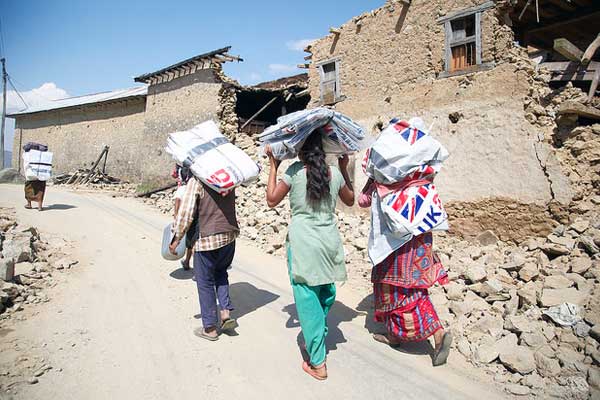 U of T student seeks earthquake relief for devastated Nepal
Kathmandu native Annie Shrestha was relieved when, just hours after a massive 7.9 earthquake devastated the tiny country of Nepal on April 25th, her parents answered the phone.
Shrestha's parents live in Kathmandu. Her father is a retired government worker and her mother is a medical microbiologist at Bir Hospital, one of the largest primary care centres in the country. 
Although relieved her parents are alive and safe, Shrestha admits she still can't rest.
"Don't come home," her mother warned the distraught U of T student. The older sections of Bir Hospital where her mother collects blood samples and runs laboratory tests have collapsed. Injured line the halls and stretch across the outside of the building, her mother tells her, while the stench of bodies still trapped in the rubble warn of epidemics to come. With terrifying aftershocks still rocking the city, their house damaged, Annie's parents have been sleeping in their car. 
Shrestha, who is finishing up her first year in the endodontics speciality PhD program in the Faculty of Dentistry, realized her mother was right. But that didn't mean she couldn't still do her part. Like many from the Nepalese community here in Toronto, Annie is working hard to raise food, money and supplies for the relief effort in Nepal. 
Although Shrestha has started an IndieGoGo campaign, she simply hopes that people will take advantage of the Government of Canada's Nepal Earthquake Relief Fund – in which Canada has pledged to match donations to registered charities dollar for dollar until May 25th. 
"I'm raising money for UNICEF" says Shrestha, who came to U of T in 2009 to complete a doctoral degree. "I want to make sure charities that help children get the funds they need. I also want to make sure the people who live outside of Kathmandu are getting the help they need." 
Many of Shrestha's friends who have returned home to help the relief efforts have reported back over Facebook that the villages nearest the quake's epicentre have been obliterated. Thunderstorms have blanketed the region since the quake, making life for the survivors in these destroyed villages miserable. 
(photo at right by DFID-UK Department for International Development via Flickr.)
"One of my friends told me she met an old man in the country who carried nothing but an umbrella. This man told my friend, 'I have this umbrella. If there's rain I open it up and sit underneath. That's all I need right now.'" 
Humbling lessons of generosity and human spirit are filtering back to those in Canada. Native Nepalese doctors and surgeons, for instance, are heeding the Nepalese government's requests to fly back from all over the world, treating the wounded in tent camps dotting the countryside. Shrestha's former principal from Kathmandu's Little Angels High School, meanwhile, has dedicated his entire fleet of school buses to ferry people across the tiny nation. "Anywhere they want to go," explains Shrestha.
Shrestha hopes this spirit of human generosity will continue in the days ahead, as the emergency rescue response evolves into a reconstruction effort.
"I want there to be no issues with religions, castes, creeds," said Shrestha, "People should just come together."
But Shrestha (seen with her family, seated at right) has already seen ample evidence of this remarkable spirit at work. "All the people of my generation have come together and are travelling to help."

    
Read President Gertler's Statement on the Earthquake in Nepal.