U of T student helps find a better way to keep TTC riders informed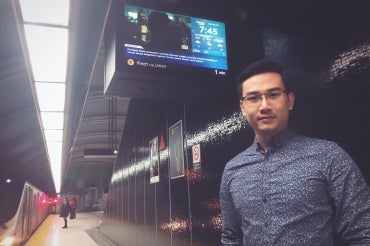 As a newcomer to the city, Henry Hoàng Tran quickly figured out some of the many reasons locals love to hate the Toronto Transit Commission. He noticed that the TTC's wayfinding signs were often confusing, the website was outdated, and information about subway delays was frequently unhelpful.
But instead of taking to social media to gripe about it, he applied to work at the transit commission as a co-op student.
"I wanted to do something for the TTC," says Tran, who is in the final year of his master's program at the Faculty of Information and specializes in User Experience Design (UXD). At his interview for the eight-month co-op placement with the TTC's customer experience team, he shared his ideas and landed the job.
When the TTC began 2018 by unveiling redesigned digital display signage, Tran proudly snapped photos of the platform-level screens to send home to his mother in Vietnam. "The whole Toronto is looking at my product," he texted, referring to the 1.7 million riders who take the TTC everyday.
Tran was part of the team responsible for redesigning the band at the bottom of the screen, which shows information about the next train. While it used to tell commuters nothing more than when they could expect the next train or if it was delayed, it now shows both the line number logo and the final destination as well.
It's a small step as implementing change in a large organization like the TTC is often slow, but Tran says riders should keep their eyes peeled for more passenger-centred changes down the line.  Along with digital signage, the customer experience team looks at improving the TTC's real time information management processes, including announcements to passengers and the methods used by staff to enter delays into the system. To shape their work, they rely heavily on customer research, such as focus groups and usability testing.
Tran learned in his studies that effective announcements should reduce commuters' "cognitive load" by giving them as much information as they need but not too much or obsolete information. "You want to reduce the stress so that people are not freaking out," he says. Small things, like making the predicted train arrival times as accurate as possible, can make a big difference.
When his co-op placement ended in December, Tran was asked to stay on at the TTC in a part-time role to work on ongoing projects.
Tran credits Olivier St-Cyr, assistant professor, teaching stream, for his success, emphasizing that before he came to the Faculty of Information, he had no knowledge of UXD. Tran's undergraduate degree was in business, with a specialization in marketing, and his work experience was as a communications specialist at Microsoft in Vietnam. "Thanks to Professor St-Cyr, I was well-prepared for all the stuff we are doing at the TTC," says Tran, who will graduate this year.
One of his current projects involves the station screens at subway entrances. They show weather and sports but not whether the subway is running. They're a pet peeve of riders who only discover delays after they've paid up.
"We hope in the very near future you'll be able to see at a glance any disruptions before you pay your fare," says Tran.
Faculty of Information