U of T startup's technology plays role in 'critical breakthrough' in coronavirus research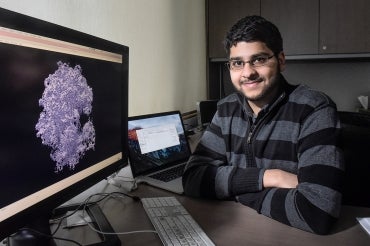 Software that grew out of a University of Toronto research project facilitated what's being described as a "critical breakthrough" in the search for a vaccine for the novel coronavirus. 
Researchers at the University of Texas at Austin and the U.S. National Institutes of Health recently announced that they have created the first 3D, atomic scale map of the part of the virus that attaches to and infects human cells – known as the spike protein. They published their work in the journal Science this week.
The researchers relied on cryoSPARC – software spun out of Ali Punjani's PhD research in computer science at U of T and designed by alumnus Suhail Dawood – to process data of the coronavirus spike protein and obtain accurate 3D images of the spike in real time. Punjani's startup, Stuctura Biotechnology, bills the tool as a way for academic researchers and pharmaceutical companies to rapidly recover 3D protein structures, taking some of the guesswork out of drug discovery.
"The work by UT Austin and the NIH demonstrates the power of structural biology," Punjani said. "We can actually look at a new disease that was discovered just a couple of months ago and see how it works at the molecular level. It's very exciting." 
The World Health Organization has declared the novel coronavirus, or COVID-19, a global public health emergency. There have been more than 76,000 confirmed cases and over 2,200 deaths to date. 
Jason McLellan, an associate professor in molecular biosciences at UT Austin and one of the study's co-authors, said cryoSPARC enabled him and his team to process data while travelling, speeding up their efforts. It took just 12 days for the researchers to go from a raw sample to producing an atomic scale map of the protein spike and submitting their manuscript to Science. 
"One of their novel algorithms, referred to as 3D Variability Analysis, provided insights into the dynamic motions of the coronavirus spike protein that are important for receptor-binding and membrane fusion," McLellan told U of T News.
Punjani co-founded Structura Biotechnology while still a PhD student in an effort to bring cryoSPARC to market. His supervisor, David Fleet, a professor in the department of computer science and U of T Scarborough's department of mathematical and computer sciences, initiated the research behind cryoSPARC and joined the startup as an expert advisor.
Punjani says the company's technology is now used by 400 institutions worldwide, including the University of California, Berkeley, the Hospital for Sick Children and other large structural biology labs. The company has seven full-time staff and is looking to hire additional employees in software engineering, machine learning research and development, and in sales.
Structura says cryoSPARC allows researchers to make the most out of a Nobel Prize-winning technique called cryogenic electron microscopy, or cryo-EM for short. 
Cryo-EM allows scientists to obtain high-resolution pictures of proteins by shooting electrons at frozen samples. The challenge is putting those pictures together to create an accurate 3D visualization, which is where cryoSPARC comes in. The tool combines computer vision and machine learning to help scientists piece together two-dimensional images into a 3D model revealing its shape and structure – information that helps scientists understand how a protein works at the molecular level. 
In the case of the novel coronavirus spike protein, the authors of the study say their work will help guide vaccine development.
Although cryoSPARC has been used to solve hundreds of new protein structures, the team at Structura say they were particularly excited to see it used to help further scientists' understanding of the coronavirus and vaccine development. 
"This is a really exciting field to be working in," said Saara Virani, chief operating officer of Structura and Punjani's sister. "Part of the reason we got into it is, at the end of the day, because we are looking to make a difference. Things like this really help us see that it's true."
UTC