U of T startup QD Solar secures international financing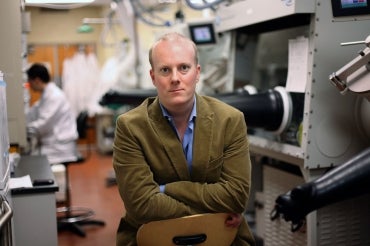 QD Solar, a Canadian startup co-founded by U of T researchers Ted Sargent and Sjoerd Hoogland, has received a big boost in funding and an important international nod to help bring its solar technology to market.
On Monday, the company announced it had closed its first significant round of venture capital financing led by DSM Venturing, based in the Netherlands, with participation from existing investors, KAUST Innovation Fund and MaRS Innovation.
Coupled with the $2.55 million the company received from Sustainable Development Technology Canada last March, QD Solar "has the resources to advance, develop, test and de-risk our solar technology, while concurrently developing the manufacturing processes needed to bring this technology to market," said Dan Shea, CEO of QD Solar and a former senior executive with Celestica and BlackBerry, in a news release.
QD Solar's quantum dot-based solar cells use nano-engineered, low-cost materials that can absorb otherwise wasted infrared light. Solar panels with this technology can boost their overall power generation by 20 per cent, the company says.
In the future, QD Solar says, it intends to develop quantum dot-based solar material that can be applied to any flexible surface to generate energy.
The technology was developed in labs at U of T by Sargent, a University Professor in the Edward S. Rogers Sr. Department of Electrical and Computer Engineering at U of T and Canada Research Chair in Nanotechnology, and Hoogland, director of research, technology and innovation at the Sargent Group.
"We're delighted to see QD Solar and this novel technology created at the University of Toronto receive this substantial investment from Canadian and international sources to advance their bold vision for a new clean energy product," said Derek Newton, U of T's assistant vice–president of innovation, partnerships and entrepreneurship.
The startup was supported by MaRS Innovation and U of T's Innovations & Partnership Office, which provided seed funding, patent protection and helped the company meet international industry partners and investors.
Since 2011, U of T researchers have created more than 830 inventions, founded more than 90 research-based startups and generated $49 million from licensing revenues.
UTC