U of T startup offers free seeds, indoor-gardening tips to families amid COVID-19 outbreak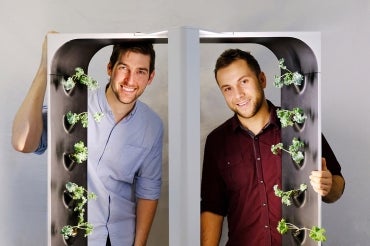 Two alumni from the University of Toronto Mississauga are trying to bring a bit of fun and joy into people's homes during the COVID-19 pandemic.
Conner Tidd and Kevin Jakiela are offering parents and children a chance to grow a small garden indoors. Graduates of U of T Mississauga's master of science in sustainability management program, the duo are co-founders of Just Vertical, a company that sells hydroponic gardening systems.
Tidd says the team devised a fun and easy gardening experiment people can try at home using materials they already have around the house. The initiative is in response to seeing how many people are stuck at home looking for something to do, he says. A free guide on the company's website provides a downloadable lesson plan on how to build a mini greenhouse using egg cartons, plastic bags, soil and seed. The only item people are unlikely to have on hand are seeds, so Just Vertical is offering free lettuce seeds.
"We don't want anyone going out looking for seeds right now," Tidd says.
It is a difficult time for people right now. We wanted to help out by trying to provide some joy for those of you stuck at home. Join us in our #homegardening experiment.

Go to: https://t.co/tpnhx94UIN for free seeds and a lesson plan!#sustainability #foodsecurity #covid19 pic.twitter.com/uveJGNlof4

— JustVertical (@JustVertical) April 6, 2020
The home project is geared for beginners, particularly young gardeners. Lettuce is very easy to grow and has a quick turnaround, with greens coming up in as few as two to three days, Tidd says, noting that children are more likely to stay engaged when they see immediate results.
"Lettuce is as immediate as we can get in the gardening world," says Tidd, who adds that the seeds are available to anyone in a bid to make gardening accessible.
The team has also put together a longer learning and lesson plan for those who are curious about other gardening experiments or are just looking to pass the time.
Tidd and his partner Jakiela founded Just Vertical while still in graduate school at U of T Mississauga. They sell plug and grow systems – fully automated hydroponic systems designed for the home. Tidd says the company has been growing steadily since it launched three years ago.
With the onset of the pandemic and the need for physical distancing, Tidd says he and his team wanted to help in some small way.
"If we can spark a little joy in people's lives … it's money and time well spent," Tidd says. He adds that he hopes the activity will also provide a lasting curiosity and ignite a passion for gardening and nature.
UTM