U of T startup Genecis scales up effort to commercialize 'the holy grail of plastic replacement'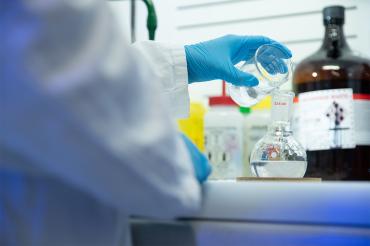 Remember those carrot peels you threw in the compost? If Genecis Bioindustries has its way, you could soon be wearing them.
The clean-tech company is using highly engineered bacteria to turn food waste into biodegradable natural polymers called polyhydroxyalkanoates – or PHAs – that can be used to make products ranging from soft T-shirt fibres to squishy flip-flop soles.
With more than $20 million in funding raised, Genecis plans to become the first company to commercialize the food-waste-to-PHA production process, which it says would allow it to compete with synthetic plastics in both performance and cost – all without taking a toll on the environment.
"We're moving very quickly," says Director of Fermentation Andrew Chiappetta, one of several University of Toronto alumni who work at the company.
"The plan is to be at full commercial scale in the next few years."
At a research facility in downtown Toronto, fermenters churn a cream-coloured brew where the microbial magic happens. First, the bacteria consume the carbon in organic matter and convert it into building blocks called monomers. This intermediate is then fed to another set of bacteria, which are deprived of specific nutrients to spur the production of PHA, which is stored in the cells as an energy source. Then, the PHA is extracted from the cells, collected, purified and processed into different formulations.
Genecis got its start in a University of Toronto Scarborough lab when founder and CEO Luna Yu – who earned a bachelor's and master's degree at U of T in four years – and her collaborators demonstrated their nascent technology using rice cookers. The startup went on to receive early support from U of T Scarborough's the Hub, the Rotman School of Management's Creative Destruction Lab and the Hatchery at the Faculty of Applied Science & Engineering.
U of T also provided Genecis with space for its lab researchers to refine their approach.
"The University of Toronto has supported Genecis in many different stages of our development," says Chiappetta, noting the company now has more than 40 employees.
"The education alone at U of T is great, and students can also take advantage of all the resources and programs that they have available for entrepreneurs."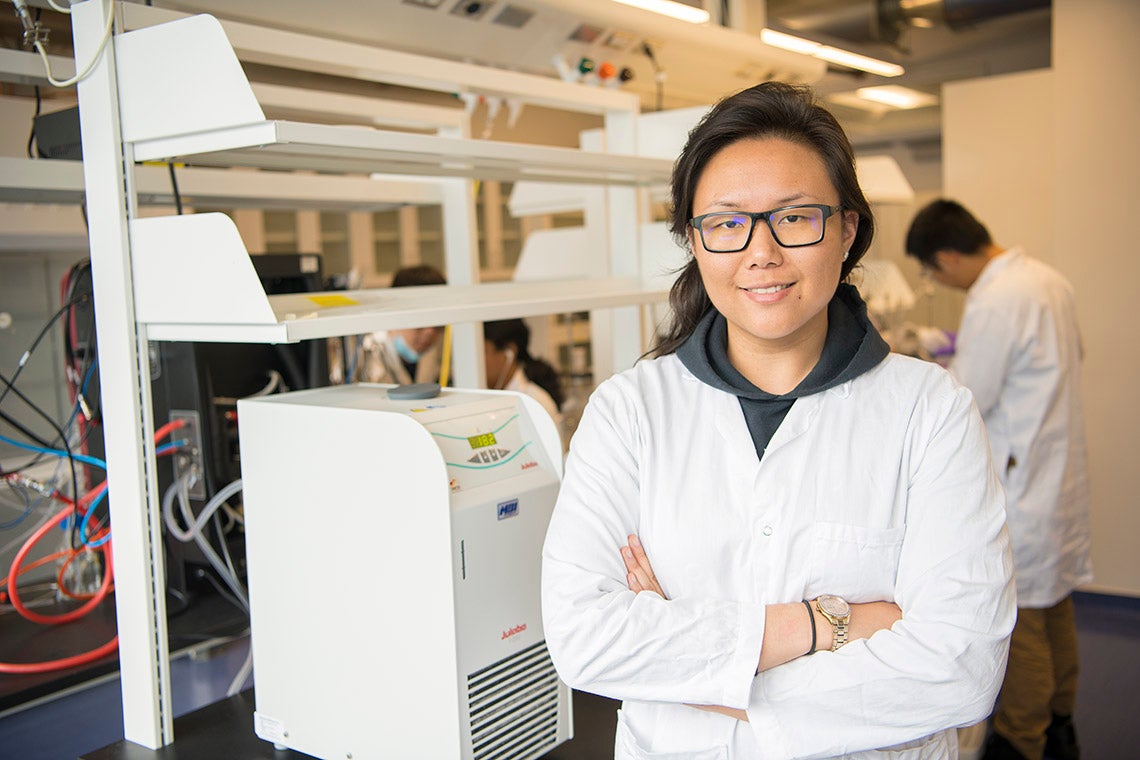 Genecis founder and CEO Luna Yu and her team originally demonstrated their technology in a U of T Scarborough lab (photo by Don Campbell)
With the support of Silicon Valley startup accelerator Y Combinator, government funds and venture capital financing, Genecis has since expanded its operations to two full research labs, as well as a pilot facility in Scarborough.
The company has also partnered with London, Ont.-based StormFisher Biogas to demonstrate the potential of its technology at scale. 
Chiappetta, who graduated from U of T's master of biotechnology program, says Genecis can fine-tune its PHAs to take on a wide range of properties – from soft and flexible, to hard and rigid.
He says this versatility could make PHAs "the holy grail of plastic replacement" in categories including packaging, medical tools, car parts, textiles and other commercial products.
While synthetic plastics can take centuries to degrade and pollute waterways with microplastics, PHA products that wind up in the landfill can safely degrade both on land and in water.
And when properly discarded, these bioplastics can be composted and upcycled into something new, Chiappetta says.
"This creates a circular end-of-life," he says. "Our polymers, no matter where they end up, can be composted and fed back into the front-end of the process."
Addressing two global challenges – food waste and plastic pollution – might seem like a daunting proposition, but Chiappetta urged community members taking part in U of T's Entrepreneurship Week to aim high and not get discouraged.
"The big thing is to be curious, work hard and if things don't work – keep trying," he says.
"Oftentimes, things don't work out the first time, and I think you learn most from the failures as opposed to the successes."
UTC