U of T Scarborough collaborates with local community centre on culturally relevant food security
The Centre for Immigrant and Community Services has been working with the Culinaria Research Centre to examine how the pandemic impacted food systems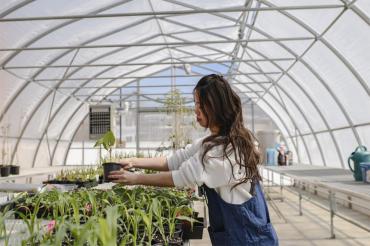 In addition to the usual canned and dry goods available at their food bank, Scarborough's Centre for Immigrant and Community Services (CICS) also grows 26 different kinds of vegetables, served weekly to more than 200 families who visit the centre. 
The CICS greenhouse and gardens produce about 1,700 pounds of food per year – all donated as part of the Sustainable and Accessible for Empowering Communities (SAFE) project.
"We've seen more and more people that might have been just above the poverty line are now finding themselves below that line," says Brian Joyce, director of community services and operations at CICS.
"We could see the needs of the populations we were observing – they needed access to food. And over the last year that's just amplified with high inflation and cost of food."
In 2020, CICS opened a pop-up food bank, teaming up with the Feeding City Lab, a research network of the Culinaria Research Centre at U of Toronto Scarborough that investigates how the pandemic impacted food systems.
The lab surveyed community members and found many were lacking vegetables to make their own cultural dishes. That data helped CICS secure funding for its greenhouse, and identified which vegetables were most needed.
"It's not just about food security, but it's about food sovereignty. People are taking charge of how they want their food systems to work. They are bringing their ethnocultural lens to it as well," says Jo Sharma, an associate professor of historical and cultural studies at the Culinaria Research Centre and director of the Feeding City Lab who is cross-appointed to the department for the study of religion and the Asian Institute.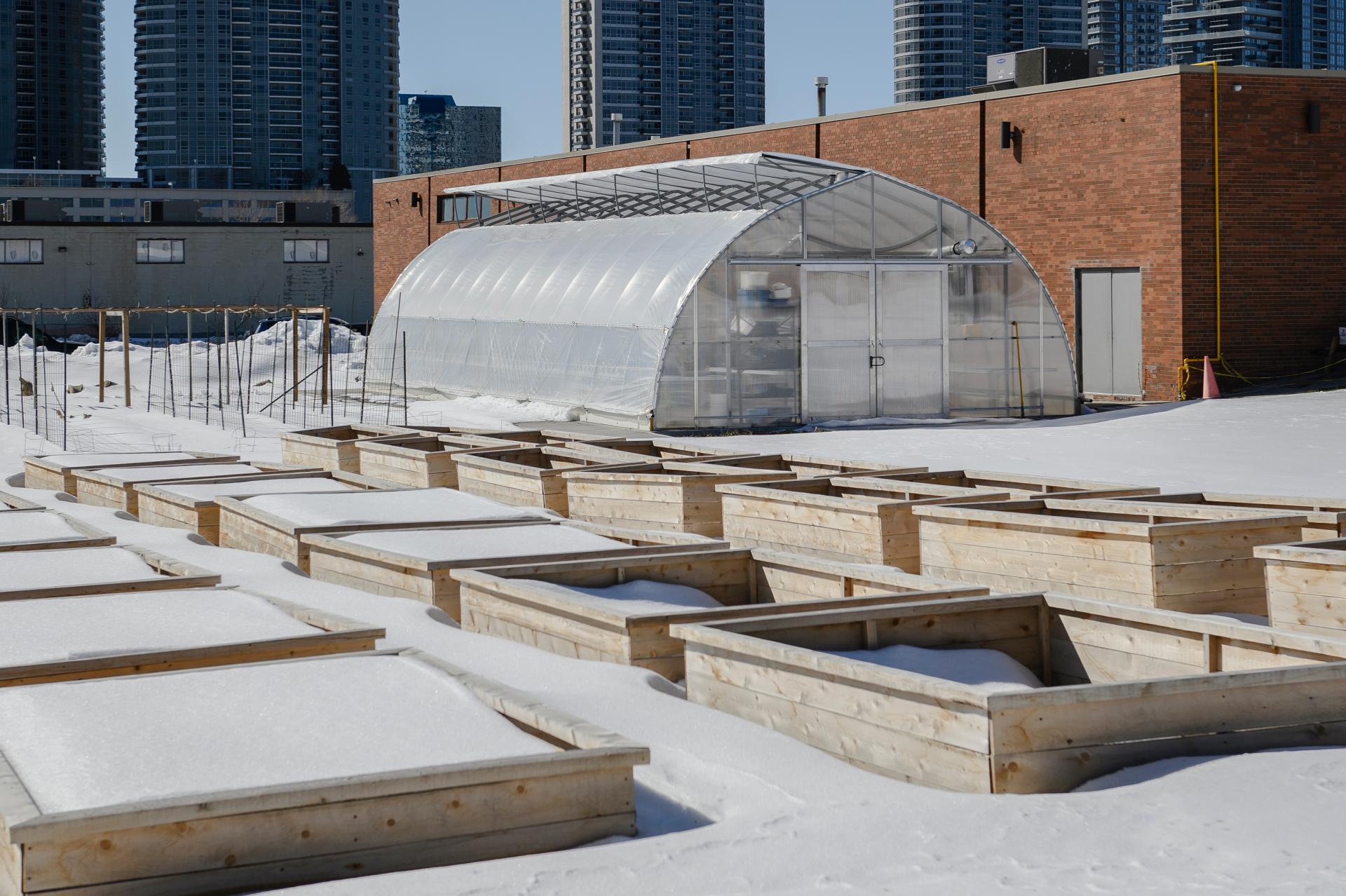 Siobhan Bonisteel, a PhD candidate in environmental science at U of T Scarborough and community partnership representative with the Feeding City Lab, is one of several researchers supporting CICS. She's using her expertise on community food systems to help the CICS team gather data on the SAFE project's impact on the food bank and wider community.
"Feeding City and CICS are understanding the effects of the COVID-19 pandemic in real time," Bonisteel says. "Both inform each other and work together to broaden our collective understanding of community food issues, including resiliency to threats such as pandemics."

Joyce says the data will not only help entice funders, but will help illustrate the project as a model for other organizations. It will also guide which new plants the centre tries to grow, as families accessing the food bank represent a range of cultural backgrounds. 
"We're serving a wide variety of different people and we're introducing them to all these other services at CICS – like settlement services, early years programming and fitness programming that they might not have known about," Joyce says.
The SAFE project also encompasses the centre's industrial-sized community kitchen, which is used for cooking courses and as a place to share knowledge and build community.
The gardens are similarly a place for connection, and Joyce wants to bring in many other local organizations to collaborate. For example, the South Asian Cultural and Health Association for Youth and Seniors is planting ethno-culturally significant plants for diasporic Asian community members in CICS's raised garden beds.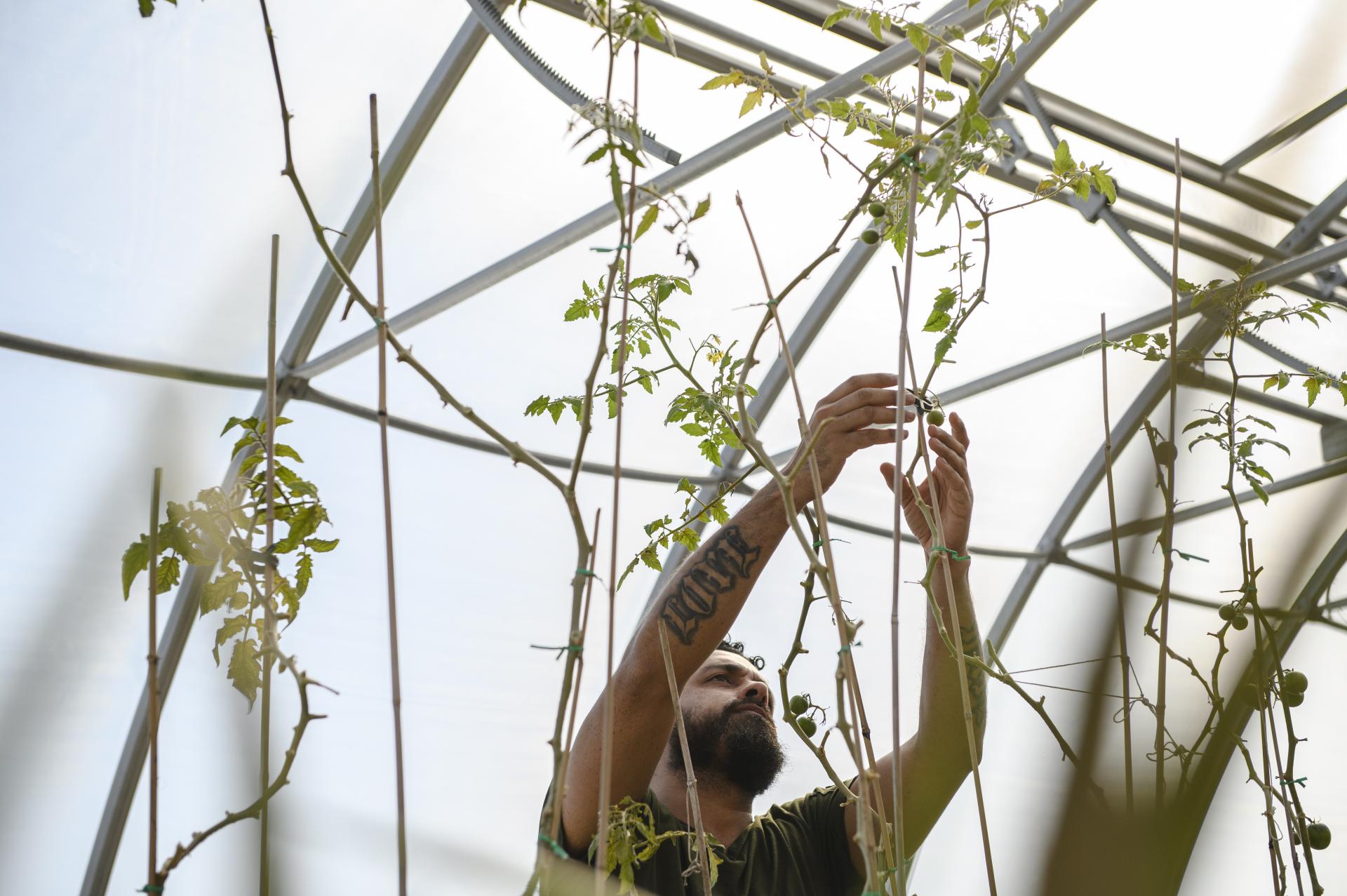 Shathvahi Ramesh, a fourth-year undergraduate student studying environmental ethics and religion in the Faculty of Arts and Science and a former intern with Sharma's team, worked with the Feeding City Lab to connect CICS with the Malvern Urban Farm, which grows culturally significant plants in one of Scarborough's hydro fields. Community farmers are growing seeds in the greenhouse to later transfer them to their gardens.
Ramesh says community organizations are often in an ideal position to help one another – but just might not know it. U of T Scarborough alumna Amanda Wedge has recently taken over as the co-ordinator for the Scarborough Food Network, which aims to bring a range of local organizations and stakeholders (including the Feeding City Lab) together, with monthly meetings dedicated to updates. 
"It helps folks feel like they're not one lone entity just fighting their own fight or alone in their work. Together is always better," Ramesh says. "It also helps build institutional memory."
UTSC