Medicine by Design draws hundreds to annual research event, praise from federal innovation minister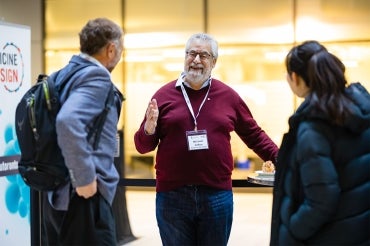 Federal innovation, science and industry minister Navdeep Bains congratulated the University of Toronto's Medicine by Design community on its successes and affirmed the government's commitment to science "as the foundation of innovation" at the regenerative medicine initiative's annual research symposium. 
"Your research will have a transformational impact on how we treat many common diseases, such as stroke, diabetes and liver failure, creating better health outcomes for all Canadians," Bains said in a video message to the audience of 350 researchers, students, and industry and government representatives who gathered at the MaRS Discovery District last week.
"As the minister responsible for science and innovation, I look forward to working with the medical science sector to help Canadians live healthier lives and push the boundaries of innovation."
Bains highlighted the federal government's support of Medicine by Design through a $114-million grant from the Canada First Research Excellence Fund, and pointed to the 2018 budget as "the biggest reinvestment in fundamental research in Canadian history."
The symposium, which marked the mid-point of Medicine by Design's seven-year federal grant, focused on the role of technology in advancing biological insights and driving innovation, and noted the new portfolio of cross-disciplinary, cross-institutional projects the initiative announced in October. Speakers included high-profile international experts in regenerative medicine and cell therapy, including: Nancy Allbritton, a professor of bioengineering at the University of Washington; Joseph Gold, senior director of manufacturing at the Center for Biomedicine & Genetics at City of Hope in California; and Dr. Markus Grompe, a professor at Oregon Health & Science University.
"Medicine by Design perfectly reflects our belief that it is at the convergence of cross-disciplinary excellence that the next truly game-changing discoveries in research and innovation will take place," said Vivek Goel, U of T's vice-president, research and innovation, and strategic initiatives. "And it is a flagship example of the types of strategic, cross-divisional initiatives the University of Toronto will continue to build."
In addition to Medicine by Design, examples of such initiatives at U of T include PRiME, a precision medicine initiative, and the Schwartz Reisman Institute for Technology and Society.
"There are very few universities in the world where these kinds of initiatives can take flight, and U of T is one of them," Goel added.
Medicine by Design brings together more than 130 principal investigators at U of T and its affiliated hospitals who are collaborating at the convergence of life and physical sciences, engineering, medicine and computer science to catalyze transformative discoveries in regenerative medicine and accelerate them toward the clinic. It builds on decades of made-in-Canada excellence in regenerative medicine dating back to the discovery of stem cells in the early 1960s by Toronto researchers James Till and Ernest McCulloch.
"The success we have achieved at Medicine by Design has been made possible in large part to the tremendous efforts of the federal government and the Canada First Research Excellence Fund," said Michael Sefton, executive director of Medicine by Design, a University Professor at the Institute of Biomaterials & Biomedical Engineering (IBBME), and the Michael E. Charles Professor in the department of chemical engineering and applied chemistry.
"As we advance our research agenda, we are positioning these breakthrough discoveries to have the greatest impact on patients."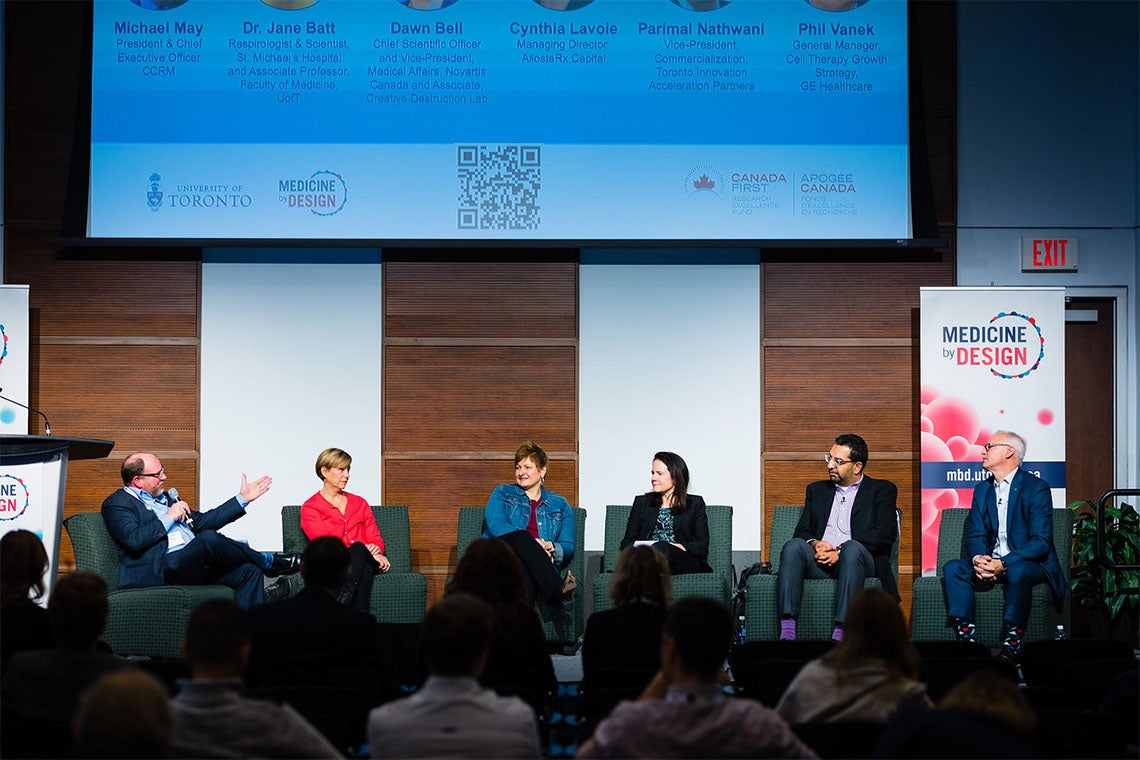 Michael May, CEO of the Centre for Commercialization of Regenerative Medicine, hosts a panel discussion at Medicine by Design's (photo by Neil Ta)
Translating research discoveries into new therapies, products and companies was a prominent theme at the event and will be a key focus for Medicine by Design over the next three years.  A panel discussion moderated by Michael May, CEO of the Centre for Commercialization of Regenerative Medicine, and featuring speakers from GE Healthcare, Novartis Canada, AllosteRx Capital, Toronto Innovation Acceleration Partners and St. Michael's Hospital, explored the challenges and opportunities inherent in this process. The discussion highlighted the unique strengths of Toronto's regenerative medicine ecosystem, including: a world-leading public research university with broad strengths in medicine, life and physical sciences, as well as engineering; an expansive network of affiliated academic and community hospitals; expertise in translation, scale-up and manufacturing; and strong relationships with government.
Shana Kelley, a University Professor in the departments of chemistry, pharmaceutical sciences and biochemistry, and at IBBME, spoke about the new team project she is leading, which aims to identify and modulate cell differentiation bottlenecks.
"Medicine by Design has been career-changing for me," Kelley said. "It has given me opportunities to connect with outstanding collaborators with whom I would not otherwise have had the chance to work."
The symposium also offered an opportunity for 40 trainees to present their research during a poster session. Louise Moyle, a post-doctoral researcher in the laboratory of Penney Gilbert, an associate professor at IBBME, won first place. David Philpott, a PhD candidate in Kelley's lab, placed second, while Alba Marin, a post-doctoral researcher in the lab of Professor Cristina Amon in the department of mechanical and industrial engineering, came third. The prizes were sponsored by StemCell Technologies Inc.
Jeffrey Harding, a post-doctoral researcher in the lab of Andras Nagy, a senior investigator at the Lunenfeld-Tanenbaum Research Institute at Sinai Health System, won the BlueRock Therapeutics prize for the poster with the greatest translational potential.
Medicine by Design