Lee Airton says the goal of the NBD campaign is "to make visible the quieter support that is already there" (photo by Geoffrey Vendeville)
Referring to someone as "they" takes little effort, says a new campaign called "No Big Deal" –  but it could mean the world to that person.
Led by Lee Airton, an instructor at U of T's Ontario Institute for Studies in Education who uses the gender neutral pronoun "they," the campaign comes amid a larger national discussion about gender and language.
"My pronoun is a big deal to me," said Airton. "It's taken me many years to get here and find something that works – and that makes all kinds of things possible in my life – but I feel like it doesn't have to be a big deal to you."
Airton teamed up with illustrator Cai Sepulis to design a badge in different shades of green saying "I'll use your pronoun – no big deal." Airton has since published it online under a creative commons license so anyone can share and use it. 
"The goal of the badge is to make visible the quieter support that is already there [for using gender neutral pronouns]," Airton said. 
They have also created graphics with additional information including arguments for using gender neutral pronouns.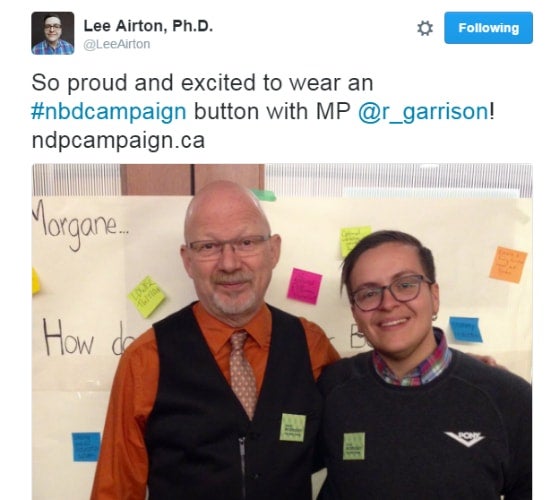 Airton tweeted about wearing the NBD campaign badge with Randall Garrison, an NDP British Columbia MP.
The campaign has received funding from U of T's Mark S. Bonham Centre for Sexual Diversity Studies, the sexual and gender diversity office, Planned Parenthood Toronto and the Canadian Centre for Gender and Sexual Diversity. 
The campaign can dispel misconceptions around Bill C-16, which would bar discrimination based on gender identity and gender expression, said Brenda Cossman, a U of T law professor and director of the Bonham Centre in the Faculty of Arts & Science.
"This is a wonderfully refreshing campaign that just tries to explain why pronouns are really important to people's dignity and respect, and why it's a really easy thing to do," Cossman said.
When someone gets Airton's pronoun wrong, it can be hurtful if done deliberately – but more often it's just awkward, said Airton. Over time, it becomes draining. 
"It saps a bit of your energy every time," Airton said.
It would be a relief for those who prefer to be known by a gender neutral pronoun to walk into a café for example and see a barista wearing a "No Big Deal" badge, Airton said.
Airton opted for the gender neutral word five years ago because they didn't feel comfortable being lumped into the traditional male or female category. At TheyIsMyPronoun.com, Airton answers questions submitted by readers about using the pronoun, such as how to write fiction with the singular "they" and whether to use "themself" or "themselves."
The use of "they" to refer to a gender-nonconforming person has gained currency in some quarters in recent years, Airton noted.
In January, the American Dialect Society, a more than century-old group of editors, linguists, grammarians, students and teachers chose the singular "they" as Word of the Year for 2015. A month earlier, the Washington Post adapted its style guide to allow its writers to use the gender neutral pronoun.
The NBD campaign comes at a good time because there has been a lot of media attention given to transgender issues in recent years, said Allison Burgess, U of T's sexual and gender diversity officer.
"The campaign is really lovely in that it addresses misinformation about trans identities," she said.