U of T's Centre for the Study of Korea takes centre stage with South Korean superstars at TIFF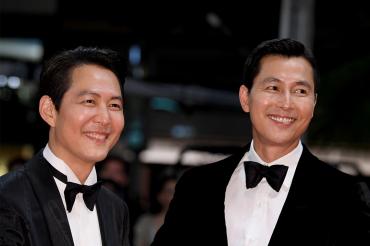 The Centre for the Study of Korea – housed at the Munk School of Global Affairs & Public Policy's Asian Institute – is taking centre stage at the Toronto International Film Festival (TIFF) this week as the University of Toronto scholars Michelle Cho, Hae Yeon Choo and Juwon Kim take part in conversations about South Korean film and popular culture.
Cho, an assistant professor of East Asian popular cultures and cinema studies in the department of East Asian Studies in the Faculty of Arts & Science who teaches courses on Korean film, media and popular culture, will moderate a discussion on Sept. 16 with two South Korean superstars: Lee Jung-jae and Jung Woo-sung.
Lee is best known for his work in Squid Game (2021), Assassination (2015) and Thieves (2012), and directs and stars in Hunt, which is being shown at this year's festival. Jung, meanwhile, is featured in Hunt and his directorial debut, A Man of Reason, is also showing at TIFF. He is known for his work in blockbuster films such as Steel Rain (2017), Cold Eyes (2013), and The Good, the Bad, the Weird (2008).
Cho, an expert in South Korean cinema and global media, said she is looking forward to leading a conversation with Lee and Jung about their careers, their friendship and the success of Korean filmmakers at home and internationally – just days after Lee won an Emmy for best lead actor in a drama series for his role in Squid Game.
"TIFF invited six Korean films this year, following on the huge success of 'Summer of Seoul,' a Korean film series hosted by the TIFF Lightbox Cinematheque this past summer," Cho said. "I'm really fortunate that my research allows me to be a part of public events like this, which are only possible because of how much interest there is, locally, in cultural content from South Korea."
Choo, director of the Centre for the Study of Korea and an associate professor of sociology at U of T Mississauga, and Kim, a PhD student in East Asian studies, will also be taking part in the TIFF event and providing translation.
"An event like this is a prime example of what our centre strives to do – to support scholarship on Korea and make it meaningful for our communities in Toronto and beyond," Choo said. "Korean cinema and other cultural creations are having a moment across the globe, which calls for an informed analysis based on in-depth knowledge of Korean culture, history, and society.
"Personally I grew up watching Lee Jung-Jae and Jung Woo-Sung from my teenage years and am excited to see them up close as an interpreter, together with Juwon Kim, a PhD student in East Asian Studies."
Arts & Science