U of T rolls out virtual welcome mat for 2020 cohort of Pearson scholars
One by one, faces from across the planet popped up on the screen.
The new University of Toronto students, all recipients of the university's prestigious Lester B. Pearson International Scholarship, were participating in a virtual reception on Zoom in anticipation of their eventual arrival on campus when COVID-19 travel restrictions allow.
U of T President Meric Gertler extended a warm welcome to the students, taking note of the unusual circumstances.
"You're beginning your university education in an extraordinarily challenging and unusual time in our history," he said, "and, I have to say, after reading your very impressive biographies, I know that you are more than equal to the challenge. 
"The University of Toronto is ready to help you make the most of this opportunity."
The scholarships are awarded to students who demonstrate exceptional academic achievement and creativity, and who are recognized as leaders within their school. It also emphasizes recipients' potential to contribute positively to the global community. This year's recipients were chosen from a total of 2,000 applicants.
Most of the 38 students in this year's cohort of Pearson scholars will begin their studies online because of the pandemic. But once they do finally arrive on campus, they will find themselves at a university recognized for its global outlook where almost a quarter of students come from a country outside Canada, President Gertler said.
Sandy Welsh, U of T 's vice-provost, students, told the group that they are embarking on a journey of self-discovery.
"Being a Pearson scholar is not only about academic achievements," she said. "It's also about learning about yourselves and the world around you."
She urged the students to lean on university faculty, staff, principals and deans whenever they need support.
"No matter where you're joining us from today and throughout the term, we are here for you," she said.
Katherine Beaumont, senior director, global learning opportunities and international student success, welcomed the scholars to the university and said the Centre for International Experience is here to support them. "We're really looking forward to working with you, learning from you and growing together," she said.
The 2020 cohort of Pearson scholars represents students from almost every corner of the world – and at each end of the alphabet, from Bolivia to Zimbabwe.
On the Zoom call, this year's group heard from two of their own: Daniel Corredor Llorente, a first-year scholar from Columbia who's based in Vancouver, and Urvi Verkhedkar, a second-year Pearson scholar from Kuala Lumpur.
Corredor Llorente, a Trinity College student who plans to study social sciences, said the incoming group of Pearson scholars epitomized former Prime Minister and Nobel Laureate Lester B. Pearson's "living legacy" and his "tireless quest for peace, understanding and co-operation between peoples, nations and cultures."
He added that his peers wouldn't shy away from the greatest challenges of their time, such as climate change, a global pandemic and systemic racism.
"There is no doubt that this scholarship will transform the lives that will go on to transform the world," he said.
Verkhedkar, who's studying chemical engineering, shared advice based on her experience at the university so far. She described "growing into a new person" during a roller coaster ride of a first year, which was marked by both success and setbacks. "You're not going to know all the answers," she said, "but that's OK because you're here to learn.
"Little by little, one goes a long way."
---
Here's a snapshot of a few of this year's impressive group of Pearson scholars:
Auret Murima
Zimbabwean student living in Botswana
U of T Mississauga, computer science, mathematics and statistics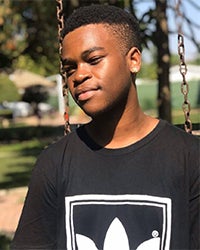 Murima describes himself as a "math nerd" and counts being the top scorer on an international computer science exam last year among his proudest achievements to date.
"I'm a very analytical person," he says. "I like to know why things are a certain way."
That's one of the reasons he was interested in enrolling in computer science, math and forensic science courses in his first semester. He already has his mind set on founding a software startup by his third or fourth year of university.
Before starting at U of T, Murima says he thought it would be intimidating to take courses on complex topics with top professors. But, in his online classes so far, he says he found everyone to be friendly and approachable.
"Obviously, it's not the same as being physically there," he said. "But from my online learning, the professors are the best part of the learning experience in general."
Ana Ferreira Meletti
From Londrina, Brazil
U of T St. George, studying social sciences at the Faculty of Arts & Science, Woodsworth College
Meletti hopes to arrive on campus in time for next semester – though she's nervous about coming to Canada for the first time in the middle of winter.
"It's winter here (in Brazil) right now and it's 18 Celsius and I'm a little cold," she said.
In high school, she discovered a passion for history, sociology and geopolitics, which led her to embark on a research project focused on the education outcomes of Haitian immigrants who came to Brazil after the 2010 earthquake.
She writes fiction as a hobby and many of her stories feature female protagonists.
If it weren't for the Pearson scholarship, she said she probably wouldn't have had the opportunity to study outside Brazil.
"If you told me two years ago that I would be studying abroad at one of the top 20 universities in the world… it's insane." 
Whitney Venus Buluma
From Likuyani, Kenya
U of T Mississauga, psychology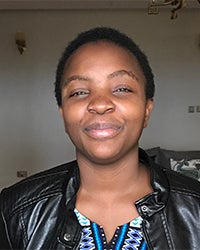 When Venus Buluma told people back home she was interested in studying psychology, some told her it would be a waste of time and that she should focus on more useful subjects.
"This blasé attitude towards mental health is rampant in Africa, particularly among those in the older generation," she wrote in her Pearson scholar student biography.
Eventually, she would like to raise awareness of mental health in Africa by returning there to work after her studies, she said.
For now, at the outset of her degree, she is taking a variety of courses, including one on the science of learning and another on non-fiction writing.
One of the things she most looks forward to about her arrival in Canada is meeting her fellow Pearson scholars in person.
"I'm sure by the end of the program we'll be very close," she said.
Diana Virgovičová
From Pezinok, Slovakia
U of T St. George, computer engineering in the Faculty of Applied Science & Engineering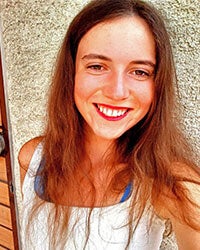 Virgovičová has been excited about engineering for as long as she can remember. While still in high school, she discovered a new type of photocatalyst using quantum chemistry software, an achievement that earned her a Diploma of Excellence at the Stockholm Junior Water Prize.
"This proved to me that engineering is one of the fields that can improve and save millions of lives," she said.
Virgovičová said she chose U of T Engineering because of its excellence in education as well as the diversity of the city. "Studying at U of T means meeting students from all the possible cultures," she said. "Speaking with them is almost like making trips around the world every day."
UTC