U of T researchers work to bring Indigenous doll collection into the digital realm
"With the Barbie movie, dolls are on people's minds. And I think it's a really interesting time to share a collection of Indigenous dolls."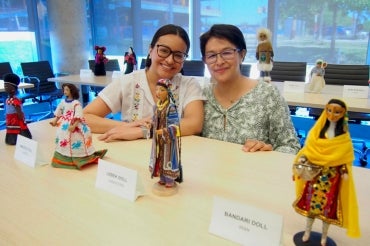 The YouTube teaser trailer for the popular Barbie movie claims that girls only played with baby dolls before Barbie came along, but Miriam Castillo Orozco wants people to know this simply isn't true.
Her mother, María de Lourdes Orozco Cuautle, spent the last 30 years building a staggering collection of 500 handmade, culturally significant dolls from 60 countries – and very few are babies.
Most were made by Indigenous communities and all are treasure troves of information about the cultures that created them. 
"Dolls have been created for centuries and many show, for example, religious obligations, fashion traditions, cultural practices – they can even be charms for superstitions," says Castillo Orozco, a PhD student in environmental studies at the University of Toronto Scarborough. "When they're specifically designed for girls, they're also representations of how cultures teach girls how a woman should look and act."
Castillo Orozco's family are all involved in maintaining, studying, storing or adding to the collection. Now, she and her mother, a historian and Nahua descendant from Puebla, Mexico, are working with a multidisciplinary team of researchers at U of T Scarborough to bring the dolls – protected in cases, but scattered across family members' houses – into the digital world.
They are starting with a doll by the Otomi people, an Indigenous community in Mexico, from the state of Querétaro.
The effort builds on the meticulous work by Orozco Cuautle, who has researched and cataloged each doll in her collection. To have been included, a doll must have substantial information about its origins and be created by ethnic groups, individuals or small businesses. They also need to wear traditional outfits or be made of local materials – for example, dolls from Morocco are made with camel skin, while dolls from Greenland use caribou. In some cases, the dolls are a testament to the climate crisis, as their materials change as certain species decline over time. 
"The clothes are also really important – they communicate the history of how garments were made in that region, and the aims of clothing and traditions shown to girls," says Castillo Orozco. "The dolls are almost always from women that are trying to be financially independent or trying to sustain their kids. They find a way to progress through dolls."
Some of the dolls – the oldest of which dates to the 1800s – articulate centuries of world history. Take a doll made by the Herero people in part of what is now Namibia, a southern African country and former German colony. The doll's outfit follows the dress code Germans forced on locals in a mandate that had a massive impact on the community, as the fibres used to make these clothes weren't previously grown and required a seismic shift for agriculture systems.
Nicole Klenk, a project co-lead who is Castillo Orozco's PhD supervisor, says she was hooked when she first learned about the Herero doll. 
"I hadn't realized that through the lens of a doll we could look at the relationships between people and between people and the land," says Klenk, an associate professor in the department of physical and environmental sciences. 
Researchers digitally illustrating dolls' history
As the project's research assistant, third-year sociology student Simón Reyes is augmenting and illustrating Orozco Cuautle's extensive data using a platform that lets users build interactive narrative maps.
"With the Barbie movie, dolls are on people's minds. And I think it's a really interesting time to share a collection of Indigenous dolls," Reyes says. 
In some cases, untangling the history of a doll can be a complex task. The dönxu doll, for example, is traditionally made by grandmothers in Mexico during New Year's Eve as gifts for little girls, and the lele (or "baby") doll it comes with. But the lele doll was co-opted and mass produced in a government effort to create a symbol of tourism in Mexico and now largely outsells the dönxu. 
"It's a beautiful illustration of these clashing Indigenous versus capitalist approaches to knowledge systems and how to present them," says Erin Webster, project co-lead and associate professor, teaching stream, in the department of arts, culture and media.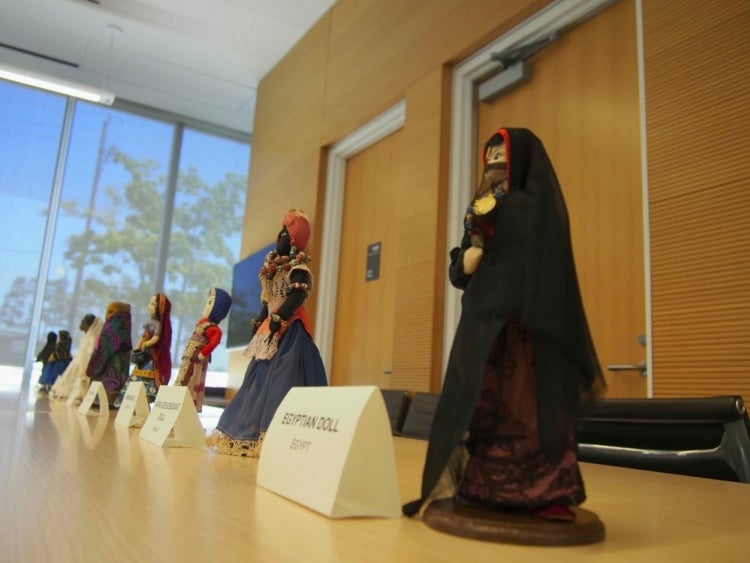 A core goal for the project is to prioritize and centre Indigenous research, methodologies, sources and scholars – including Orozco Cuautle.
Researchers say it has been difficult to find information about Otomi people written by Otomi people, and part of the map includes a critique of the sources available, though Reyes is having luck connecting with Otomi knowledge keepers over Instagram. 
"A lot of what's been produced has been produced from the outside – it's not the way the community would talk about themselves," says Danielle Kwan-Lafond, co-lead of the project and assistant professor, teaching stream, in the department of sociology.
"We're making sure there's always constant conversations, transparency and the willingness to learn together."
UTTSC