U of T researchers to study effects of genetic variation on health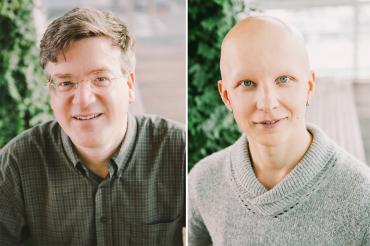 Scientists at the University of Toronto's Donnelly Centre for Cellular and Biomedical Research have received $1.9 million to shed light on how variation in our genomes affects disease risk and severity in a bid to improve interpretation of personal genome information.
A joint study by teams in Toronto and Boston will investigate how variation at the DNA level affects the function of encoded proteins. Associate Professor Mikko Taipale and Professor Frederick Roth, both principal investigators at the Donnelly Centre in the Temerty Faculty of Medicine, are leading the effort at U of T. They are working with Anne Carpenter, of the Broad Institute of Massachusetts Institute of Technology and Harvard, and Marc Vidal, a Harvard University genetics professor, director of the project and director of the Center for Cancer Systems Biology at Dana-Farber Cancer Institute.
The research is part of a new multimillion-dollar initiative in the U.S., the Impact of Genomic Variation on Function Consortium, which brings together scientists and clinicians from all over the world to advance an understanding of genome function. The total funding awarded for the project is US$8.3 million, or roughly $10.5 million.
Over the next five years, the researchers will develop a catalog of experimental data to assist in the classification of missense variants – alterations in the DNA code which change the amino-acid composition of the encoded protein – as either pathogenic and capable of causing disease, or benign and harmless.
For the majority of missense variants, their impact on health remains unknown – which is why they are called variants of unknown significance, or VUS. A genetic test with a VUS result can be agonizing for patients as it leaves them in the dark about its meaning.
"When people get a genetic diagnostic test and find a variant in their gene, a genetic counselor has to interpret it – and a VUS result is essentially throwing up their hands and saying we don't know," says Roth, who is also a professor of molecular genetics and computer science at U of T and a senior investigator at the Lunenfeld-Tanenbaum Research Institute at Sinai Health.
"The promise of personalized medicine based on your personal genome sequence comes to a grinding halt when the majority of the variants that are found can't be interpreted," he says.
Overall, the researchers will investigate around 75,000 variants in about 1,000 genes with known links to genetic disorders, such as cystic fibrosis and Duchenne muscular dystrophy, for which dozens of variants have already been documented across patient populations. This is key because sufficient numbers of known pathogenic and benign variants are required for VUSs to be compared to and classified accordingly.
For each gene, the researchers will use several lab tests to compare how dozens of its encoded protein variants, perform at the cellular level. The work will reveal mechanistic insight into variant protein function in health and how it goes awry in disease. It will also enable the classification of VUSs by comparing them to their benign and pathogenic counterparts.
Roth's team is tasked with helping to construct the DNA clones allowing variant proteins to be produced. Each variant will be fluorescently tagged to make it visible so that its abundance and cellular localization can be determined by Taipale's team using automated high-content microscopy.
"We will see whether proteins' abundances change and whether they end up where they are supposed to be or in a new location, as well as whether they have an effect on cell morphology," says Taipale, a faculty member in the department of molecular genetics and a Canada Research Chair in Functional Proteomics and Proteostasis.
"With microscopy you can get so much data including also how variants affect the different compartments inside the cell and cellular fitness overall," Taipale says. Image data analysis will be carried out using computer vision algorithms developed by Carpenter's team at the Broad.
Meanwhile, Vidal's lab at the Dana-Farber Cancer Institute will assess each variant's ability to interact with other cellular proteins.
The study will identify which tests are best suited for different types of proteins to provide a much-needed framework for future variant classification on a genome-wide scale where its potential impact on health is both vast and unexplored.
Roth co-founded the Atlas of Variant Effects Alliance, an international consortium with the aim of testing the functional impact of all possible variants in human genes even before they have been discovered by genome sequencing.
"We want to test every possible variant even though we've never seen it in the human before so that when we do see it, we're ready," says Roth. "The goal is to build a look-up table of variant effects in advance of ever seeing it in the human and have a sense of their functional impacts."
Donnelly Centre