U of T researchers, students travel to high Arctic to conduct atmospheric research
Ellen Eckert is a post-doctoral researcher in the Faculty of Arts & Science's department of physics and a member of the department's Earth, atmospheric and planetary physics group. Below she shares a first-person account of what it was like to conduct research at the Polar Environment Atmospheric Research Laboratory (PEARL).
For just over two decades, students and post-doctoral researchers working with the University of Toronto's Kimberly Strong and Kaley Walker have traveled to Eureka, Nunavut, in the Canadian High Arctic each spring to make unique measurements of atmospheric trace gases.
Strong is chair of the department of physics and Walker is a professor in the department. Together with department colleagues and researchers from Dalhousie University and York University, the team had another extraordinary opportunity last winter to work at the Polar Environment Atmospheric Research Laboratory (PEARL).
The three-week campaign yielded valuable measurements obtained using a wide variety of instruments. The measurements are used to validate data gathered by satellites and to investigate a variety of atmospheric phenomena. This year, the team observed record low levels of Arctic ozone and is currently analyzing these results to understand why conditions were so different.
But why go to this remote location? At 80 degrees north, PEARL is 1,100 kilometres from the North Pole. And why at this time of the year when temperatures can plunge to -50 C before windchill?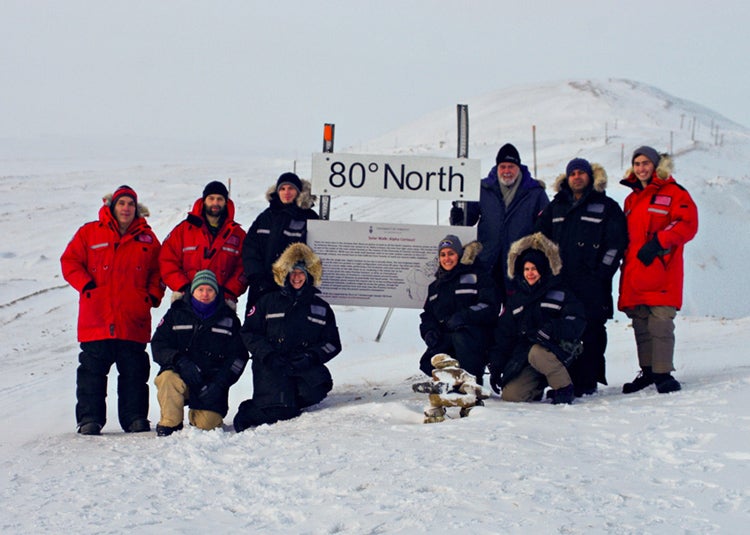 At the 80 degrees north sign on the way from Eureka to PEARL (photo by Pierre Fogal)
PEARL is in a sweet spot for atmospheric research for several reasons: it is located in an area of the world that is crucial for understanding the global atmosphere; and there are no other stations anywhere nearby, meaning there's a lack of data for polar regions.
Another reason is that satellites like the Canadian-led Atmospheric Chemistry Experiment frequently pass over this area, so data collected during these campaigns can be used to make sure the satellites are working properly.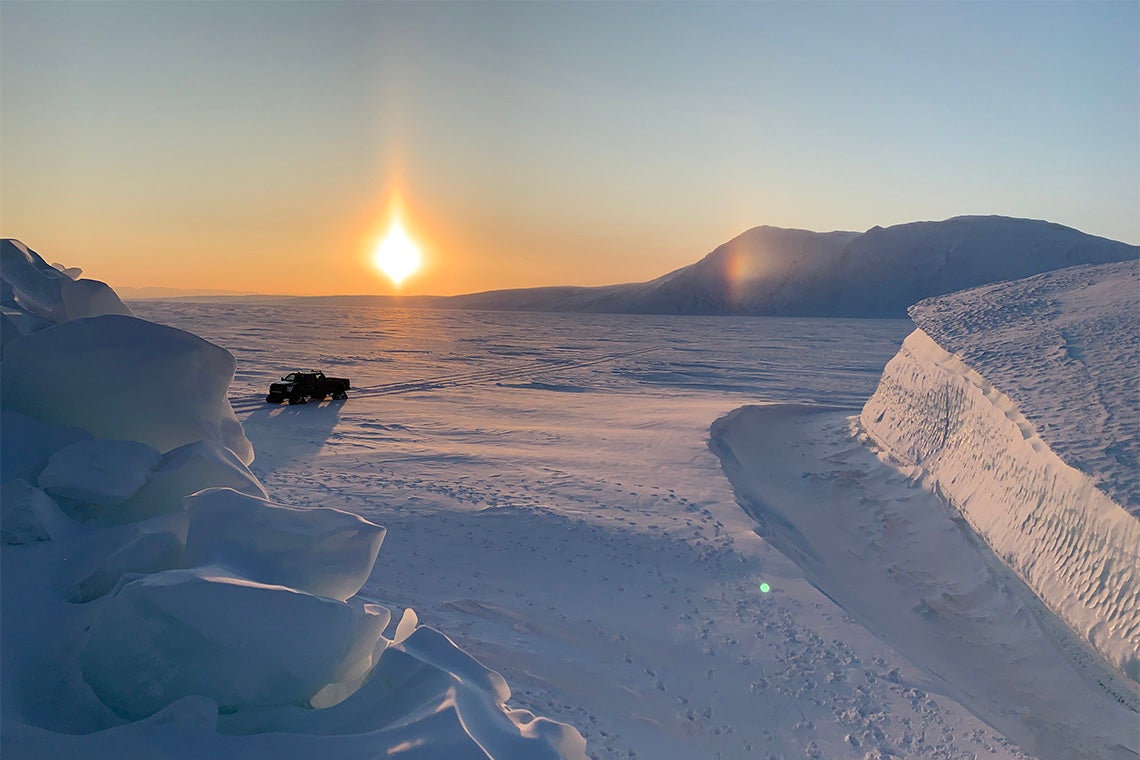 Ice crystals in the atmosphere result in spots of light on either side of the sun, a phenomenon known as a sun dog (photo by Ellen Eckert)
Also, campaigns at this time of year coincide with the transition between the season in which the sun never rises to the season in which it never sets. This transition only takes about seven weeks at Eureka. Since some of the instruments operate at night and some need sunlight to operate, this time of year is ideal for comparisons between the different instruments to determine if there are biases between their measurements.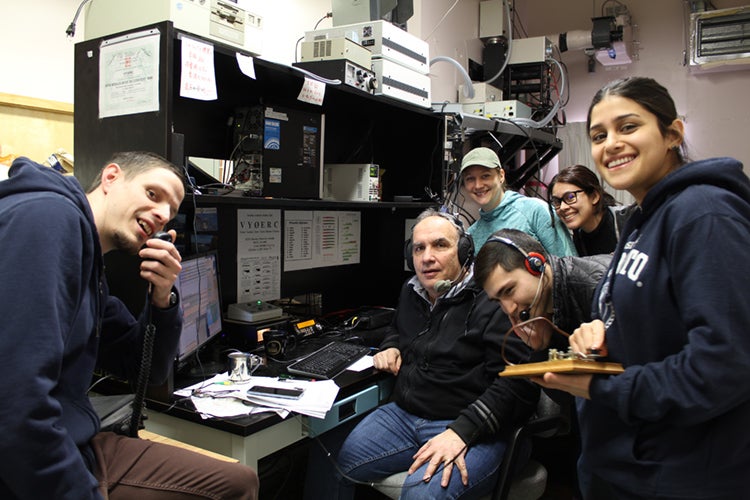 Team members joined PEARL site manager Pierre Fogal in the radio room (photo by Ramina Alwarda)
This year's team included myself, graduate students Ramina Alwarda, Kristof Bognar, Beatriz Herrera Gutierrez and Tyler Wizenberg, as well as post-doctoral researcher Ali Jalali – all from the department of physics. They were joined by U of T senior research associate and PEARL site manager Pierre Fogal, operator John Gallagher, research associate Alexey Tikhomirov from Dalhousie and Professor Emeritus Tom McElroy from York University.
When the team arrived at Eureka this year, the sun was only above the horizon for about two hours. When they left, daylight hours had exceeded nine hours. The team lived at Environment and Climate Change Canada's Eureka Weather Station, where they enjoyed the hospitality of the permanent staff, amazing food and recreational activities.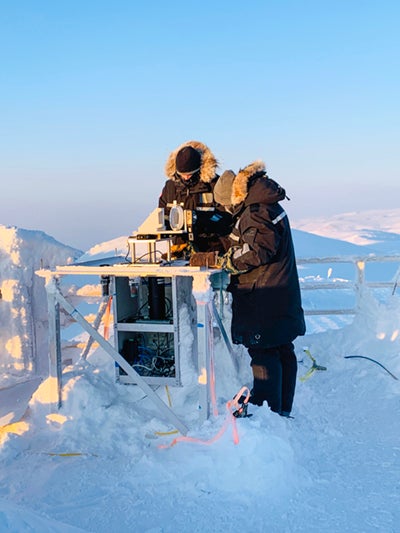 To do their research, the team drove about 20 to 25 minutes to the PEARL Ridge Laboratory each day, weather permitting, to take measurements. They also performed maintenance and repair tasks when necessary. This work can be interrupted by poor weather such as storms, so the team had to always be aware of the meteorological conditions.
Working in the high Arctic is challenging but very rewarding. Frigid temperatures mean that seemingly simple tasks such as tightening screws and adjusting components need to be done quickly and carefully, with fingers well protected.
The cold takes its toll on the instruments, but the lab is well stocked with tools and spare parts so things can often be fixed on site. On rare occasions, specific spare parts are shipped north and instruments are sometimes brought south for major repairs.
This year's campaign was a success, as the team was able to get all the instruments running and to keep them collecting data that will provide insight into Arctic atmospheric phenomena. In addition to measuring ozone, the team also monitored atmospheric trace gases associated with ozone destruction, which allows them to better understand the chemical and dynamic processes behind the event.

The team encountered several members of the local wildlife community during this year's trip (photos by Ellen Eckert, Guillaume Gamache and Ramina Alwarda)
Visiting Eureka is a unique and fantastic experience – not only for the scientific research, but also for the mind-blowing scenery and the wildlife. This year, the team was lucky to encounter a couple of foxes close to the Ridge Laboratory, a musk ox that had made itself comfortable around the Eureka weather station and even a pack of wolves that strolled by the station on the last day of the campaign.
Arts & Science