U of T researchers find clues about COVID-19 virus immunity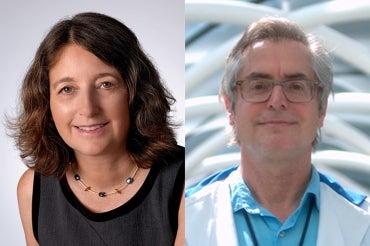 New findings from Temerty Faculty of Medicine researchers may help explain why SARS-CoV-2 – the virus that causes COVID-19 – can cause more severe inflammation and lung tissue damage than a regular, seasonal influenza virus.
"The research helps us understand the immune response by people to the virus that causes COVID-19," said physician Tania Watts, co-lead on the study and professor in the department of immunology. "We have gained insights into why some people might get severe outcomes from infection from SARS-CoV-2." 
Published in the Journal of Immunology, the study is based on blood cells taken in the spring of 2020 from 13 Canadians who had recovered from SARS-CoV-2, within the preceding four to 12 weeks.
"We stimulated the blood cells of the 13 people in the lab with parts of the virus," Watts said. "We did this to see if their immune cells could recognize SARS-CoV-2 proteins and create a T cell response.
"Then, we compared these responses to what we see with the common influenza virus, a virus to which most adults are immune and are exposed to often."
Researchers found that all of the patients who had recovered from SARS-CoV-2 had immune memory responses to both SARS-CoV-2 and to the influenza virus. But there were significant differences in how patients responded to each virus.
"The ability of cells in your blood to recognize parts of SARS-CoV-2 indicates that the cells remember the infection. However, the kind of molecules the cells secrete when re-activated can give some idea of what kind of immune response might have occurred in the person," Watts said.
"Our findings from our research suggest that immune cells that respond to SARS-CoV-2 make more inflammatory molecules, and might be less efficient at virus elimination than immune cells that recognize influenza. This could explain why COVID-19 is more severe than typical seasonal influenza in some people."
Mario Ostrowski, a physician and professor in the departments of medicine, immunology, laboratory medicine and pathobiology, said the first immune response a person has to an infection can influence how the patient responds to that infection in the future.
"Understanding what kind of immune memory a person gets from infection with SARS-CoV-2 and how long it lasts can help us understand if people who were infected previously should still be vaccinated," he said.
"Further work is required to see how long immunity lasts after infection with SARS-CoV-2, compared to vaccination, and whether people who have been infected with SARS-CoV-2 have the same response to the vaccine as those who have not been infected with SARS-CoV-2."
Ostrowski said the response of the recovered COVID-19 patients' blood cells to SARS-CoV-2 showed increased release of inflammatory molecules than the cells that responded to influenza.
The cells from the recovered people also showed an immune response that implies infection by SARS-CoV-2 confers less protection compared to influenza virus.
"We need to find out whether the immune cells in the blood of someone who has recovered from COVID-19 will react similarly or differently to a vaccine for SARS-CoV-2," Ostrowski said. "Will they have a more inflammatory and less protective response? With plans to vaccinate Canadians in full swing, it is important to continue to evaluate how people who previously had COVID-19 will respond to vaccines."
Physician Catherine Hankins, co-chair of the COVID-19 Immunity Task Force, said the work by Watts and Ostrowski is important, as are the findings of a research team led by investigators at the Université de Montréal.
"We are funding a number of studies on immunity and we've set up networks like this one to encourage research teams to work together to align data, experiences, conclusions, methods – sharing as much as possible to make the research more effective and expedient," Hankins said.
"With the authorization of the first COVID-19 vaccine in Canada, researchers across the country are trying to speed up conclusions while ensuring rigorous methodology. At the Task Force, we continue to fund studies looking at immunity to get Canadians answers – and public health policy-makers evidence to inform policies – as fast as possible."
The study was funded by the Canadian Institutes of Health Research, the Thistledown Foundation and Canada's COVID-19 Immunity Task Force.
Temerty Faculty of Medicine