U of T researchers, entrepreneurs to showcase work at Elevate 2019 tech festival
Researchers and entrepreneurs from the University of Toronto are set to showcase their innovative work to a global audience during Elevate 2019, Canada's largest technology and innovation festival.
The week-long event, which kicks off Friday, features hundreds of speakers and is expected to draw tens of thousands of attendees. U of T will play a central role thanks to its contributions to Toronto's thriving technology ecosystem and research that underpins key advances in fields like artificial intelligence (AI) and precision medicine.
At this year's festival, U of T experts will be featured prominently at Elevate AI, a day-long program on Sept. 25 devoted to conversations around AI research, applications and commercialization held at the MaRS Discovery District.
The scheduled speakers include Brendan Frey, the founder and CEO of Deep Genomics, which is using AI to build life-saving genetic therapies.
"Lots of companies talk about using AI to disrupt drug discovery, but nobody has made it work yet," says Frey, a professor in U of T's Faculty of Applied Science & Engineering with cross appointments in the department of computer science and the Donnelly Centre for Cellular and Biomolecular Research.
 "The elephant in the room – whether you're talking to pharmaceutical companies that are trying to advance drugs or patients who are looking for drugs – is: Will AI actually make a difference in drug discovery and medicine?"
Frey, for his part, says Deep Genomics is making progress and plans to use Elevate to announce a "breakthrough" discovery made using Deep Genomics' AI technology for the treatment of a specific disease, but declined to provide further details.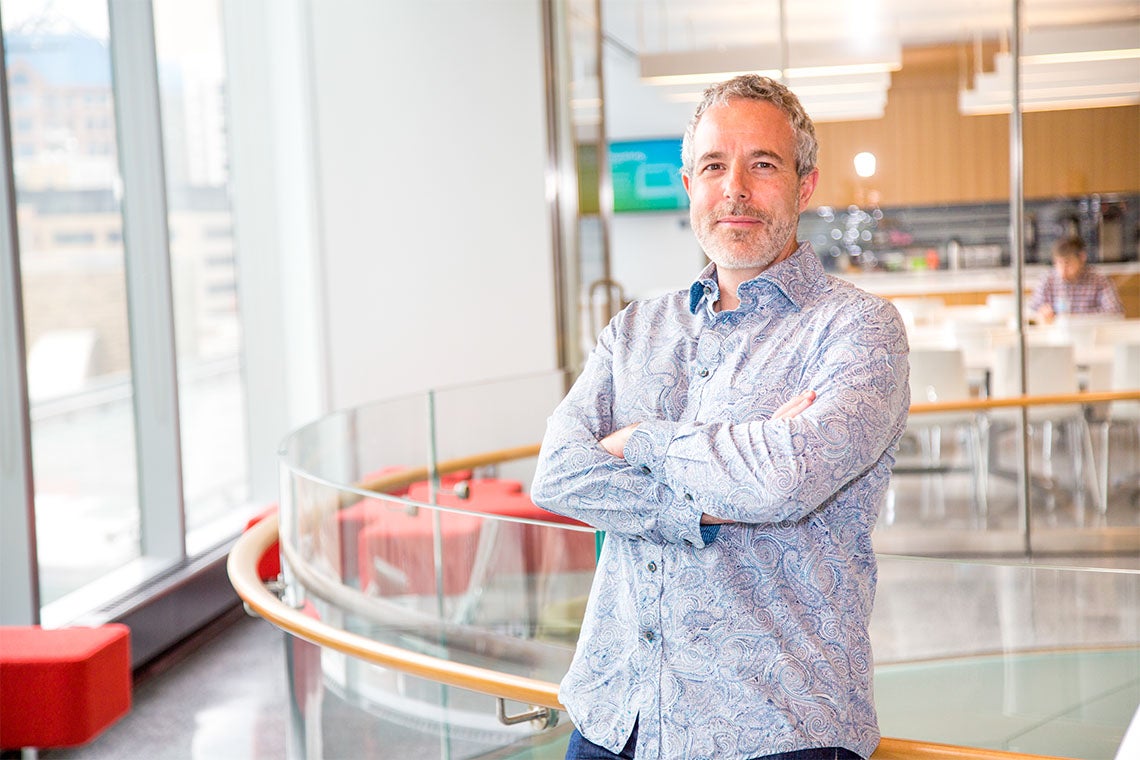 "Toronto right now is where Silicon Valley was in the early 2000s," says Brendan Frey, a U of T researcher who founded the AI-powered startup Deep Genomics (photo by Johnny Guatto)
Elevate 2019 runs Sept. 20 to Sept. 26 and is expected to draw 20,000 attendees to venues around the city. Among the more than 300 scheduled speakers are such luminaries as Michelle Obama, Canadian astronaut Chris Hadfield – a founding fellow of the space stream at the Creative Destruction Lab seed-stage accelerator based at U of T's Rotman School of Management – and Toronto Raptors president Masai Ujiri.
Previous editions of Elevate have featured speeches from the likes of U of T University Professor Emeritus Geoffrey Hinton, a pioneer of deep learning whose research is credited with helping spark the AI revolution in Toronto and beyond.
Frey, who was one of Hinton's students in the 1990s, hailed Toronto as the "birthplace of the new era of AI" and identified U of T's academic and innovation ecosystem as crucial to the city's rise as an AI capital.
"Toronto right now is where Silicon Valley was in the early 2000s, in that there was an established framework that enabled startups to translate research discoveries into entrepreneurial opportunities," says Frey.
"Toronto has been born as a location that will generate a large number of startups that can recruit hard-working people who have a big vision and can execute that vision by taking advantage of the supports that surround them. That support comes in the form of U of T and the tremendous intellectual powerhouse that we have in terms of AI, but also in the form of entities like the Creative Destruction Lab that provide the surrounding support that makes it easy to start companies and build off of new ideas and opportunities."
U of T alone is home to more than 10 campus-linked accelerators that cater to entrepreneurs and their companies at various stages of growth. At the same time, local entrepreneurs benefit from the strong relationships forged between the university, neighbouring hospitals, the financial community and a growing number of multinational companies that have launched or expanded research operations in the city.
As the co-founder of AI-powered customer analytics and prediction platform ODAIA.AI and a co-founder of U of T's Department of Computer Science Innovation Lab (DCSIL), Helen Kontozopoulos knows what it takes to grow novel ideas into innovative businesses.
She is scheduled to give a talk at the AI event about the importance of building tighter working relationships between so-called "Mad Men" (advertisers, marketers and salespersons – a nod to the television series of the same name) and "Math Men," the engineers, scientists and developers who build technology products.
Kontozopoulos says her interest in the topic was sparked, in part, by her experience teaching courses on product development and entrepreneurship at U of T.
"I realized that my computer science students and engineers weren't built to think about the customer," she says. "They were conditioned to bring in the marketing and salespeople after the fact. There needs to be more of an overlap, otherwise they're going to end up building, in silos, products without sufficient focus on the customer experience.
"For example, a customer might say, 'OK, this chat bot is very creepy.' Well, why is it creepy? Because it was built by engineers who didn't think that there would be a creepiness factor."
Kontozopoulos, who teaches an entrepreneurship course in the department of computer and mathematical sciences at U of T Scarborough and gives guest lectures to engineering students in an undergraduate machine learning program, says she hopes to use her remarks at Elevate AI to convey that if AI-based companies are to realize their potential, there needs to be more proactive cross-pollination between the technology and customer experience arenas.
"My talk will be about conversations and breaking down silos," she says.
Helen Kontozopoulos  teaches an entrepreneurship course in the department of computer and mathematical sciences at U of T Scarborough and co-founded the Department of Computer Science Innovation Lab, or DCSIL (photo by Chris Sorensen)
Also scheduled to speak at Elevate AI is Raquel Urtasun, an associate professor in U of T's department of computer science who heads up Uber's self-driving vehicle lab in Toronto. Widely recognized as a star in the fields of machine learning and computer vision, Urtasun previously spoke to a packed house on the main stage at the inaugural Elevate festival in 2017.
U of T's presence at Elevate extends beyond professors. Several alumni will also be in attendance to showcase the fruits of their research and entrepreneurial labour.
Among them is Christian Weedbrook, CEO of Xanadu, a startup that's developing light-powered quantum computing technologies that received support from the CDL program. Weedbrook, who founded Xanadu soon after he completed his post-doctoral research at U of T, will take part in a panel discussion on the challenges of commercializing AI-based innovations.
For recent U of T graduates Samin Khan, Quinn Underwood and Avery Wang, the stakes at Elevate are especially high. The trio, who met during their first year at University College, are co-founders of Animo, a startup that uses AI to asses and quantify psychological well-being. Animo is one of 32 startups that will compete at the festival's ElevateR Pitch competition.
Billed as a "March Madness-style pitch competition," ElevateR Pitch gives startups the chance to compete for a funding prize and the opportunity to pitch their startup on the Elevate Main Stage.
Khan, who graduated with a double major in computer science and cognitive science and is Animo's chief technology officer, says he's grateful to U of T for encouraging his research and entrepreneurial interests.
"A lot of the support we received from U of T wasn't just within the courses themselves, but the environment and culture surrounding the university," he says.
Khan says he and fellow Animo co-founders feel confident going into ElevateR Pitch, but that the build-up to the competition is also nerve-wracking.
"I'd say I'm both excited and nervous."
UTC