U of T researcher leads project focused on transitioning health-care system to 'net-zero' emissions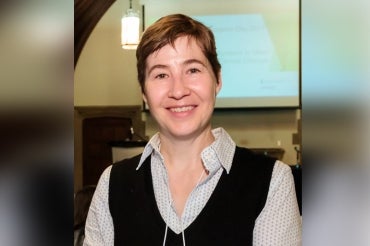 Fiona Miller, a professor at the Institute of Health Policy, Management and Evaluation (IHPME) at the University of Toronto's Dalla Lana School of Public Health, will lead a collaborative project that aims to engage Canada's health-care community in climate action and awareness through a nationally co-ordinated network.
The Cascades: Creating a Sustainable Canadian Health System in a Climate Crisis project, supported by $6 million in funding from Environment and Climate Change Canada, has two overarching goals. The first is to build the capacity of Canada's health care community to achieve resilient, net-zero health care by increasing awareness and motivation, and by developing the skills, tools and networks to enable action.
The second goal is to cultivate and support sustainable health-care innovations.
"Although there have been pockets of extraordinary excellence and effort, there's just not the co-ordinated and consistent movement forward that will drive the health system toward the direction it needs to go, which is net-zero [emissions] at minimum," says Miller who is the founding director of U of T's Centre for Sustainable Health Systems.
Miller is partnering with Sean Christie and Gillian Ritcey of the Healthy Populations Institute at Dalhousie University; Andrea MacNeill, who leads the Planetary Health Care Lab at the University of British Columbia; and Neil Ritchie and Linda Varangu of the Canadian Coalition for Green Health Care. The team members are, in turn, connected to diverse regional and national health associations, health-care leaders, clinicians, administrators and sustainability researchers.
Getting to "net-zero" means reducing the greenhouse gas emissions from health care to as close to zero as possible, and offsetting the small subset of remaining emissions in socially and environmentally sustainable ways.
MacNeill, who is also a cancer surgeon at Vancouver Coastal Health Authority and one of the founding partners in the network says "the bar has been set" by England's National Health Service, which has committed to a net-zero health system for both direct and indirect emissions by 2045. For Canada to follow suit, all stakeholders in the health-care system must be engaged, she says.
"This project is bottom-up change," says MacNeill. "We need a mandate from the health system – we need patients, communities, frontline providers, administrators and senior leaders to say that this is their business. That's our job – to elevate that."
The Cascades project's efforts to develop the capacity for sustainability in the health-care system will be achieved through professional development training, providing clinicians and administrators with the knowledge and skills to understand and support sustainable change. There will also be outreach and communications to foster awareness and attract new audiences.
Efforts to support innovation include testing novel ideas and approaches to assess whether they can usher in an era of high-quality, low-greenhouse gas health care. The most promising innovations will then be disseminated across Canada via "playbooks" so that they become best practice in sustainable health care. Examples of service delivery innovations include using alternative anesthetic gases and substituting standard asthma inhalers with dry powder inhalers or smaller volume inhalers.
Christie, who is also a neurosurgeon in the Nova Scotia Health Authority and one of the founding partners in the Cascades network, argues that the health-care community should play a major role in Canada's pledge to achieve net-zero emissions by 2050 because of the sector's greenhouse gas footprint and its social reach. Greenhouse gas emissions from health care account for five per cent of Canada's total carbon footprint, notes Christie. Moreover, health care is the second largest employer nationally and represents the largest single provincial budget expense.
"Climate action across Canada's health-care community, however, remains limited in scope and piecemeal owing to partial implementation of solutions, inconsistent measurement across settings and regions, and insufficient communication," he says.
"Our team is ideally placed to overcome these limitations," says Ritchie, executive director of the Canadian Coalition for Green Health Care and one of the founding partners of the Cascades network. "We possess sustainability expertise and health care expertise, with deep connections with both sectors. We understand how to engage diverse members of the health care community on their own terms, and pursue national co-ordination while respecting local priorities, provincial and territorial jurisdiction, and differences across professions, practice settings and context."
The federal government's investment in the team's proposal to harness efforts toward a sustainable health system is both encouraging and empowering, according to Miller.
"It puts an enormous amount of wind in your sails that the vision we're articulating is appreciated and understood," she says. "There's tremendous opportunity to move forward. You really do need to create a framework where people can pull together in a common direction. That is what this is about: leveraging the efforts of many towards a shared goal."
IHPME