U of T researcher leads first comprehensive analysis of Ontario pharmacy services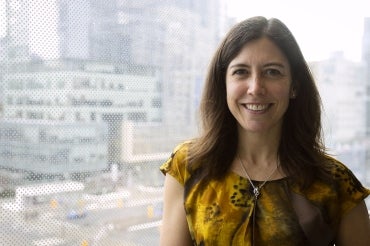 New research led by a University of Toronto faculty member will provide important data about the use of community pharmacy services across the province.
Suzanne Cadarette, an associate professor with U of T's Leslie Dan Faculty of Pharmacy, is using health-care administrative databases to describe and share results with the public through an innovative, interactive format.
Starting in 2007, the Ontario government began funding several professional pharmacy services. The most common include the suite of MedsCheck services – a medication review and update for patients with certain chronic illnesses and residents of long-term care facilities. Other services include flu immunizations, smoking cessation services and the Pharmaceutical Opinion program, in which pharmacists consult with prescribers about medication issues.
Cadarette says that her team's research will provide baseline information about the use of these services in different parts of the province and how uptake by pharmacies and patients has changed over time. "This is the first time we will do an analysis of MedsCheck at Home and MedsCheck Long-term Care, and the comprehensive inclusion of all services will help to map coverage across the province."
Cadarette notes that since pharmacists are often the most accessible health-care professionals, these services have real opportunity to benefit patients, yet "we really don't have a comprehensive understanding of the use of these services," she says.
The project, known as the Professional Pharmacy Services Atlas, is one of many projects taking place through the Ontario Pharmacy Evidence Network (OPEN), a cross-provincial research program studying medication management services in Ontario.
Since pharmacies bill the government when they provide one of these services, Cadarette and her team can leverage anonymized health-care administrative databases to describe usage of the programs. These databases are housed at ICES, an independent, non-profit research organization that uses population-based health and social data to produce knowledge on a broad range of health-care issues.
Cadarette's team is currently developing innovative and interactive visualization tools of the data, which she hopes will be made available on a publicly accessible website by the end of 2019. Cadarette expects that the presentation and availability of the results in an interactive format will improve understanding of the use of professional pharmacy services across Ontario, and provide local insight for health professionals, the government and the public.
With a background in epidemiology and health services research, Cadarette enjoys applying rigorous research methods to questions that have not been asked before. The research her team is leading now may have an impact for years to come, since it will provide a starting point for researchers to ask more in-depth questions about pharmacy services.
"The more research we do in this area, the more hunger there will be for data," she says. "With more data and enthusiasm for answers, we may consider questions about the impact of these services."
Pharmacy