U of T researcher to launch digital storytelling project in Ugandan refugee camp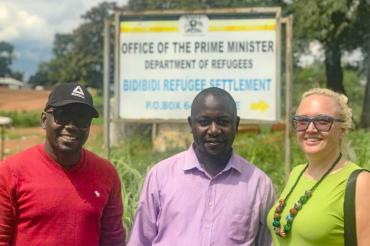 In Uganda's Bidi Bidi refugee camp, which houses more than 225,000 internally displaced people and refugees, adolescents and youths will soon be able to share their experiences through digitally drawn images.
The project, led by the University of Toronto's Carmen Logie, involves creating tablet apps that will allow the camp's young people to describe their personal experiences with things like gender-based violence, as well as issues like body image and autonomy.
The idea is to find a way to engage the camp's population while side-stepping language issues and low literacy rates.
"By using images, people will be able to understand these stories," says Logie, an associate professor at the Factor-Inwentash Faculty of Social Work.
Logie, a health equity researcher with a focus on stigma, access to care and health outcomes, has already begun working with locals at the refugee settlement in northern Uganda to realize her vision. Her team includes PhD student Moses Okumu as well as government and charitable partners.
To Logie's surprise, the project recently received a major investment boost from Grand Challenges Canada, a non-profit organization funded by Global Affairs Canada, via its Stars in Global Health grant. The grant funds ideas that combine technological, social and business innovations to address pressing global health challenges.
"These grants are very hard to get; they're globally competitive," says Logie, who spoke to U of T News shortly after a stepping off a flight home from Uganda.  "I feel very grateful."
Worth more than $99,000 over the next year, the grant will help pay for research co-ordination and data collection activities, including focus groups and workshops, and a solar power system to light up the digital tablets and support data collection. The team will also work with local artists to facilitate workshops and there are plans to hire young refugees as peer researchers.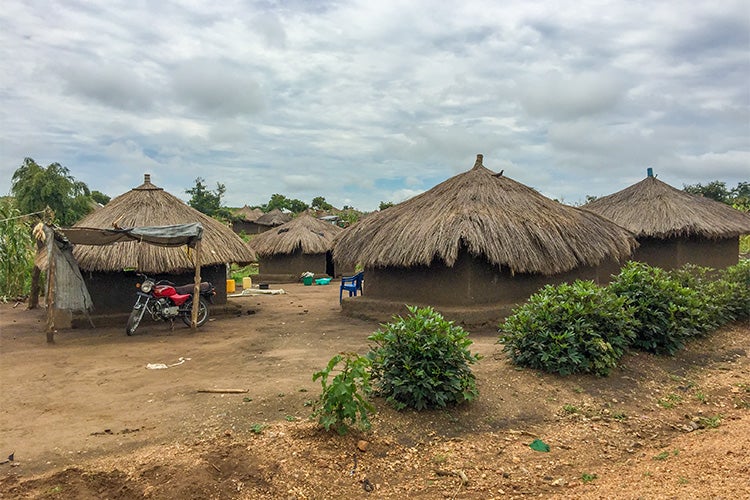 (photo courtesy of Carmen Logie)
For Logie, a Canada Research Chair in Global Health Equity and Social Justice with Marginalized Populations, the project builds on prior health equity work she's done in Haiti, Eswatini (formerly Swaziland) and Lesotho. As a post-doctoral researcher, Logie won a Global Challenges Canada grant in 2011 that focused on helping internally displaced people in post-earthquake Haiti. For that project, she used digital tablets to document stories from Haitians experiencing the fallout from the 2010 quake.
In Eswatini and Lesotho, her team worked with a local theatre troupe in 2018 to engage with community members. Yet, while the project was effective in obtaining stories and data, Logie determined the approach wasn't sustainable because the troupe was too expensive to maintain.  
"I've been thinking for the last few years, 'How do we do something that is participatory, but that is more sustainable, low cost and could be scaled up?'" she says.
By compiling the stories and data via tablets, Logie hopes the project makes an impact in Uganda, where she counts the government as a partner in the project. In particular, she hopes the project illuminates legal complexities around, for example, barriers to access for post-rape treatment. Treatment to prevent HIV transmission is available, Logie says, but "if a woman is raped, in order to access [post-rape care], she is forced to file a police report – and that's challenging for many people."
She goes on to stress her desire to find opportunities to prevent violence and talk about "how people would like friends, families, community members to respond, but also how they want health-care providers to treat them."
Logie spent a week at Bidi Bidi meeting with team members and community leaders, including from Uganda's Ministry of Health. Many are open to telling their stories, she says.
Since Ugandans have an active role in the project, Logie expects to be surprised by its findings.
"When you give up control to participants to define their own solutions and priorities, they'll surprise you," she says. "And you want to be surprised as researchers, because it means we're learning –  that it's not just us knowing what is already in our brain."
UTC