U of T research shows Canada is not immune to anti-immigration movements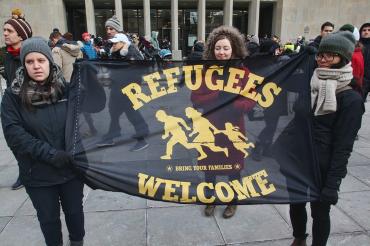 U of T's School of Public Policy and Governance (SPPG) is part of a joint study that suggests Canadians are not exceptional when it comes to tolerance of refugees and immigrants, and that there is potential here for the same level of xenophobia experienced in Europe and the U.S.
The study conducted with McGill Institute for the Study of Canada (MISC) and the firm Ipsos surveyed 1,522 Canadians between Jan. 18 to 27 – before U.S. President Donald Trump announced his controversial travel and immigration restrictions, and the recent shootings at the Quebec mosque.
"We know now we are not necessarily more enlightened compared to similar countries around the world," says Michael J. Donnelly, assistant professor of political science and public policy at U of T. "In fact, attitudes amongst Canadians suggest there is potential for the same kind of hate we see appearing elsewhere if we are not careful."
Donnelly initially looked at recent international public opinion research about immigration and refugees, and then he designed a Canadian poll to compare Canadian attitudes against other countries. The survey sought to answer three questions:
Are Canadian attitudes unusual among a wider sample of wealthy countries?
What do Canadians know about existing immigration policies, and what do they think of those policies?
Are survey respondents restrained by pro-immigration norms from revealing their true attitudes?
The study, "Canadian Exceptionalism: Are we good, or are we lucky," finds that broadly Canadian attitudes are often assumed to be unusually pro-immigration. Canadians have what Donnelly describes as an "impressive" knowledge of Canada's immigration and refugee system, and that most are satisfied with Canada's multiculturalist approach to immigration policy.
But he does not believe that Canada's pro-immigration stance over the last half century is necessarily because of an exceptionally tolerant public. Canada is around average compared to Europe and the U.S. on issues like whether immigrants from poor countries should be accepted and whether the government should be generous in judging people's applications for refugee status.
About 45 per cent of survey respondents said they would oppose any policy that would end all immigration, 19 per cent said they would support such a policy, but about 35 per cent were undecided.
"The public's tolerance does not seem to be what drives Canada's positive history of immigration and integration over the past several decades," Donnelly says.
The study's results have been featured in the National Post with the data indicating a serious anti-immigration movement in Canada is not impossible.
Donnelly and Peter Loewen, director of SPPG and an associate professor of political science at U of T, have also penned an op-ed for the National Post on what this means for Canadian politics and its institutions.
"Canadian politics are not inevitably set to follow the rhetoric and course we see in the United States," Loewen says. "Our institutions, and particularly our leaders, have the ability to maintain norms of non-racism and inclusion – remember, attitudes do not inexorably lead to policies and politics."
The study also finds that a majority of Canadians think that immigrants are not well connected to society and that they harbour misconceptions about the number and education of immigrants. Loewen and Donnelly argue in the op-ed that politicians and the public have a role to play here: 
"[Canadian] politicians and those selecting them have a responsibility to avoid xenophobic pandering and to reinforce the norms of behaviour that have allowed the Canadian model, for all its faults, to create the open, exciting and peaceful society we enjoy."