U of T releases plan to meet federal targets for greater equity among Canada Research Chairs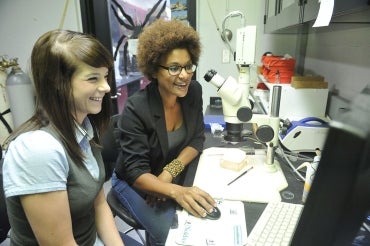 The University of Toronto has released its Canada Research Chair Equity, Diversity and Inclusion Action Plan.
It's the latest step in the university's ongoing efforts to meet or exceed its federally mandated targets for persons with disabilities, Indigenous peoples, visible minorities and women among its Canada Research Chairs by December 2019.
"This is a living document," said Vivek Goel, U of T's vice-president of research and innovation. "The plan will evolve as we continually examine our processes and procedures, and as the University makes progress against its goals."
Under federal rules, each university has different equity targets based on the number and types of chairs they have. Under the targets for U of T set by the federal government for 2017-2019, the university must:
Continue to meet and work to exceed the national target of 32 per cent (79 CRCs) for women. U of T is currently at 35 per cent.
Achieve the national target of 15 per cent (37 CRCs) for visible minorities. U of T is currently at 14.5 per cent.
Achieve the national target of four per cent (10 CRCs) for persons with disabilities. U of T is currently at less than one per cent.
Continue to meet and work to exceed the national target of one per cent (2 CRCs) for Indigenous peoples. U of T is currently at one per cent.
U of T has the most chairs of any university in Canada, with 247 filled Canada Research Chairs, spread over three campuses, 18 academic divisions, 125 appointing units and nine affiliated hospitals. The Tier 1 and Tier 2 chairs contribute more than $37 million a year to the university's research and training enterprise.
"These chairs are critically important for researchers to pursue globally important scholarly advances in many fields," Goel said. "We have made meaningful progress in increasing diversity but this is an ongoing priority. It doesn't stop when we meet or exceed a target. We also need to retain these amazing researchers and foster an environment where they can do their best scholarship."
Goel said the plan builds on many existing institutional initiatives and practices that have been in place for many years. 
In 2016, U of T became one of the first universities in Canada to create an updated employment equity survey, which asks volunteer respondents to self-identify according to their gender and gender identity, rather than presenting them with a choice of male or female.
The survey also offers two terms – "racialized persons and persons of colour" –  in place of "visible minority" and allows respondents to self-identify as an Indigenous person of North America. It includes questions on visible and non-visible disabilities and allows respondents to self-identify with multiple ethnic backgrounds and racial identities. Several questions allow respondents to pick more than one answer, to indicate that they choose not to answer, or to write in a response.
The survey will be invaluable to implementing the CRC action plan, said Goel. Without it, there would be no way for the university to know the extent to which its faculty – from which it nominates CRCs – reflect the community and the students it serves. In addition, the CRC focus on equity data may encourage members of the university community to complete the survey and provide the requested information.
"The action plan is essential to the future of research in Canada," said Dr. Paula Rochon, a professor in U of T's department of medicine and vice-president of research at Women's College Hospital
"Ensuring equity in science is not simply a laudable goal, it is the way things should be," she said. "At Women's College Hospital, more than half of our scientists are women, including one CRC chair."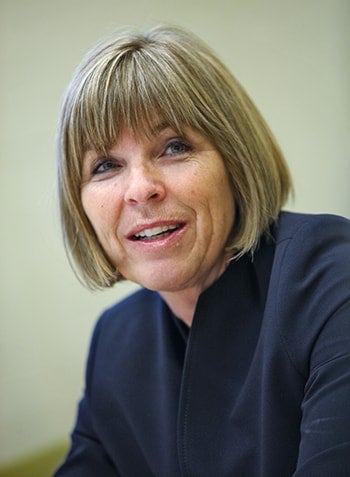 Rochon (pictured right) is part of U of T's Equity and Diversity in Research and Innovation Working Group, which helped shape the action plan. Change needs to happen because right now "only half of the scientific community's voice is adequately represented at the decision-making table," she said.
"Fifty per cent of the students graduating from medical school are women but fewer than 20 per cent are represented in senior roles, according to recent studies. Not only are these women talented scientists, they bring perspectives to science – particularly health science – that are lacking when their voices are missing from the conversation."
At Women's College Hospital, Rochon said their Women's Xchange initiative is funding community research on health issues that are relevant to women, almost always conducted by women.
"We also advocate for sex and gender differences to be incorporated into all health research and reported rigorously," she added.
The action plan is also needed to inspire the next generation, said Canada Research Chair Bryan Gaensler, director of the Dunlap Institute for Astronomy & Astrophysics and a professor in the Faculty of Arts of Science.
"Almost every great researcher was at some early point inspired or activated or mentored by a role model – someone was able to turn on the light bulb in our heads or light the fire in our bellies," Gaensler said. "To produce the diverse new cadre of researchers needed to solve the world's challenges and to advance the frontier of knowledge, we need not just excellent researchers but a diverse set of role models and mentors.
"The CRCs play a pivotal role in training students, explaining research to the public, and helping recruit the world's best people to U of T. A diverse body of CRCs will let us greatly expand the reach and success of all these activities."
Crucially, the action plan goes beyond principles and offers "a concrete set of new and ongoing programs aimed at making our community more inclusive," Gaensler said.
"What we've found in all the job interviews we've done is that many of these candidates care deeply about equity and inclusion. They have things they would like to pursue in this area should we appoint them, and they want to know whether is a university that shares their values and that will support their equity efforts."
As part of its action plan, U of T will also list all of its available Canada Research Chair opportunities here to increase fairness and transparency, as well as create and offer professional development workshops for early and mid-career faculty on career development and how to plan for future opportunities like CRCs.
All affected universities must report annually to the Canada Research Chairs Program and post on their websites progress towards meeting their equity and diversity objectives.
If a university fails to meet these requirements by the deadlines stipulated, the program will withhold peer review and payments for those nominations until the requirements are fulfilled, the federal government has warned.
Visit here for more information on the CRC Equity, Diversion and Inclusion Practices.  
UTC