U of T ranks among top five public universities for global employability: Times Higher Education
U of T is leading university in Canada for employability for sixth year in a row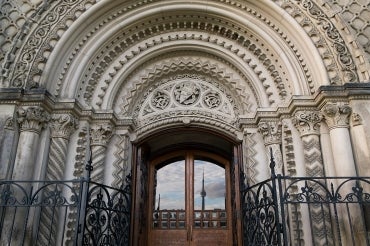 Even before graduation, Julianna Paprakis had her pick of job offers – enough, in fact, to say no to Google.
The University of Toronto computer science graduate's success on the job market is no anomaly. U of T grads are considered top candidates in the eyes of employers around the globe, a new university ranking suggests.
U of T came in 13th in Times Higher Education's global university employability ranking, up one place from last year. That puts U of T in a class with Ivy League schools and ahead of the University of Oxford and Berkeley.
The university has focused more on students' core competencies, says U of T President Meric Gertler. "We've made sure they communicate well, that they have an opportunity to work in teams. Those efforts are paying off," he told the Globe and Mail.
U of T's performance may also be due to its high academic standards, he says. "While our students may not always appreciate that, it seems that employers do."
Among public universities, U of T was first in North America and fifth in the world, behind the University of Cambridge, Technical University of Munich, University of Tokyo, and Hong Kong University of Science and Technology.
For the sixth year running, U of T was the top Canadian institution on the list. The other Canadian universities that cracked the top 100 were McGill (18th), the University of Montreal/HEC (44th), the University of British Columbia (45th) and McMaster (74th). 
The ranking was based on research by the German polling institute Trendence, which surveyed 6,000 firms on the topic of which universities produced the "best graduates in terms of employability."
Paprakis credits U of T for helping her get a foot in the door for software and back-end engineering internships at TripAdvisor and Uken Games, a local games studio. She found both opportunities through a career fair on campus. "U of T is a big target for a lot of companies," she says.
She worked long hours in university. Although she had a rule against pulling all-nighters, she sometimes got home at 2 a.m., only to start studying again at 6. She was rewarded for her hard work in school and internships when it came time to apply for jobs in her last semester.  
She applied to seven or eight employers and received about four offers. Alphabet, Google's parent company, offered her a job in New York City, but that was too far away from Paprakis's family, friends and boyfriend in Toronto. Fortunately, she had options.
"I was waiting for SnapChat and they were the last ones to get back to me. They were the ones I was hoping the most for."
Snap Inc., the technology and social media company behind SnapChat and Bitmoji, took her on as a software engineer at its Toronto office. She works on user interfaces for SnapChat, Bitmoji and internal tools, and conducts interviews to help with hiring.
U of T's results in the Times Higher Education employability ranking mirror its performance in another independent study. The 2018 QS Graduate Employability Rankings put U of T 15th, up from 19th last year, in a survey of 600 top universities. U of T was once again head of the pack among Canadian universities.
"We're pleased to see U of T's excellent track record for graduate outcomes and employment continue to be recognized," says Cheryl Regehr, U of T's vice-president and provost. "And we're extremely proud of our undergraduate and graduate students and the success they achieve after graduation."
For Tony Liang, a U of T education in electrical and computer engineering, from a bachelor's degree to PhD, was his ticket to getting a job at SpaceX, the aerospace company founded by Elon Musk that aims to colonize Mars. Liang, who graduated in 2015, is an antenna engineer and helps design satellites at SpaceX's office in Redmond, Wash., near Seattle. He is working on complex phased array antennae for satellites that would provide fast global internet coverage.
"Even though I'm down in the States, here they know the name University of Toronto," he says. In his area, electromagnetics, the university has professors who are recognized as leaders in the field, including George Eleftheriades, a pioneer in metamaterials.
"My supervisor Sean Hum has active research on reflectarrays, which is something often used in space applications. That bodes well with a company like SpaceX."
Liang's bachelor's degree gave him a solid grounding in electrical engineering, he says.
"It's all about fundamentals, fundamentals, fundamentals. And it really shows when someone has that versus someone who doesn't."
UTC